Her tumble costs her, family dearly
JnU student falls on train lines; loses both legs at Kamalapur in city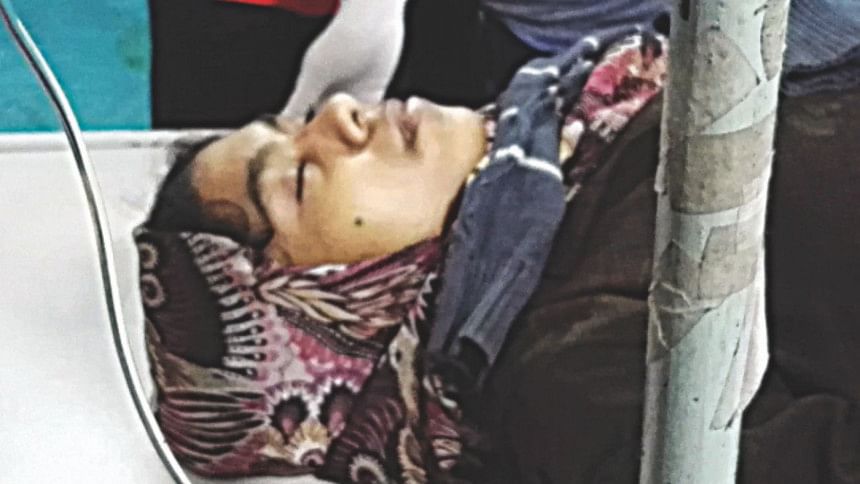 She was to finish her studies in a few months and be the one looked up to by her poor family. But her dreams were dealt a big blow yesterday.
She lost her legs after being run over by a train in the capital's Kamalapur Railway Station yesterday afternoon.
Rubina Akter, 22, is a final-year student of social work department at Jagannath University. She had gone to the station around noon to catch a train to her village home in Panchagarh.
She was going to platform-5 from platform-4 by walking over the lines around 1:30pm. At that time, a locomotive was changing lines, said Officer-in-Charge Yeasin Faroque Mozumder of Railway Police Station Quoting witnesses.
"Suddenly, she felt dizzy and fell on the lines. Her legs were severed on the spot," the OC added.
She was taken to Dhaka Medical College Hospital.
Rubina, daughter of deceased Rabiul Islam from Shantinagar of Debiganj upazila, lives at a shared house in Sadarghat area.
Talking to The Daily Star at the hospital, a friend of Rubina said she attended a class at 9:00am but left before it ended.
"She was looking depressed since morning and was saying that she would go to her village home," her friend added.
Sajedul Islam, a family friend from Panchagarh and also a former student of JnU, said Rubina lost her farmer father around two years ago and was going through hard days to meet the expenses of education in the city.
She has an elder sister who is physically and mentally challenged and a younger brother who is studying at Begum Rokeya University in Rangpur.
Sajedul said Rubina was facing a financial crisis. "She used to maintain her expenses with a scholarship, awarded by a private bank, but the scholarship tenure was about to end. She used to tutor a person but that too ended recently," he added.
Rubina had surgery at the hospital yesterday. Her friends were seen trying to comfort her and gathering blood she needed.
Doctors said she was not out of danger.
On January 22, a second-year student of Dhaka University lost both his legs after being run over by a train near Shahid M Monsur Ali Railway Station in Sirajganj.