Luxury train hits Dhaka-Ctg route
Named Sonar Bangla Express, it will be the fastest train on the route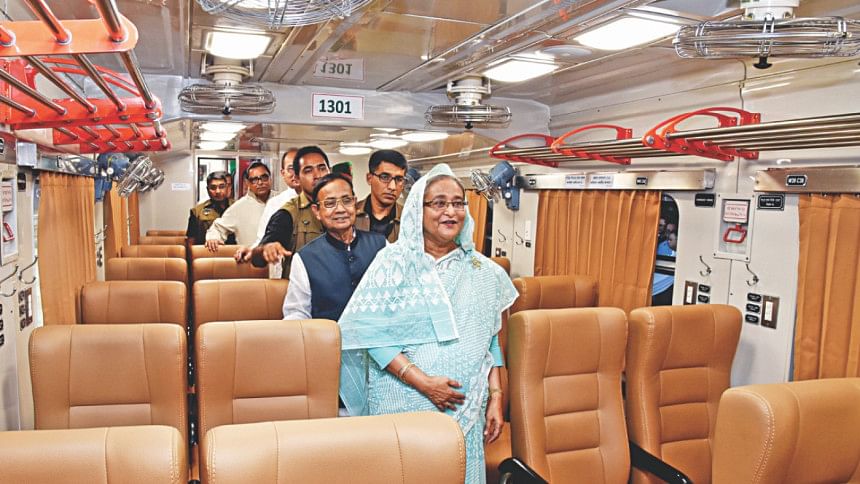 A new luxury train is going to hit the Dhaka-Chittagong route from this morning with a promise to provide faster and better service to passengers.
Sonar Bangla Express will be the fastest among 15 trains on the route as it will take five hours and 40 minutes with only one stop at the Airport Railway Station. The other trains running on the route stop at several stations and take more than seven hours.
Prime Minister Sheikh Hasina yesterday inaugurated the train at Kamalapur Railway Station around 11:30am.
The new train has 746 seats. Of them, 420 seats are Shovan Chair, 220 AC Chair, 66 seats in AC berths and 40 others normal seats adjacent to the dining car.
Every day the train would start from Kamalapur at 7:00am and reach Chittagong at 12:40pm. In the return journey, it will start from Chittagong at 5:00pm and reach Dhaka at 10:40pm.
This is the second non-stop train on the Dhaka-Chittagong route. In 1998, the first non-stop train Subarna Express was introduced.
In the new train, passengers will be provided with food and its cost will be included in the tickets.
"As the new train will provide better services and food facilities, passengers will have to pay additional charges," said Feroz Salah Uddin, secretary to the Ministry of Railways.
A passenger pays Tk 380 for travelling in Shovan Chair from Dhaka to Chittagong in Subarna Express but the passengers will have to pay around Tk 600 for the same class in Sonar Bangla Express.
Bangladesh Parjatan Corporation will supply food for passengers in the new train, said railway officials.
Around Tk 112 crore has been spent to buy the carriages from Indonesia, Feroz told The Daily Star.    
The carriages have been purchased under a project that is run by loan from the Asian Development Bank (ADB) and the Indian Line of Credit (LoC), said the railway officials.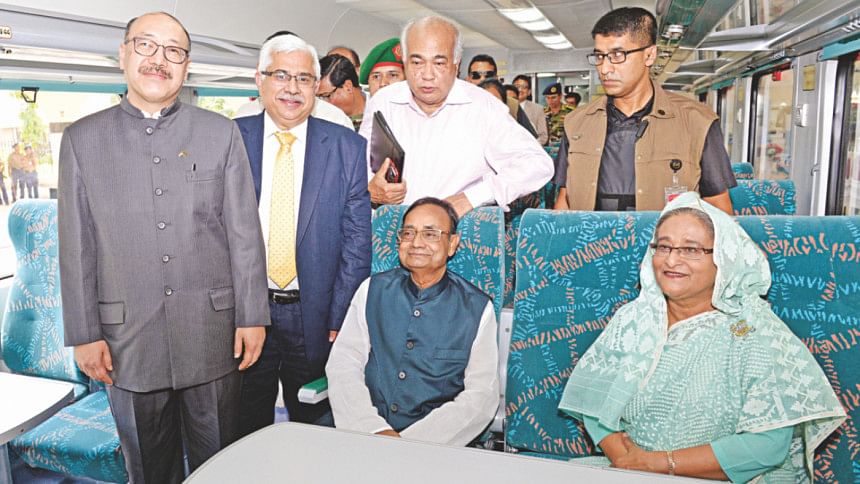 RENEWED SILK CITY EXPRESS
Prime Minister Sheikh Hasina also inaugurated new carriages of Silk City Express that runs on Dhaka-Rajshahi route.
All the 12 old carriages have been replaced with new Indian ones, said railway officials.
There are 630 non-AC Chair seats, 156 AC Chair and 48 seats in AC berths. The carriages are financed under the first Indian LoC to Bangladesh, said a press release of the Indian High Commission.
Railways Minister Mazibul Hoque, Indian High Commissioner in Dhaka Shri Harsh Vardhan Shringla, among others, also attended the inauguration programme yesterday.