Dhaka attack: 20 hostages killed Friday night, says ISPR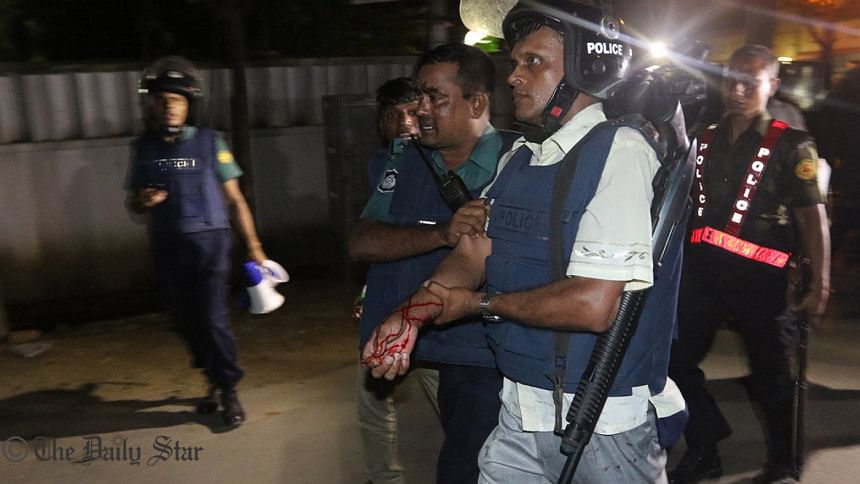 Gunmen killed 20 people, mostly with sharp weapons, shortly after taking hostage a number of diners at a café in Dhaka's diplomatic zone last evening, according to Inter-Services Public Relations (ISPR).
-- 'Operation thunderbolt' conducted
-- Among 7 attackers, six killed, one held alive
-- Victims mostly killed by sharp weapons
-- Sharp weapons, unexploded IED, walkie-talkie recovered
-- Autopsies at Dhaka CMH
-- Dial +88-0176-9012524 to ascertain victims' identity, army says 
As per instruction by the honourable head of the government, Bangladesh Army conducted Operation Thunderbolt, Brig Gen Nayeem Ashfaque Chowdhury, director of military operations, told journalists at a press briefing this afternoon.
Joint security force led by army recovered 20 bodies during a search on the compound of the Spanish restaurant, Holey Artisan Bakery after the operation was launched, Brig Gen Nayeem said.
"Most of the victims were killed brutally with sharp weapons," he added. 
Autopsies of the deceased will be conducted at Combined Military Hospital (CMH) following existing norms, the army official said.
For details and to ascertain identity of the deceased, people have been told to contact army provost martial of Bangladesh Army over a hotline +88-0176-9012524.
Members of army, navy, air force, Border Guard Bangladesh, Rapid Action battalion and police took part in the over an hour operation starting at 7:40am, Brig Gen Nayeem.
Two Sri Lankans and a Japanese were among the 13 hostages rescued in the operation.
Six terrorists were killed and joint forces detained a suspected attacker from the spot, he said.  
A pistol used by terrorists, folded butt AK 22 rifle, Improvised Explosive Device (IED), walkie-talkie set and a large number of locally made sharp weapons were recovered from the spot, he said.