Gulshan attack: 6 gunmen killed, 1 held, PM says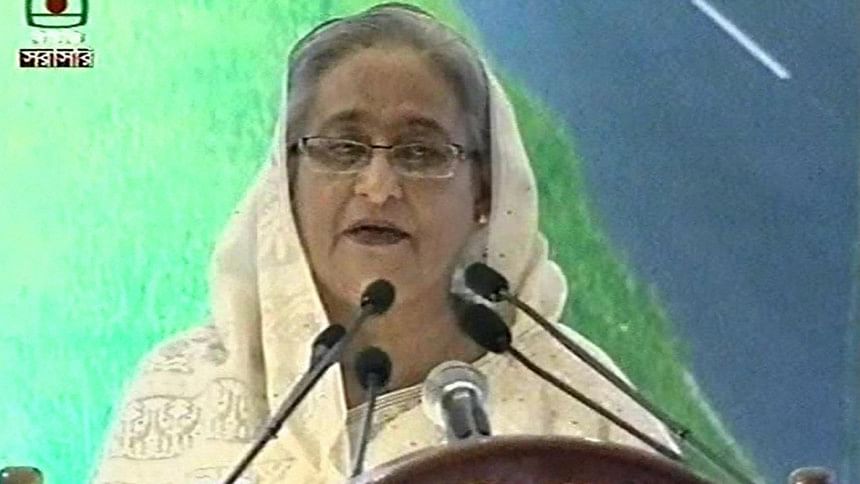 Prime Minister Sheikh Hasina has condemned the Gulshan restaurant attack and hostage crisis that has, so far, led to the confirmed deaths of at least eight people – six gunmen and two police officers.
- 13 people rescued, 6 assailants killed, 1 held
- PM Hasina thanks law enforcers for promptness
- Hasina slams media for live coverage
- Not Muslims: Hasina says on Gulshan attackers
READ MORE: Bloody end to Dhaka hostage crisis
"Six attackers have been killed and 13 rescued," she said during a programme in Dhaka this afternoon after the crisis ended. "The attackers were not allowed to escape. One attacker has been captured alive."
She thanked the law enforcers – Bangladesh Army, Bangladesh Navy, police, Rapid Action Battalion and Border Guard Bangladesh – for their swift actions into the situation.
The government's brought in security forces including army commandoes who were called in from Sylhet, Savar and Dhaka cantonments to tackle the situation, she said.
"Within ten hours of the crisis, we were able save 13 hostages," she said. Several injured victims of the hostage crisis were under treatment at CMH, she added.   
READ MORE: LIVE UPDATES OF GULSHAN ATTACK
Reiterating her vow to stop militancy and terrorism, Hasina reassured citizens that her government will do everything to curb militancy and violent extremism in the country.
'WHAT SORT OF MUSLIMS THEY ARE'
"They (gunmen) should have been in their Tarabi prayers at that time – during the month of Ramadan, a month of self restraint," the premier said on the note of the attackers.
"What sort of Muslims they are that they don't offer prayers and instead do such a thing? And what has been the result? None of the attackers could get away with their lives."
PM COMES DOWN HARD ON TELEVISION CHANNELS
Prime Minister Sheikh Hasina came down heavily to the private television channels for live telecast of the offensive launched against the gunmen at the restaurant.
"Don't they think that criminals can adjust to the steps taken by lawmen based on the information broadcast by the media," she said urging a restraint.
"I have personally observed who did not heed to the bar on live telecasting the operation. Most of the private TV channels were approved by me. So be careful. It's not a plaything."
PM Hasina was addressing an inaugural programme of four-lane Dhaka-Chittagong and Joydebpur-Mymensingh highways at Bangabandhu International Conference Centre this morning.