DU students give 48hr ultimatum to arrest 'rapist'
Free Shahbagh intersection after 1hr; block Dhaka-Mymensingh highway for half an hour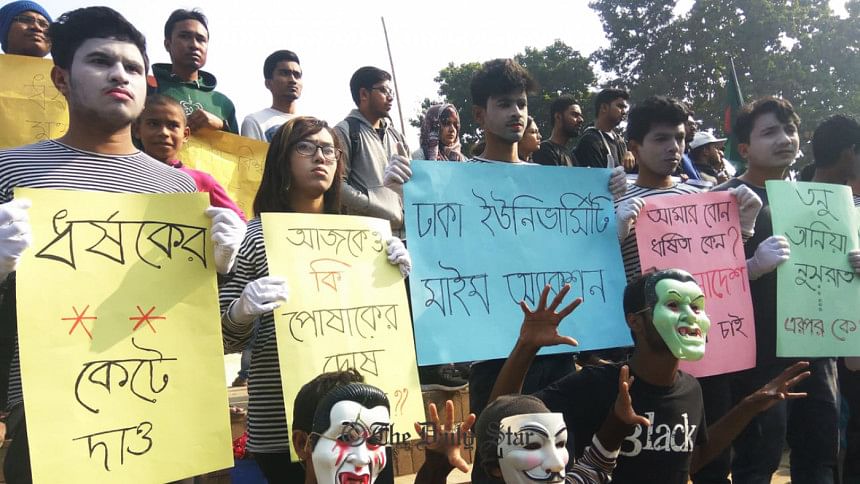 Santrash Birodhi Chhatra Oikya, a new alliance of 12 student organisations of Dhaka University, blocked Shahbagh intersection for an hour this afternoon protesting alleged rape of a university student in the capital's Kurmitola area last night.
The alliance issued a 48-hour ultimatum to Dhaka University and other authorities concerned for the arrest of the alleged rapist.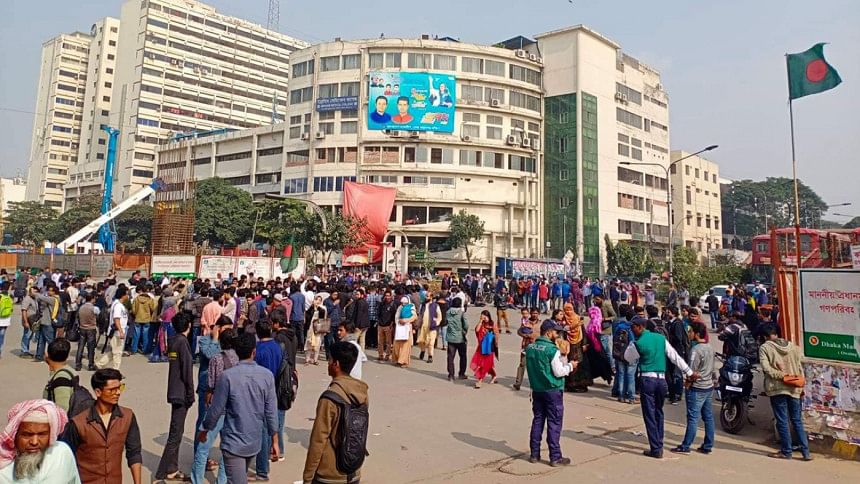 "We will announce tougher programme if the rapist is not arrested within 48 hours," Dhaka University Central Students' Union (Ducsu) Vice President Nurul Haque Nur said while speaking at a sit-in in front of the Raju Sculpture.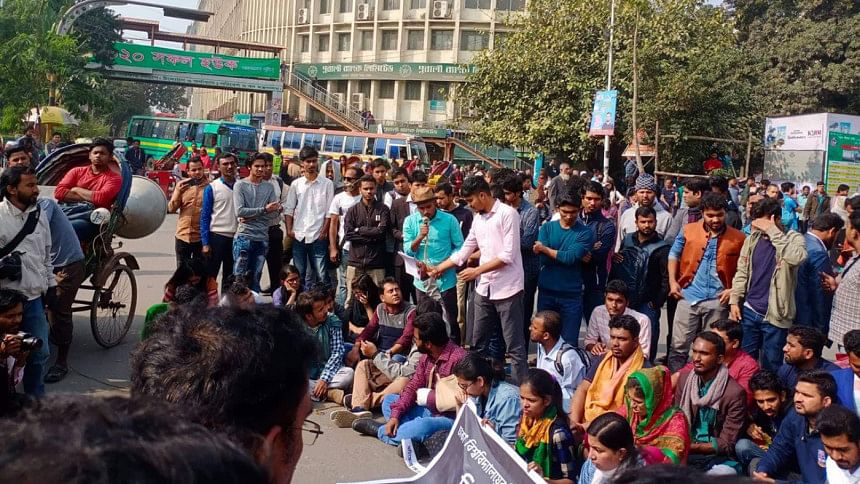 Earlier around 11:00pm, around 150 students of the alliance gathered in front of Raju Sculpture on the campus and brought out a procession, demanding exemplary punishment of the rapist.
They blocked the Shahbagh intersection around 12:20pm, halting traffic movement on the busy roads. However, they withdrew the blockade around 1:30pm after holding a sit-in there, reports our DU correspondent.
They are continuing their demonstration in front of the Raju Sculpture on the DU campus till filing the report around 1:40pm.  
The platform will gather on the campus around 11:00am tomorrow to stage demonstration, Ducsu leader Nur added.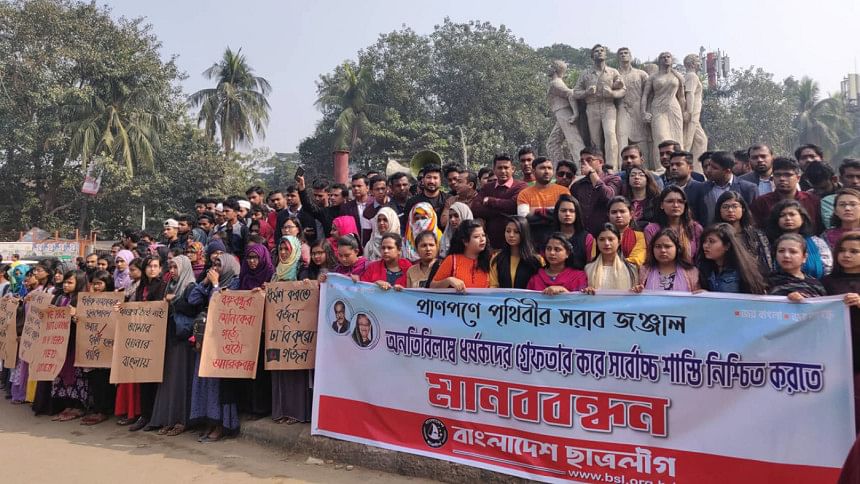 Meanwhile, nearly 500-600 leaders and activists of Bangladesh Chhatra League formed a human chain in front of Raju Sculpture around 10:45am demanding arrest and punishment of the "rapist".  They left the campus around 12:45pm.
Demanding arrest and punishment of the rapist, a group of Jatiatabadi Chhatra Dal also staged protest at the foot of Aparajeyo Bangla on the campus till 12noon.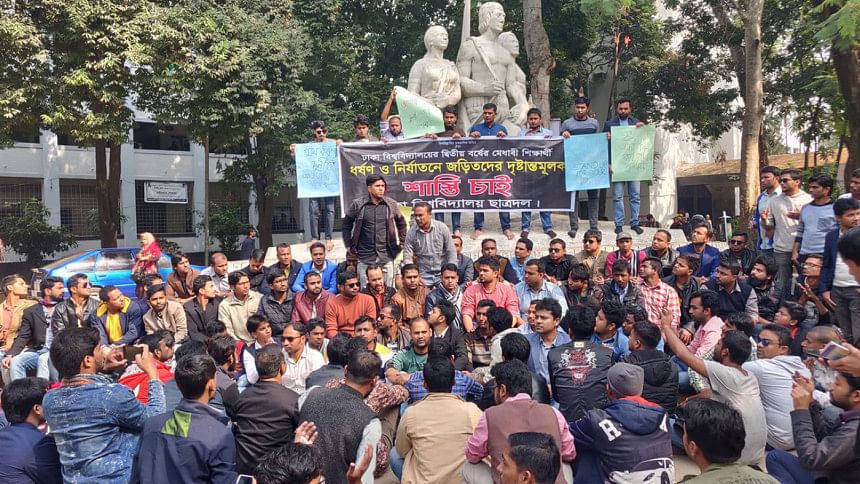 Meanwhile, around one hundred students of Jagannath University (JnU) brought out a procession and formed a human chain on the campus protesting the rape incident. 
Soon after hearing the rape incident, the Dhaka University students took to the university campus in the midnight and announced the protest programme.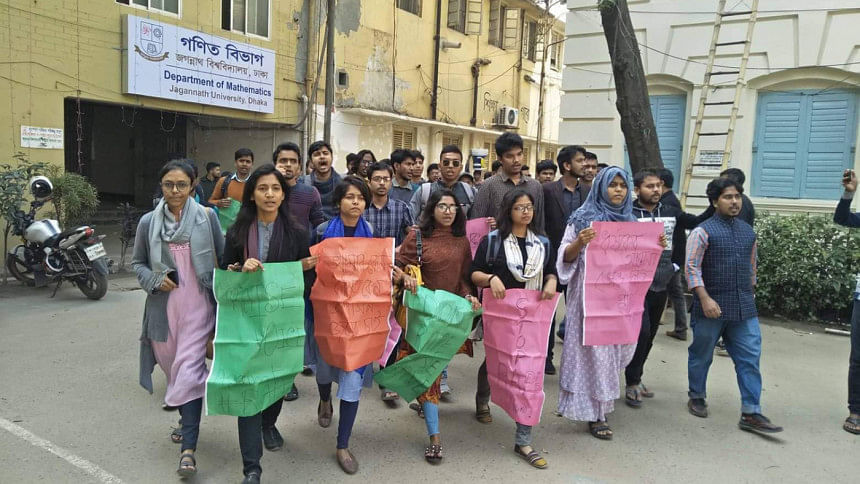 Meanwhile, Bangladesh Mahila Parishad, a national non-political and voluntary women's organisation, formed a human chain near Raju Sculpture on DU campus around 3:40pm.
They also demanded immediate arrest of the alleged rapist and his exemplary punishment.
DU students block Dhaka-Mymensingh highway
Protesting the incident, a section of Dhaka University students blocked Dhaka-Mymensingh highway in Kurmitola for half an hour since 3:45pm today.
They formed a human chain there around 3:30pm and later blocked the road, our staff correspondent reports from the spot.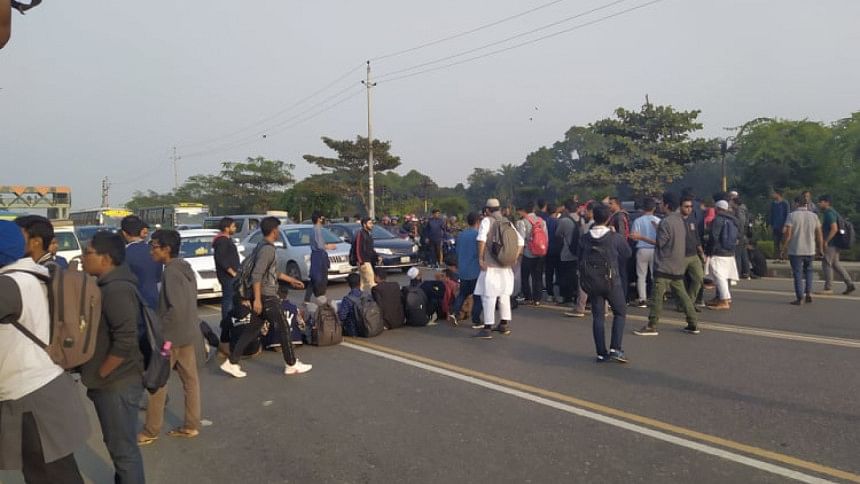 What happened yesterday?
A second-year student of Dhaka University was allegedly raped and tortured in the capital's Kurmitola area last night.
Her fellow students and several DU employees brought her to Dhaka Medical College Hospital around midnight and got her admitted there.
The incident happened while she was walking from Kurmitola bus stop to a friend's house in a nearby area around 7:30pm yesterday.
Soon after getting down from the university bus, someone grabbed her from behind, gagged her and took her to an isolated place nearby. She was raped and tortured there, some of her friends said, quoting the victim.
She felt severe pain in her left leg, according to her fellow students.
Assistant Sub-inspector Abdul Kahan of DMCH police outpost yesterday said the 21-year-old woman, who appeared to be traumatised and disoriented at the hospital, told her fellow students that she fainted at the time and regained consciousness after 10:00pm.
She then called her friends who rescued her and brought her to the DMCH, he said.