Anti-rape protest continues for seventh consecutive day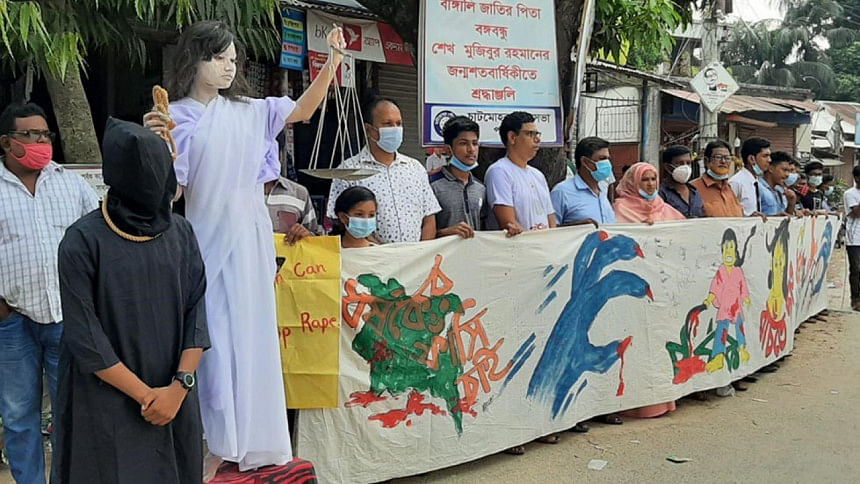 Anti-rape protests continued across the country for the seventh consecutive day today as different organisations took to the streets demonstrating against rape, sexual harassment and violence against women.
Protesters under the banner of 'Bangladesh against Rape and Impunity' organised a programme at the city's Shahbag area this afternoon where they chanted slogans against rape, victim blaming and patriarchy.
They displayed paintings on rape and violence against women and printed copies of news reports on rape published in several newspapers.
Progati Tama, general secretary of Bangladesh Chhatra Front of Dhaka University Unit, said the state has completely failed to prevent the incident of rapes putting women in a vulnerable position.
Urging the government to take steps to make the country more women-friendly, she demanded speedy trial of rapists and culprits involved in violence against women.
UNB also reports that students of Motijheel High School and College and Ideal School and College staged a sit-in protest at 1:30pm after putting up barricades on the road demanding punishment of those involved in raping and torturing women and girls, said Monir Hossain Mollah, officer-in-charge of Motijheel Police Station.
In Pabna, several voluntary organisations formed a human chain at Chatmohor area of the district this morning protesting the surge in rapes.
In Brahmanbaria, leaders and activists of Bangladesh Chhatra Moitree waged a similar protest programme in front of the office of deputy commissioner of the district.