Chawkbazar tragedy: Breadwinner loses fight for life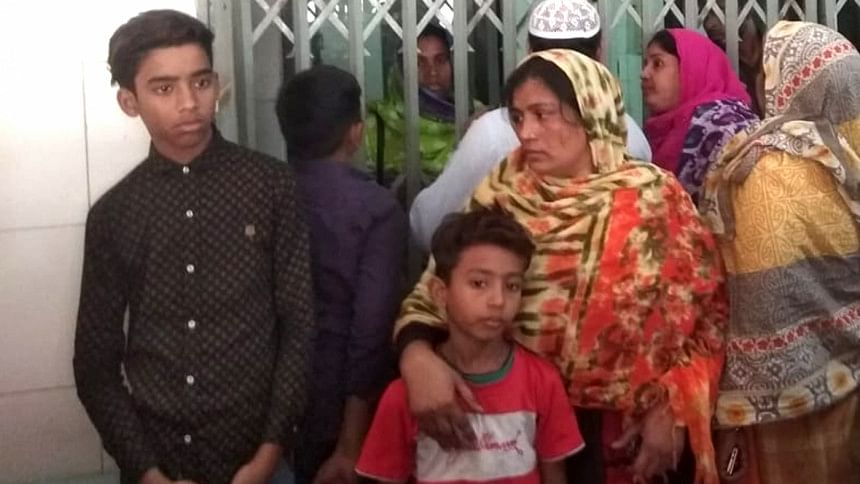 While 45-year-old Chawkbazar fire victim Anwar Hossain who was battling for his life at the Intensive Care Unit (ICU) of Dhaka Medical College Hospital's burn unit, has died.
Anwar, a rickshaw-puller and also the breadwinner for a family of eight, survived the chemical-fuelled blaze that ravaged the Churihatta area of Chawkbazar on Wednesday night claiming 67 lives.
Hailing from Rajbari Sadar upazila, Anwar used to live at a shanty in Dhaka's Kamrangirchar that houses people with scanty income, said Bithy Akter, elder daughter of Anwar.
On the fateful night, he was returning to his residence on his rickshaw when the devastating fire erupted, leaving him seriously injured, Bithy says.
The condition of Anwar, who suffered 60 percent deep burns, has been stated to be the most critical among the nine Chakbazar fire victims undergoing treatment at the ICU, according to Dr Samanta Lal Sen, chief coordinator of National Institute of Burn and Plastic Surgery of the DMCH.
Anwar had to overwork to maintain his family comprising of four children as his elder son Hridoy is a shirker, she said.
Hridoy also has a month-old infant apart from Bithy's two siblings who are also minors.
Despite their best efforts, Anwar has little chance of survival and his condition is deteriorating, according to Dr Sen.
He is being fed through pipe and gradually losing his ability to talk, he said.
Hajera Begum, the wife of Anwar, said he is pleading for mercy and urged her (Hajera) to hold the family together in his absence.
Although Anwar is receiving treatment free of cost, the rest of the family is finding it difficult to manage sustenance, Hajera told The Daily Star.
About the nine victims, the conditions of six of them are critical while three showing signs of improvement, Dr Sen told The Daily Star.
A devastating fire broke out at Chawkbazar around 10:30pm on February 20, leaving 67 people dead and a trail of destruction.