'Govt to be held responsible for Chawkbazar tragedy'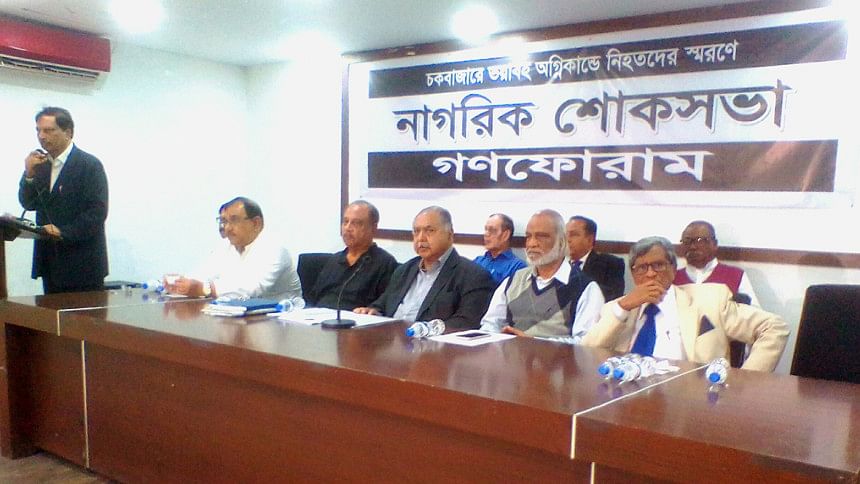 Jatiya Oikyafront leaders today held the government responsible for the Chawkbazar fire that claimed 69 lives.
Oikyafront leaders including Dr Kamal Hossain, JSD (Rob) President ASM Abdur Rob, Nagorik Oikya Convener Mahmudur Rahman Manna, BNP Standing Committee Member Abdul Moin Khan equivocally blamed the government for its negligence in ensuring security of people's lives and properties.
The top brass of the Oikyafront were addressing a condolence programme over the Chawkbazar tragedy organised by Gonoforum, a component of Oikyafront, at the Jatiya Press Club in Dhaka this afternoon.
"We demand a logical answer from the government for the tragedy," Dr Kamal Hossain said while addressing the programme.
"The government cannot ignore the responsibility of the fire incident as it is bound in ensuring safety and security of the people's lives and properties," Kamal also Gono Forum president said.
ASM Abdur Rob blamed the government for its negligence in maintaining chemical business in the old part of Dhaka and said it should resign following the Chawkbazar tragedy.
"It was not an accident indeed. The people have met the tragic end of their lives due to the negligence of the government," the JSD president said.
The leaders also expressed deep shock at the deaths seeking eternal peace of the departed souls. They also extended condolence to the bereaved family members of the victims.
On the night of February 20, the fire originated from a gas cylinder blasted and instantly fuelled-up by chemicals that were stored in nearby buildings at the Chawkbazar, leaving 67 people burn to death and many others injured. Later, two of the injured succumbed to their injuries at Dhaka Medical College Hospital.
In 2010, another chemical-fuelled fire at Dhaka's Nimtoli took place that left another 124 dead.
Following the Nimtoli tragedy, different quarters have urged the authority to remove all chemical warehouses and factories from the old town.
However, all those calls fell on deaf ears. Even the government is yet to respond to the High Court rule over that incident.