30 hurt as cops, RMG workers clash in Savar
At least 30 people were injured, including eight policemen, as law enforcers clashed with garment workers who blocked Dhaka-Aricha highway in Savar this morning.
-- Situation under control in Savar

-- Sporadic clashes still going on in Ashulia

-- BGB deployed

-- Dhaka-Aricha highway cleared of blockade

-- Cops charge batons, fire tear-gas shells

-- Men in plainclothes seen beating up protesters
Two platoons of Border Guard Bangladesh (BGB) personnel have been deployed in the area to bring the situation under control, our local correspondent reports from spot.
Workers from several garment factories blockaded Savar Bus Stand area on the highway when police went into action around 9:30am, leaving at least 22 workers and eight policemen injured, said Superintendent of Industrial Police Shana Shaminur Rahman.
The law enforcers charged batons and fired teargas shells to disperse the protesting workers, he added.
After the law enforcers dispersed the protesting workers, they regrouped in Ulail Bazar area of Savar and blockaded the highway again around 10:00am. But the law enforcers fired teargas canisters to disperse them around 10:40am.
Incidents of chase and counter-chase between police and the workers were taking places and sporadic clashes were going on at different points in Savar till the situation became normal since around 12:00pm, reports our correspondent.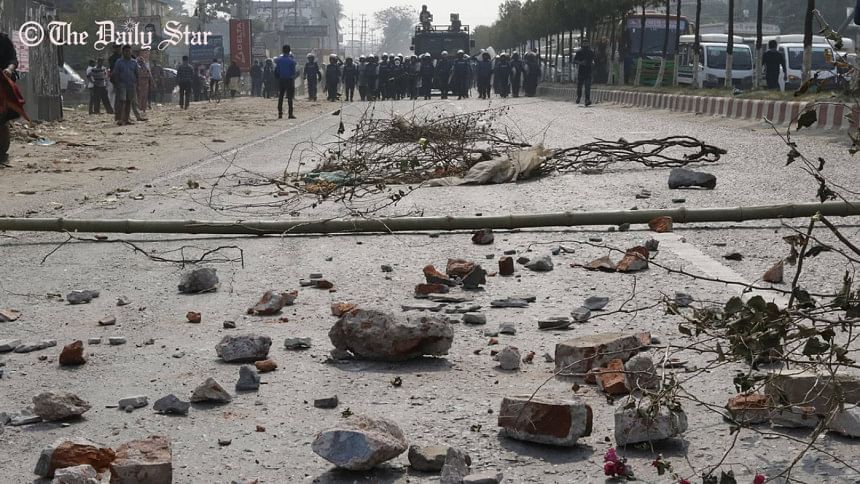 Some men in plainclothes were also seen beating up the workers, the correspondent said.
At least 12 RMG factories in Ashulia area of Savar have been shut down following the unrest, SP Shaminur Rahman said.
Meanwhile, sporadic clashes between the agitating workers and law enforcers were still going on in different areas in Ashulia of Savar till last updated around 3:00pm.
"The demonstrating workers have launched attack on several garments factories in different areas in Ashulia," said Javed Masud, officer-in-charge (investigation) of Ashulia Police Station.
"We are trying to bring the situation under control," the OC added.
He, however, could not ascertain how many people were injured in the clashes there.
The agitating garment workers have been holding demonstrations since Sunday over disparity in wage raises in the latest government pay scale.
WHAT DID SP SAY ABOUT THE WORKER DIED YESTERDAY?
Asked about the death of a worker of Anlima Textile yesterday, SP Shana Shaminur Rahman claimed that he was not shot by police.
"No clashes between police and workers took place in the area that time yesterday. We are looking into the matter," he said.
WHAT ARE THE WORKERS DEMANDING?
The workers have alleged that the monthly wage in the seventh grade increased to Tk 8,000 from Tk 5,300 as per the latest gazette published by the government last year. But, the salary of the workers in other grades did not increase at the same rate.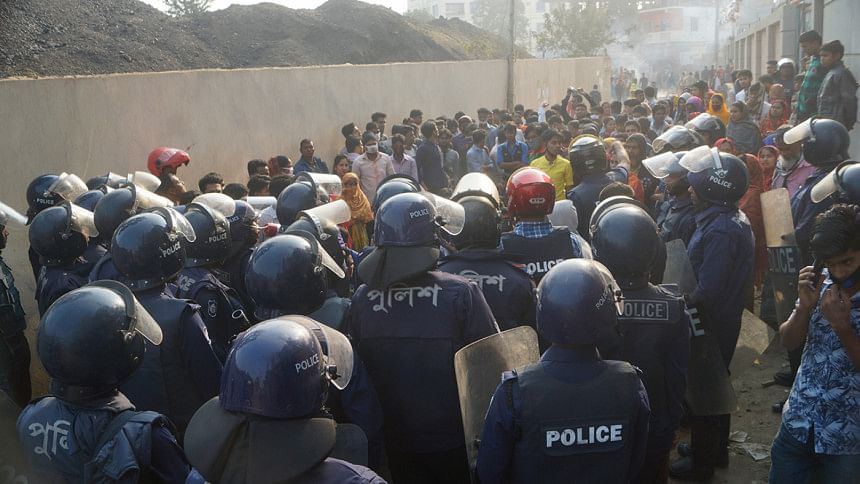 The salary hike for the entry-level workers was more than that of their senior operators, who have been working for more than seven to eight years. The new wage has been effective from December 1. Major disparity in the salary hike was noticed in the third and fourth grades as their salaries were not raised like that of entry-level workers.
In most of the grades, other than the seventh, only Tk 500 was raised in the new salary structure, whereas an entry-level worker's salary had increased by Tk 2,700 at one go.