Worker killed in Savar clash
Family claims he was shot dead during clash with cops; police deny; 36 hurt in clash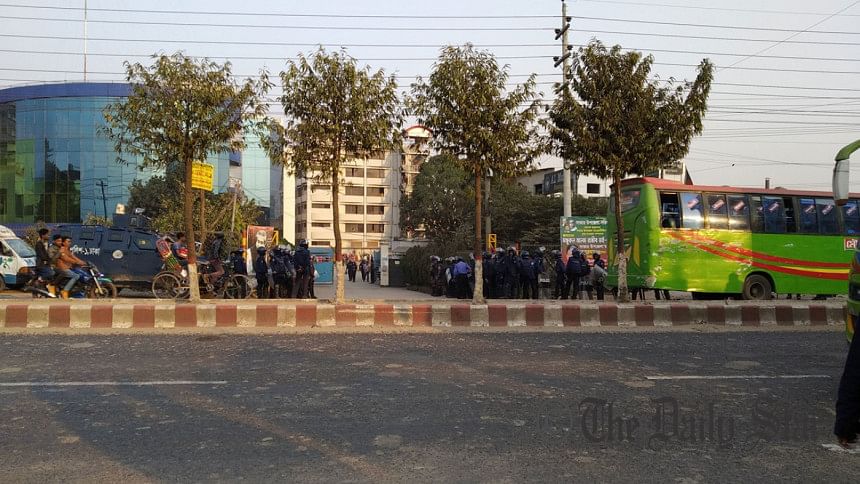 A garment worker was shot dead allegedly by police and at least 36 others were injured in separate clashes between garment workers and law enforcers at Savar yesterday.
Meanwhile, police also raided the homes of some garment workers, vandalising their properties and even shooting them with rubber-bullets, victims alleged.
In the Savar incident, family members and co-workers identified the dead as Sumon Mia, 22, a worker of Anlima Textile of Kornopara area in Savar.
His colleagues claimed he was not a protester but was caught in the clash between law enforcers and demonstrators while on his way to work.
The protests began three days ago after garment workers took to the streets over disparity in wage raises in the latest government pay scale.
Yesterday's clashes began when police fired several teargas canisters and charged batons to disperse demonstrators, who occupied a main road in the area.
In Ashulia, hundreds of the workers clashed with police when they were barred from blocking a road there around 8:00am, industrial police source said.
Meanwhile in Dhaka city, around 200 garment workers tried to block the Airport Road protesting the same around 11:45am. Such protests were also reported from Dakkhin Khan and Kalshi areas.
The protests also spread to other areas in Savar. Twenty-five people were injured, including police and four workers who suffered rubber-bullet injuries, in clashes between garments workers and law enforcers during and after demonstrations by workers at Hemayetpur of Savar.
Afterwards, law enforcers raided the houses of workers and allegedly attacked them.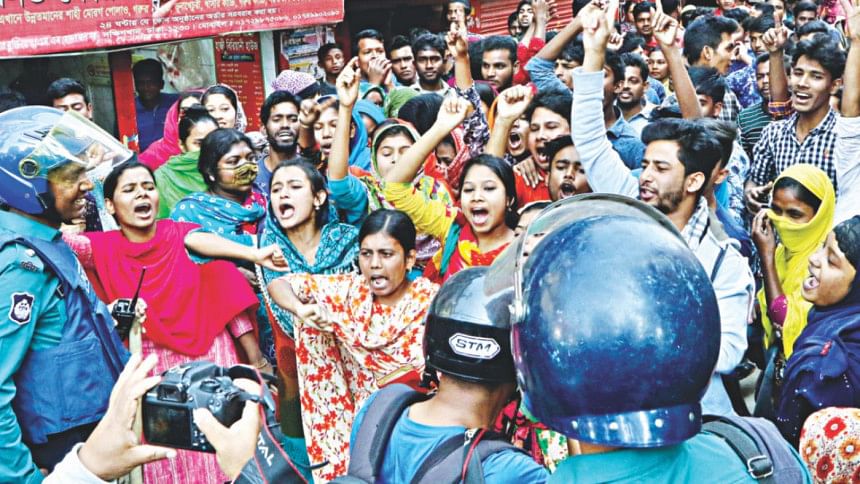 Locals and witnesses said workers staged a demonstration blockading Hemayetour Tannery road around 8:30am. The clash ensued when police fired several teargas canisters and charged batons to disperse demonstrators.
The clash continued for around an hour.
Operations of at least 15 garments factories in Savar and Ashulia area were suspended yesterday as chase and counter-chase took place between workers of the factories.
Talking to The Daily Star around 10:30am, SP of Industrial Police Shana Shaminur Rahman claimed they had fired several rubber bullets, tear shells and fired from shotguns in the air to disperse workers from the roads as they had thrown brick chips at the police.
Shaminur also claimed to have recovered crude bombs from the road where workers were demonstrating.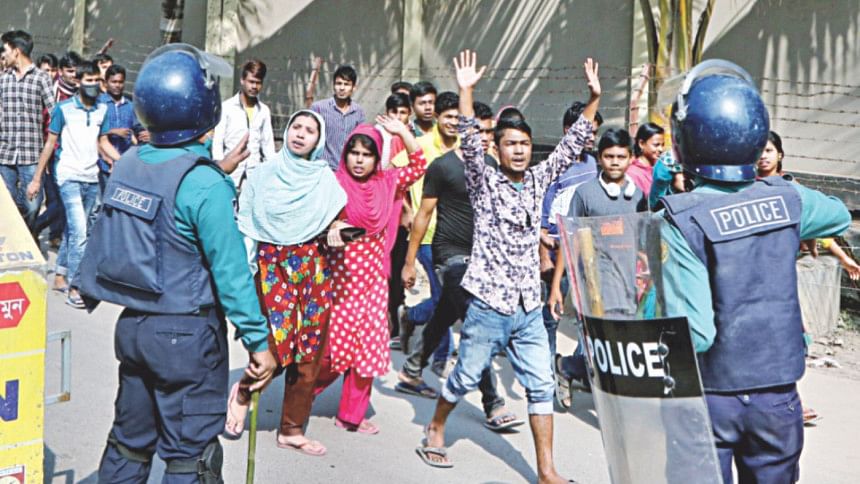 WHO SHOT SUMON?
Talking to The Daily Star, Nahid, a colleague of Sumon, said they were returning to work from their rented home nearby after lunch around 1:30pm, when workers of another factory were demonstrating on the road.
Police suddenly arrived at the spot and began to chase the workers away. Panicking, Sumon and Nahid also began to run. At one point, Sumon was hit by something on his chest and he collapsed, Nahid said.
Afterwards, police left the area while Sumon's lifeless body was still lying on the ground. Afterwards, the victim's co-workers took the body to Anlima Textile Factory.
Workers began demonstrating with Sumon's body in the factory. Soon, police reached the spot. They fired rubber bullets and charged batons to disperse them, leaving at least 11 workers injured, including two who sustained bullet injuries, said witnesses.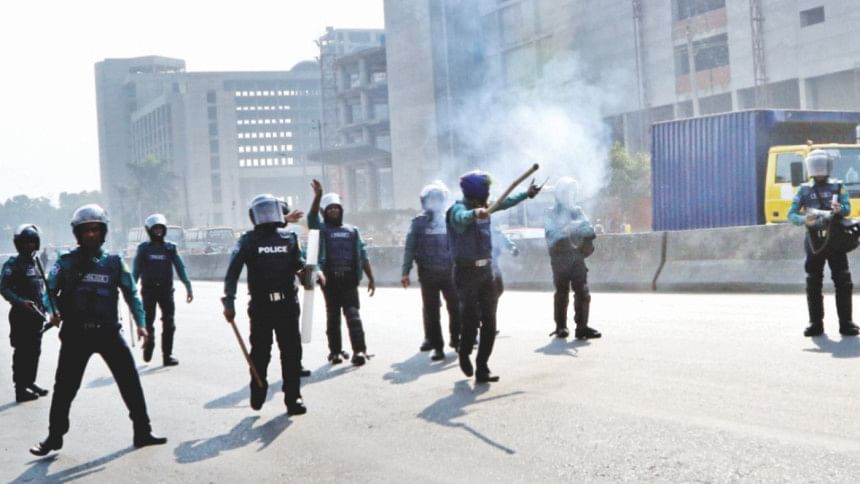 Contacted, Superintendent of Police (SP) in Dhaka Sha Migan Shafiur Rahman said he had heard that a worker had died but was not aware of where or how it happened.
Amzadul Haque, Savar upazila health and family planning officer, said a bullet-hit body was taken to the health complex. But he did not provide any further details on the incident.
Sources at the Shaheed Suhrawardy Medical College Hospital morgue confirmed to The Daily Star that a bullet-hit body of one Sumon was received around 7:00pm.
Police sent the body to the hospital in Dhaka for an autopsy. The body was identified there by Alauddin, administration officer of Anlima Textile.
He told The Daily Star that Sumon used to work in the factory's cutting section. 
Suman hailed from Sherpur and had begun work in the factory a couple of years ago.
As news of his death reached home, a gloom began to set. His mother Feroza Begum would gain consciousness only to lose it again.
Sumon had just gotten married a year earlier. His wife, Tanya, along with the rest of the family, demanded justice.
RAIDS OF REVENGE?
After the clash at Hemayetpur, uniformed police, along with plainclothes men, raided different nearby houses where garment workers live. They searched for workers and allegedly vandalised some houses.
During the raids, police detained around 10 workers and beat them. Police also fired rubber bullets injuring two male workers, one female worker and a female house owner, alleged the victims.
"We were inside our house when police suddenly entered our house and beat us. At the same time, police fired rubber bullets targeting us around 9:30am," Rubia Begum, a worker of Standard Group and a resident of Baghbari area of Hemayetpur, told The Daily Star. She was undergoing treatment at a local hospital.
Imdadul Haque, a worker of the same garment factory, said "Although we did not join the demonstration, police came to our house and asked to see our professional identity cards. Upon seeing our ID cards, police started beating us. At one stage, police fired rubber bullets at my leg and my colleague's leg."
Visiting Imdadul's house, this correspondent found seven bullet shells strewn about the ground.
Dulal Biswas, emergency medical officer of Healing Aid Hospital, where Emdad and Reaz were being treated, said he suspected that the two were shot with rubber bullets.
Residents of the house also told The Daily Star they had heard sounds of guns going off in the house.
Asked, SP Shaminur Rahman said that they had raided some local houses to catch criminals who had created anarchy on the roads. He added that at least 10 to 12 policemen were also injured as the agitating workers hurled brick chunks at them.
He claimed that police fired rubber bullets to disperse workers from the road but no police fired shots targeting any particular individual and that they had not vandalised any houses.