Woman 'raped' by eight men in Tangail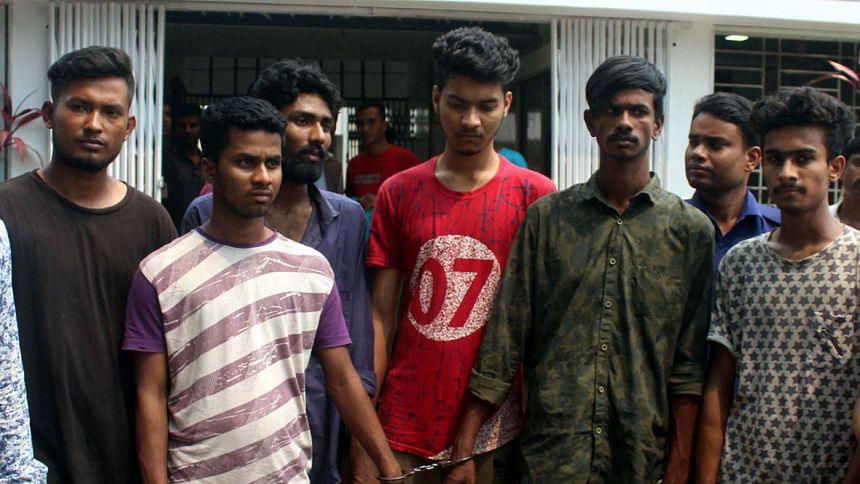 A group of eight men on Friday night allegedly gang-raped a ready-made garment worker after physically assaulting her husband.
The victim's husband, another RMG worker, filed a case with Tangail Model Police Station.
Police arrested six of the accused that night and early yesterday.
The arrestees are Yusuf Rana, 25, Md Robin, 25, Jahidul Islam, 25, Mdb Mofiz, 21, Tanjirul Islam, 22, and Ibrahim Ibne Al Beruni, 20. They were hailed from different villages in Tangail's Sadar upazila.
The two others accused Md Hasan Sikder, 22, and Md Uzzal, 25, were on the run, police said, adding that they were raiding different areas to arrest them.
Mohammad Mosharraf Hossain, investigation officer of the case, said the plaintiff alleged that his wife, 25, and he went to his father-in-law's home in Kalihati upazila that night.
When they were waiting for a bus in Tangail New Bus Terminal area around 9:00pm to return to their work place in Mirzapur upazila, a group of eight men approached them. They took him away from his wife, beat him up and snatched his mobile phone and Tk 1,200.
They took his wife away to DC Lake area on a motorcycle where they gang-raped her, he said.
While his wife was taken away, he informed the matter to a patrol police team.
Police detained three of the criminals from the Bus Terminal area and later, raided different places while holding the three in custody, told Saidur Rahman, officer-in-charge of Tangail Model Police Station.
Police later arrested three more of the accused from different places in the upazila and as per their confession, rescued the victim from a primary school in Chorjana area of the upazila around 2:00am, he said.
Of the accused, three -- Yusuf, Robin and Jahid -- admitted to police that they raped the woman and others were involved, he said.
Robin confessed that he raped the woman again after taking her at an abandoned house in Chorjana area and left her on the local school premises, he added.
Sanjit Kumar Roy, superindent of Tangail Police, at a press briefing at his office yesterday afternoon, told journalists that three of the accused had given confessional statements as per section 164 before a magistrate court.
The three others were produced before the same court seeking ten days remand each for interrogation, he said.
He alleged that all the accused in the case are drug addicts and criminals based in Tangail New Bus Terminal area and several criminal cases were already pending against them.
Narayan Chandra Saha, superindent of Tangail General Hospital, said police took the woman to the hospital around 5:00am, adding that medical examinations found symptoms of rape.