RMG workers demonstrate in Narayanganj, Gazipur and Savar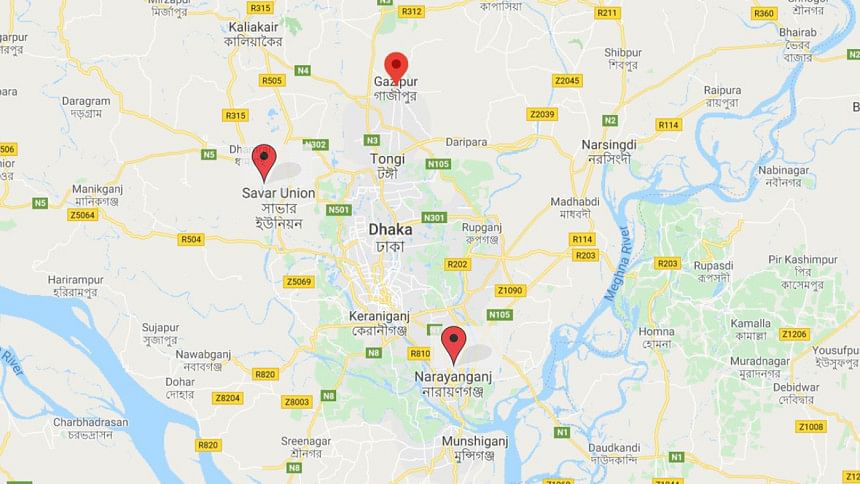 Readymade garment (RMG) workers in Narayanganj, Gazipur and Savar took to the streets today, protesting layoff and demanding wages for the month of March.  
In Narayanganj, hundreds of garment workers of eight factories started their demonstration in the morning in front of their work places.
Meanwhile, around one hundred workers of Amina Knit Fashion blockaded the Dhaka-Narayanganj road at the police lines area in Fatullah for one hour until 12pm, our district correspondent reports.
Garment workers staged demonstrations and barricaded the road protesting layoffs, said Aslam Hossain, officer in charge (OC) of Fatullah Police Station.
"No worker was sacked. They are told that they can rejoin work after Eid since the factory has no orders at present", Nazrul Islam, chairman of Amina Knit Fashion, told our correspondent.
Meanwhile, hundreds of workers staged demonstrations at seven garment factories in Fatulla, Siddirganj and Sadar upazila, demanding their wages for March.
"We are taking the preparation of filing cases against 18 factories which still haven't paid wages to their workers," said Somen Barua, deputy inspector general of the Department of Inspection for Factories and Establishments (DIFE) in Narayanganj.
In Gazipur, workers of at least four garment factories took to the streets their demanding wages for March.
They also blocked different roads including the Dhaka-Mymensingh road at Bhogra area.
"Some factory owners switched off their mobile phones so we could not contact them," said S Alma, assistant superintendent of Gazipur Industrial Police.
Later, the workers returned to their homes after they were promised their wages by some factory owners, the ASI added.  
In Savar and Ashulia, around 1000 of workers of four factories demonstrated in front of their workplaces today morning, demanding last month's wages.
Meanwhile, over 300 hundred workers of Sigma Fashions Ltd demonstrated inside the factory, demanding reinstatement of their jobs for the second day today.
The workers started demonstrating after the factory laid off 709 workers yesterday morning.
Mizanur Rahman, managing director of Sigma Fashions Ltd, told our Savar correspondent that they took the decision to layoff the workers since they could not bear the expenses amid the ongoing crisis.
"If we overcome the crisis, we will try to reappoint the workers who worked here before," Mizanur added.