Vegetable exports rebound after four years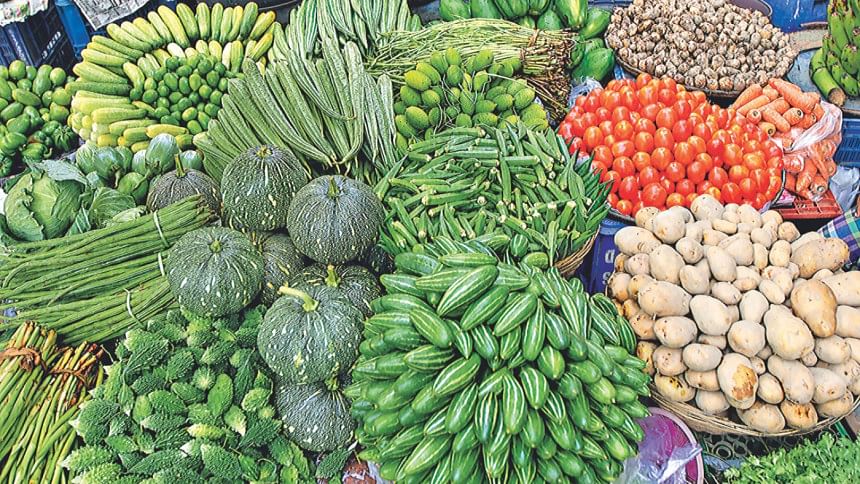 Fresh fruits and vegetables export bounced back in fiscal 2018-19, ending four straight years of slump, thanks to higher demand and efforts to improve farming and packaging practices in order to produce and ship disease-free crops.  
Shipment of fresh produce, including potato, rose 31 percent year-on-year to $105.39 million in the last fiscal year, according to the Export Promotion Bureau (EPB).
In volume, exports of vegetables also soared, showed data compiled by the Plant Quarantine Wing of the Department of Agricultural Extension. Exporters shipped 17,487 tonnes of domestically grown vegetables, up 18 percent year-on-year.
Mohammed Monsur, general secretary of the Bangladesh Fruits Vegetables & Allied Products Exporters' Association (BFVAPEA), attributed the reopening of exports to Europe in the last 7-8 months following a self-imposed ban by Bangladesh for almost two years for the rebound. 
Bangladesh is now shipping fresh produce by packaging them at the central packing house following guidelines for exports to the EU destinations, he said.  
"It has improved our compliance a lot and our shipment has increased." 
The Middle Eastern countries, home to more than five million Bangladeshi migrant workers, are the biggest destination for the vegetables and fruits grown in the country, followed by Europe.
But the shipment to Europe had come to a halt after the government voluntarily imposed the ban on the exports a couple of years ago in the face of repeated detection of pest in the consignment from Bangladesh by the regulators in the EU. 
The UK, Italy, Germany and France are the major markets for locally grown vegetables and fruits because of the demand from Bangladeshi migrants living there.
Monsur said the government had slapped the export restriction to avoid any potential import ban by the EU. 
"It has paid off. We all have become more aware about quality standards and requirements for exporting," he said, adding that orders from Qatar have gone up in the recent months.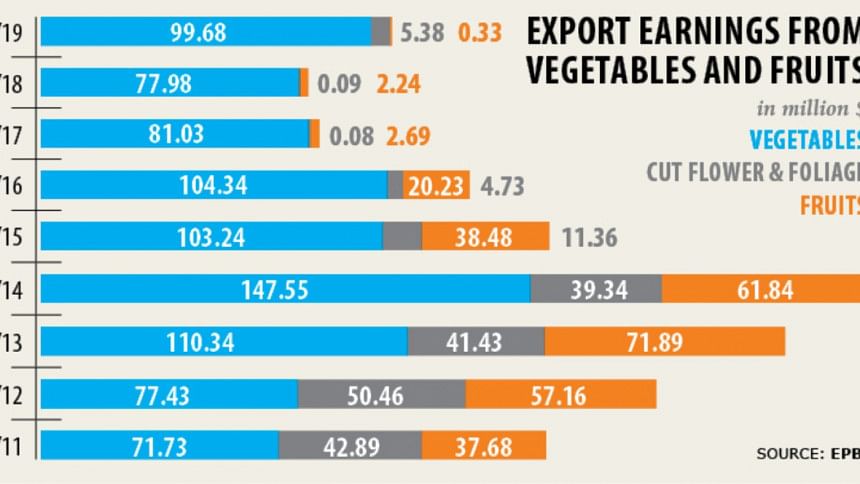 Previously, exporters used to ship vegetables after packaging them on their own. Now every consignment is packed at the central packing house after quality check. There the consignment is sealed before directly going to the port for shipment.
Non-compliance notification from the EU has reduced significantly, said Md Azhar Ali, director of the Plant Quarantine Wing. 
"Overall, cultivation of exportable vegetables has expanded because of our extension work and training imparted to farmers on good farming practices to produce safe food," he said.   
Hortex Foundation estimates that 46,476 tonnes of fruits and vegetables were exported in 2018-19, up 15 percent from the previous year, said Mitul Kumar Saha, assistant general manager of the state-run agency.
There has been improvement in post-harvest management and production quality as the government has carried out various projects in this regard, he said.
Despite the recovery, exports receipts remained less than half of the record receipts registered in fiscal 2013-14. Exporters had fetched $248 million from shipping vegetables, fruits and cut flower and foliage in the year, EPB data showed.
BFVAPEA President SM Jahangir Hossain said exports would have increased further if they could get cargo space on the Dhaka-London flights of Biman Bangladesh Airlines. 
Exporters used to get such space on the Biman flights in the past.
He said the association has raised awareness among farmers about the production of exportable vegetables and fruits, biological control, application of pesticide and pre-harvest intervals before harvesting.  
"As a result, farmers are getting higher value for their produce while local consumers have also benefitted from quality fresh crops," he said.
Exporters source vegetables from areas around Dhaka city, namely Narsingdhi, Sonargaon, Gazipur, Sylhet, Khulna, Rajshahi, and Tangail.
Hossain expects shipment to increase in the current fiscal year. "We will be able to hit our export target if we get cargo space on Biman flights."