Strict checking of LCs slows wheat truck release from Indian ports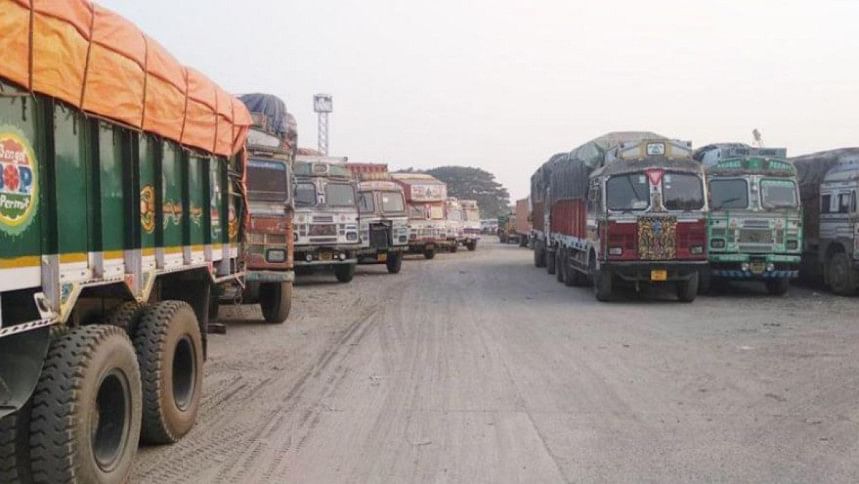 Hundreds of trucks carrying wheat to Bangladesh have been held up at different land ports in West Bengal for at least three weeks.
The exporters apprehend that the wheat will start rotting because of the delay in transportation and rains, reports our New Delhi correspondent.
The delay is due to strident check of letters of credit following ordered by the Indian commerce ministry in the wake of reports that a number of private exporters have back-dated their LCs to avoid the curbs imposed by India on wheat export on May 13, officials and industry sources said.
India imposed the restriction on wheat export following a severe heat wave that hit crop's production in March-April, triggering a decline in the overall domestic output.
While imposing the ban, the Directorate General of Foreign Trade (DGFT) under Indian commerce ministry said the export shipments, for which irrevocable letters of credit (LC) had been issued before May 13, would be allowed.
The ministry later said it has been brought to its notice that a section of exporters had attempted to reset the date of their LCS, officials said.
Following this the authorities ordered a fresh check of all LCs for wheat export.
Uzzal Saha, general secretary of West Bengal Exporters' Coordination Committee (WBECC), said around one lakh tonnes of wheat are stuck at Mahadipur land port in Malda district.
These are consignments for which payments have been made by Bangladeshi importers before May 13, he added.
An exporter based in Malda said around four lakh tonnes of wheat were stranded on the Bangladesh border in West Bengal since May 13.
The situation is same at Changrabandha land port in Cooch Behar district.
Bimal Kumar Ghosh, president of Changrabandha Exporters' Association, said around 1,500 trucks laden with wheat had been stuck on the border since May 12.
"Our payments were cleared and letters of credit also issued by Bangladeshi banks. We have no problem if documents of every truck are checked to confirm that the export formalities were finalised before the restriction," he said.
According to Ghosh, it had already begun raining in the area and if wheat sacks continued to remain on the trucks, the grain would rot.
"Because of frequent heavy showers, water is seeping into the bags damaging the wheat. If the monsoon sets in, a major portion of the consignment will be wasted, which means huge losses for us," he said.