Active internet connections 9cr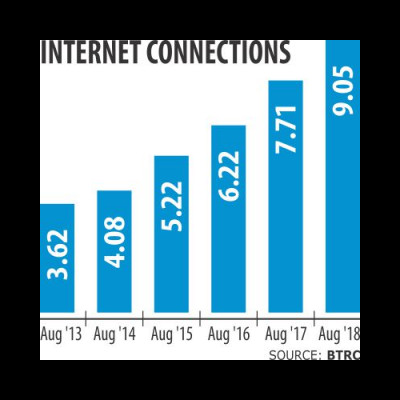 The number of active internet connections in Bangladesh hit 9.05 crore in August thanks to the addition of about 18 lakh new connections to the network in a month.
Of them, 8.47 crore are connected with mobile internet, 57.33 lakh with fixed broadband internet while the rest use WiMAX.
"We are getting huge response from the mobile operators, especially the youth, after the launch of 4G service in the country in February," said Md Jahurul Haque, acting chairman of Bangladesh Telecommunication Regulatory Commission.
The number of actual users and active connections may vary, said Haque.
"Users are now consuming more data as they are dependent on internet for their daily life."
The industry crossed the eight-crore mark in November last year, according to the telecom regulator.
Earlier, the total number of active internet connections crossed the seven-crore milestone in April 2017, the six crore mark in August 2016, five crore in August 2015 and four crore in September 2014.