Bangladesh lags behind peers in internet usage
LIRNEasia survey finds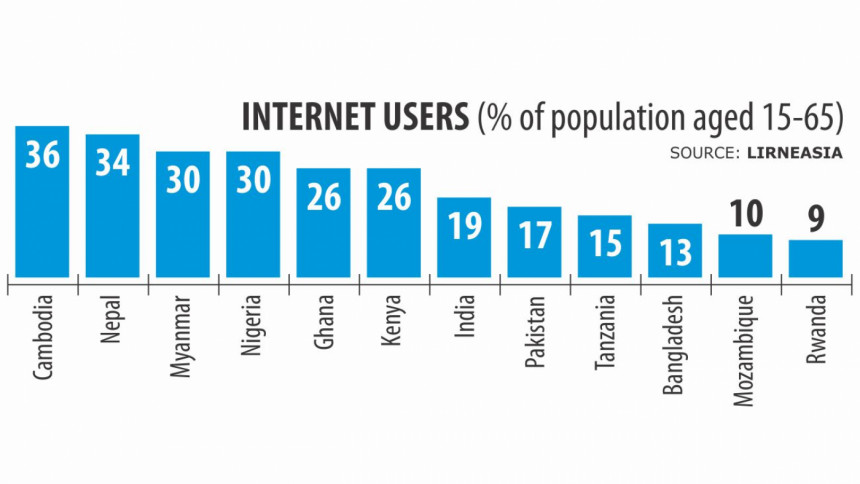 Bangladesh is still lagging behind its peers in Asia when it comes to internet usage and its awareness, found a recent survey.
Only 33 percent of the population aged 15-65 in Bangladesh know what the internet is, according to the 'AfterAccess' survey conducted by LIRNEasia, an Asia Pacific-based think-tank, between April last year and June this year.
Only 13 percent of the population in Bangladesh use the internet, the lowest among the countries surveyed in Asia.
However, according to the Bangladesh Telecommunication Regulatory Commission, at the end of August there are 9.05 crore active internet connections in the country, meaning the internet penetration is more than 50 percent.
The survey interviewed 2,000 households and individuals from 100 wards and villages in 40 districts on a range of topics related to the use of mobile phones, internet, social media and other platforms.
The urban-rural gap in internet use was large in most countries, with rural dwellers lagging behind as much as 48 percent in India and 38 percent in Bangladesh.
The gender gap in internet use was markedly large in Bangladesh: 62 percent.
"Bangladesh has the worst gender gap not only in internet use but for mobile phone use as well as access of mobile phone," said Helani Galpaya, chief executive officer of LIRNEasia, while unveiling the report at an event held at the capital's Pan Pacific Sonargaon hotel.
The cost of data was cited as a primary limitation to greater use by 30 percent of the internet users in Bangladesh -- the highest amongst the surveyed Asian countries.
Some 18 percent of the survey respondents in India and Pakistan quoted the data cost as a deterrent to greater internet usage, 29 percent in Nepal and 5 percent in Cambodia.
Bangladesh though fared better when it came to mobile phone ownership; in fact, it had the highest percentage of mobile phone usage among the Asian countries surveyed.
Some 74 percent of the 15- to 65-year-olds in Bangladesh have mobile phones, followed by Nepal at 72 percent, Cambodia at 68 percent, both India and Myanmar at 61 percent, and Pakistan at 57 percent.
Pakistan and Bangladesh had very small gaps -- 5 percent and 7 percent respectively -- indicating that rural dwellers are almost as likely to a mobile phone as urban dwellers.
The gender gap was the highest in India, with women 46 percent less likely to own a mobile phone than men. In Bangladesh the percentage is 34 percent, which is lower than Pakistan (37 percent) but higher than Nepal (19 percent), Myanmar (28 percent) and Cambodia (20 percent).
About 60 percent of the population in Bangladesh have internet-enabled handsets, which is the same as in Nepal but higher than India (45 percent), Pakistan (47 percent) and Cambodia (58 percent).
Bangladesh, however, has the highest number of users of mobile financial service in all countries surveyed. Around 27 percent of all mobile phone owners said they used MFS.
Awareness of websites or mobile apps to buy and sell goods or services was not particularly high in Bangladesh and Nepal, according to the survey.
Less than a quarter of the internet users in Bangladesh are aware of the various kinds of platforms for buying and selling goods and services. "When looking at overall numbers, usage was negligible."
The main reason cited for non-use of the platforms was the lack of capability to use them, the survey found.
The report highlights the key issues in the telecommunications sector and provides deep insights on the disparity in use of mobile phones, internet, social media and platforms, Abu Saeed Khan, senior policy fellow at LIRNEasia, said at the event.
"It also underscores the potential for growth of a Digital Bangladesh, and we must use this data to inform future policy, regulatory and industry decisions," he added.
Mahtab Uddin Ahmed, chief executive officer and managing director of Robi, who was present at the event, said the mobile operators face huge amount of challenges from the regulatory side, which is holding them back from achieving optimum growth.
Bangladesh has one of the lowest revenue per user but it is amongst the highest taxed countries, he said.
"The licensing regime is going against time. There are no consistencies in the policies, which is also hindering investors from investing more," Ahmed added.
Michael Patrick Foley, chief executive officer of Grameenphone, said the industry has invested billions of dollars as there is potential, but the regulatory issues are holding them back.