Chicken turns Tk 50 costlier in two days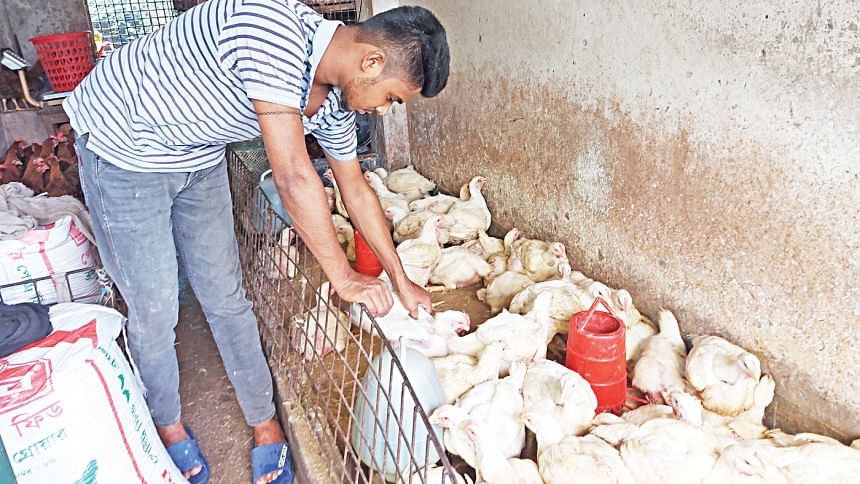 The retail price of chicken, one of the population's biggest sources of protein, has gone up by around Tk 50 in the last two days, with the common reasonings being either a supply crunch or an attempt to cash in on inevitable Eid demand.  
Each kilogramme (kg) of broiler chicken was selling for around Tk 260 whereas Sonali chicken Tk 380 in Dhaka's kitchen markets yesterday. Similar increases have been confirmed at Barishal and Shariatpur districts. 
In tandem, beef and mutton are also retailing Tk 50 higher at Tk 800 and Tk 1,100 per kg.
Chickens sold in Dhaka arrive from a handful of big companies alongside small-scale operations run in surrounding areas.
Poultry farms have hiked prices since Eid-ul-Fitr is just around the corner and this had a ripple effect on the whole supply chain, said Saidur Rahman, a retailer of Karwan Bazar, one of Dhaka's biggest kitchen markets.
"When the companies were asked about the reason, they did not say anything," he said, apprehending that the price would rise further in the coming days.
Poultry farms have hiked prices since Eid-ul-Fitr is just around the corner and this had a ripple effect on the whole supply chain
Golam Rosul Kamrul, another retailer of the Mirpur-12 kitchen market, said he sold broiler chicken at Tk 210 and Sonali chicken at Tk 350 per kg three days ago.
Abul Kalam, a trader in Shariatpur sadar area, said last Wednesday broiler chicken was sold at Tk 200 and Sonali chicken at Tk 320 per kg and it went for Tk 240 and Tk 350 respectively on Thursday.
Mohammad Rubel Hossain, a wholesaler at Kaptan Bazar, said he found supplies at only one company. "Called 8 to 10 traders today but I am not getting it from anyone. The price will increase," he said.
Kazi Zahin Hasan, a director of Kazi Farms Ltd, one of the major poultry producing companies in Bangladesh, did not receive calls for comment on the matter.
As for beef and mutton prices, Mohammad Jalal Uddin, a butcher in Karwan Bazar, and Zakir Hossain, another butcher of the Mirpur-1 kitchen market, reasoned that everyone was trying to cash in on the Eid demand spike.
The market is controlled by a few big traders and they raise prices at the slightest excuse, said Ghulam Rahman, president of Consumers Association of Bangladesh.
State-run chicken farms that produce layer chickens can create competition in the market by providing supplies to small traders, otherwise the government will not be able to keep the market stable, he said.
The poultry industry meets 40 per cent of the total demand for meat in the country, according to industry people quoting data from the Department of Livestock Services.
The price hike has prompted cutbacks on purchases by low-income people such as househelp Shahnaz Parvin, a resident of Mirpur-11.
She said she bought 1.5 kgs of broiler chicken this year whereas last year she had bought two kgs ahead of Eid.
"At the price of beef, I can't buy a kg anymore. So, I thought I would buy half a kg the day before Eid," she said.