Ingredients cheaper but poultry feed prices still high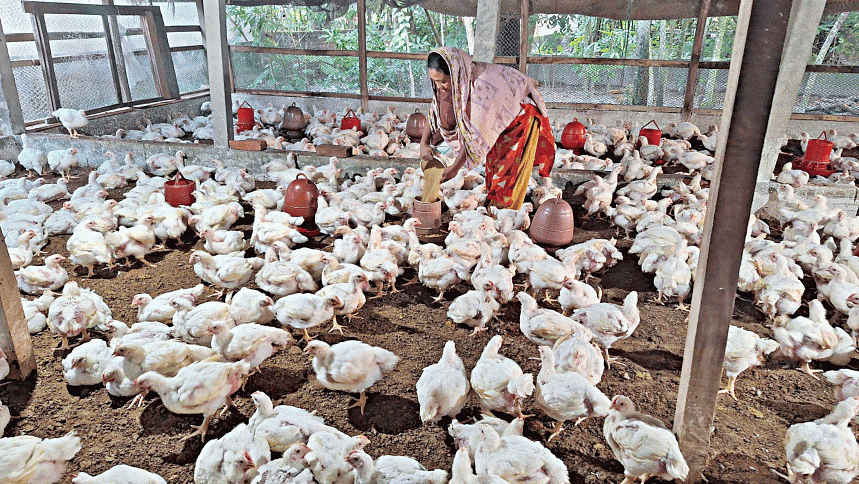 International market prices of poultry feed ingredients had dropped in the second quarter of this calendar year, yet locally produced feed has turned anything but cheap. 
High poultry feed prices are one of three factors which farmers attribute to a recent rise in the cost of egg and broiler chicken -- the main sources of protein for middle and lower-income groups.
Broiler chicken turned Tk 10 costlier within a span of three days, reaching Tk 180 per kilogramme in Dhaka on August 12.
Meanwhile, brown eggs followed suit, costing Tk 20 more per dozen and the same as a kg of broiler chicken, according to state-run Trading Corporation of Bangladesh.
The other two factors blamed are a fall in egg production and market manipulation by a section of unscrupulous middlemen.
Daily egg production dropped by around 10 lakh to 3.9 crore in August for inclement weather and disease, among others, according to Bangladesh Poultry Industries Central Council.
The feed produced for poultry in the country is made out of maize, soybean meal, rice polish and poultry meal, almost 70 percent of which have to be imported.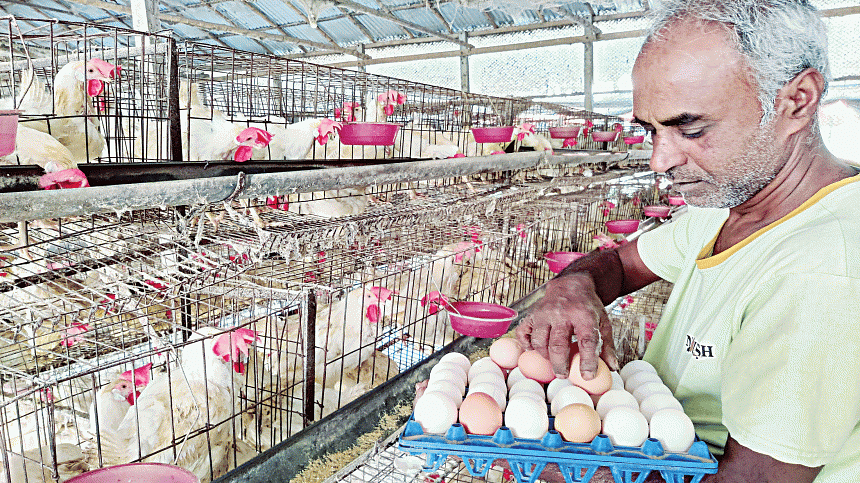 Globally soybean meal sold at $519 per tonne in the April-June period of the current calendar year, down 4.94 percent year-on-year, according to World Bank data on commodity prices.
Meanwhile, maize sold at $275 per tonne, registering a 19.59 percent drop year-on-year.
However, only maize was found to be cheaper by the Feed Industries Association of Bangladesh (FIAB), which represents the country's feed millers who cater to an annual demand for roughly 75 lakh tonnes to 80 lakh tonnes of feed.
According to the association, maize prices had gone down 15 percent but soybean meal soared 20 percent.
Feed prices could not be reduced for other factors too, such as a rise in the exchange rate between taka and the US dollar and freight charges remaining higher than pre-pandemic rates, said the feed traders.
The value of the US dollar had indeed gone up 26 per cent year-on-year in January.
However, charges of freight from South America, from where Bangladesh gets a portion of the feed ingredients, dropped 50 percent to 60 percent year-on-year last June, according to senior shipping agent officials.
The on the ground reality is that the price of every 50 kg sack of feed has gone up to Tk 3,400 from Tk 3,000 over the past year, according to poultry farmer Shakil Ahmed of Kalma union of Savar upazila in Dhaka.
He said nowadays he can barely make a monthly profit of Tk 10,000 whereas last year he was raking in Tk 40,000.
Considering the international market rates, it is possible for the millers to reduce feed prices by Tk 10 per kg, claimed Sumon Howlader, president of Bangladesh Poultry Association.
There is no duty on feed ingredient imports and so a price drop internationally should have had a ripple effect on the local market, according to an official of the Bangladesh Trade and Tariff Commission.
Local feed prices are relatively high, he added on requesting anonymity.
Though some 70 percent of the feed ingredients have to be imported, international price reductions were outweighed by the taka's depreciation and high freight costs, said Mohammad Nazrul Islam, general secretary of the FIAB.
There were other factors too such as an increase in local transportation costs, electricity and gas prices and employee wages, he claimed.
"Last year, poultry feed manufacturers and poultry farmers incurred a lot of losses (for similar reasons)," he said, adding that this year they were trying to recoup some of it.