What to buy: chicken or egg?
A dozen eggs now cost the same as 1kg broiler chicken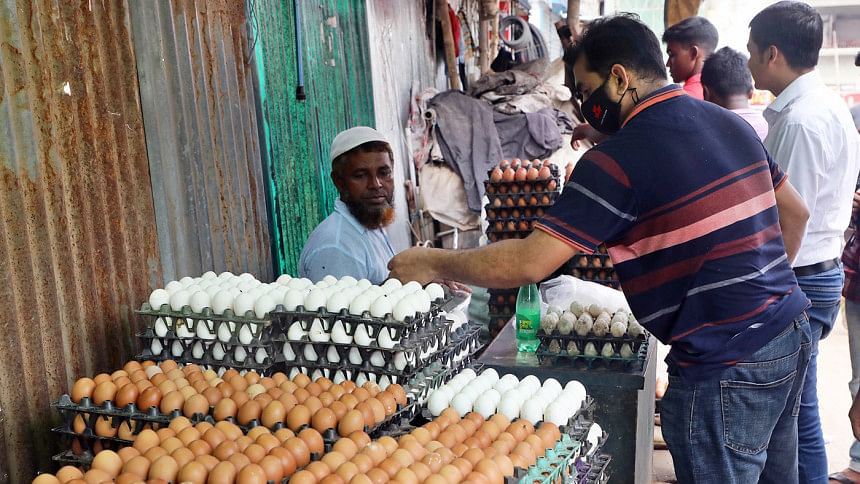 In an unprecedented event in Bangladesh, the price of a dozen farmed brown eggs yesterday matched that of one kilogramme of broiler chicken, hitting the pockets of the fixed and low-income groups further.  
Retailers sold one kg of broiler chicken at a maximum price of Tk 180 at various kitchen markets in Dhaka. In a coincidence, the highest price for 12 pieces of brown eggs was exactly the same, according to state-run Trading Corporation of Bangladesh (TCB).
Broiler chicken was sold at Tk 175 to Tk 180 per kg while one dozen eggs retailed at Tk 165 to Tk 180, it showed.
The price of eggs rose up to 20 percent to Tk 150 in a span of a week.
Rafiul Alam, a retailer in the capital's Tejturi Bazar area, says the retail price of eggs has gone up in line with the increase in the rate in the wholesale market.
He sold a dozen eggs at Tk 175.
In Bangladesh, egg prices have surged due to the supply disruption, lower production and a higher cost of production, according to traders and growers.
There is a daily demand for 20 lakh to 22 lakh eggs at the Tejgaon wholesale market, but a maximum supply of 17 lakh to 18 lakh eggs is currently available, said Mohammad Amanat Ullah, president of the Tejgaon Egg Merchants Association.
Cashing in on the supply shortage, some traders held back their stocks to create an artificial crisis and raise prices, said a dealer in Dhaka on Thursday.
Mir Russel, a job-seeker, who lives on Dilu Road in the capital, said one of the low-cost protein sources was eggs. But its price has increased a lot recently.
"This has piled up additional pressure on most income groups since the prices of many daily necessities have remained at elevated levels."
Sumaiya Islam, who works at a private firm and lives in Mohammadpur, echoed the same sentiment about the abnormal price hike of eggs.
Selim Raihan, a professor of economics at the University of Dhaka, thinks the rate at which prices are rising is unusual.
This means the government agencies responsible for keeping the market for essential commodities stable are not performing their duties properly, he alleged.
He said due to market mismanagement, a section of unscrupulous traders is increasing the price of goods at an abnormal rate.
Officials of the Directorate of National Consumers Right Protection yesterday conducted raids in the capital's Kaptan Bazar and Mohammadpur areas and fined five traders for their failure to cite the purchase price in the cash memos, record the sales price, and display the price list.
But Prof Raihan thinks: "If prices go up abnormally, the problem can't be resolved simply by conducting raids. The people who are involved should be held accountable."
Ghulam Rahman, president of the Consumers Association of Bangladesh, said: "I have never heard or seen that a kilogramme of broiler chicken cost the same of a dozen of eggs. This is unusual."
"This means there is no proper monitoring in the market."
He recalled the price of eggs increased at an unusual rate last year. "If the government had investigated the issue and taken actions accordingly, the common people might not have had to face the current situation."
Bangladesh is not the lone country that is witnessing a record jump in egg prices.
Dutch financial services provider Rabobank's global egg price monitor reached a new record in the first quarter of 2023, with the index now peaking above 250, which means prices are 2.5 times higher than the reference year of 2007, and increased more than 100 percent since this time last year, it said in April. 
Between the first quarter of 2022 and the identical three-month period of 2023, prices in the US and European Union increased by 155 percent and 62 percent, respectively, while egg prices in Japan reached 235 Japanese yen in March, their highest level since 2003.
Prices in many other markets have reached historic highs as well, including in Thailand, the Philippines, New Zealand, Nigeria, Kenya, Brazil, Mexico, and Argentina.
Rabobank expects prices to stay relatively high throughout 2023, especially in markets heavily impacted by avian flu, high costs, and regulatory changes.