Bangladesh to export bandwidth to Nepal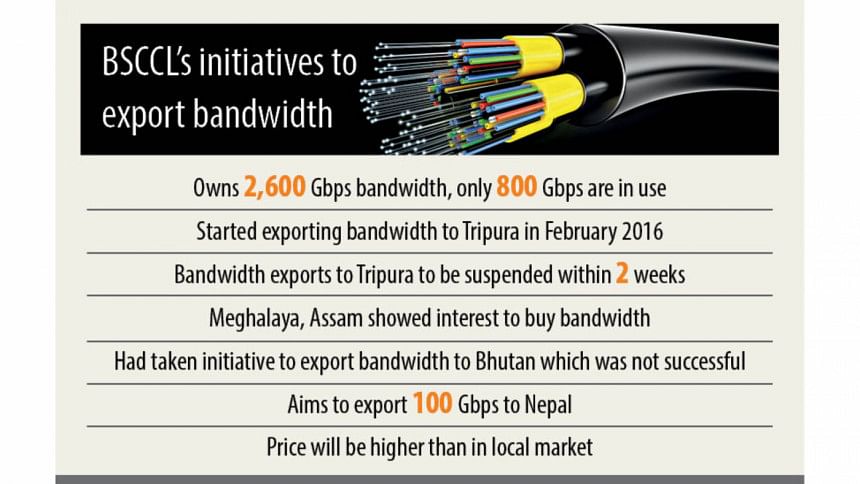 Bangladesh Submarine Cable Company (BSCCL) is looking for new markets to export its huge unused bandwidth and the new destination is Nepal, said officials of the state-owned listed firm.
The lone submarine cable company of Bangladesh is now in talks with Nepal Telecom to export about 100 gigabits per second (Gbps) of bandwidth.
A memorandum of understanding will be signed within a short time, Mashiur Rahman, managing director of the BSCCL, told The Daily Star recently.
"Discussions have been ongoing for a long time and now we are ready to ink the deal," said Rahman.
As Bangladesh has access to the landlocked Himalayan nation only via India, BSCCL and Nepal Telecom have approached an Indian company, which has expressed willingness to establish the connection, he said.
"So, before finalising the deal we will also have to sign a tripartite agreement."
Nepal now buys bandwidth from Chennai in India and China to meet its daily demand for about 250 Gbps, but due to its remote location high-speed internet cannot be ensured, Rahman said.
The BSCCL's second undersea cable lands in Kuakata of Patuakhali, which is closer to Nepal.
"This is why Nepal has come to us," he added.
Bangladesh has 2,600 Gbps bandwidth capacity from two submarine cables, but only 900 Gbps is consumed locally. BSCCL is working to get its third undersea cable by 2023, which alone will add another 7,200 Gbps.
BSCCL is currently exporting 10 Gbps of bandwidth to India's northeastern state of Tripura though their state-run telecom company Bharat Sanchar Nigam Ltd (BSNL).
But BSNL does not afford internet bandwidth from Bangladesh anymore and will suspend its deal next month.
Bandwidth export to Tripura had begun on February 8, 2016. Initially, the price was $10 per Mbps and BSCCL earned Tk 9.6 crore in the first year. Later, the price was revised down twice to bring it to $6 per Mbps. Still, BSNL has been unable to pay dues since September 2018.
The Indian company owes Tk 6.39 crore to BSCCL, which is no closer to recouping the dues.
Rahman, however, said some other remote Indian states are eager to buy bandwidth from them.
Bangladesh earlier had taken an initiative to export bandwidth to Bhutan, another landlocked neighbour, but the plan did not come to fruition as India did not join in.
BSCCL's shares closed at Tk 100 on the Dhaka Stock Exchange yesterday, up 7.53 per cent from the previous day.