GP, Robi to get back bandwidth
Joy suggests alternative measures to realise dues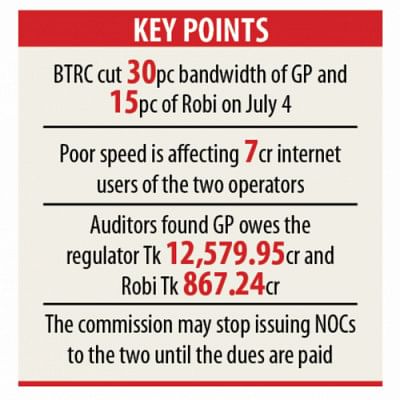 The telecom regulator is set to lift the partial block on the bandwidth capacity of Grameenphone and Robi after the government stepped in to give relief to the crores of internet users of the two operators.
The development comes after Prime Minister's ICT Affairs Adviser Sajeeb Wazed Joy held a meeting with the telecom division and its other wings, including the Bangladesh Telecommunication Regulatory Commission (BTRC) yesterday. Telecom Minister Mustafa Jabbar presided over the meeting.
"It was not a good decision. You should think about other tougher alternatives," said a senior official who attended the meeting quoting Joy.
On June 4, the telecom regulator slashed Grameenphone's bandwidth by 30 percent and Robi's by 15 percent for non-payment of dues detected in audits -- enough to slow down the internet speed and raise the call drop frequency of the two operators.
According to the BTRC's audit claim, Grameenphone has Tk 12,579.95 crore pending and Robi Tk 867.24 crore and they had issued demand notes to the respective operators several times but they fell on deaf ears.
Officials who attended the meeting said now the telecom division will withdraw their previous decision of bandwidth capping and come up with a new course of action.
Md Jahurul Haque, chairman of the BTRC, said they will sit again on the issue.
Joy asked the telecom watchdog to rethink its decision on bandwidth capping as it affects the customers, who should be the top priority, Haque said.
Senior officials of the two operators, who are the top two in the country, said the capping of bandwidth severely affected their internet service. Some parts of the country were cut off from internet use and in some cases the speed became slow.
"Blocking any kind of no-objection certificate (NOC) would be our next step and after that appointing an administrator, as they are allowed by the telecom act," he added.
Earlier, the regulator has suspended issuing NOC to the two operators from even importing equipment to run the network.
Officials present said the ICT adviser also directed the BTRC to take VAT registration from the National Board of Revenue within the next one week. He asked Telecom Secretary Ashoke Kumar Biswas to consult with the NBR chairman on the matter. Earlier in last week, the telecom regulator refrained from receiving mobile operators' various payments for the April-June quarter -- amounting to about Tk 1,000 crore -- after the latter declined to include the associated VAT in the sum.
The mobile operators said they will furnish their payments without VAT and when the BTRC gets its VAT registration they will pay the VAT then. 
At the meeting, Joy also directed Teletalk to evaluate the investment proposals it has received from international agencies and take the best possible action.