Hasina-Modi barter power, bandwidth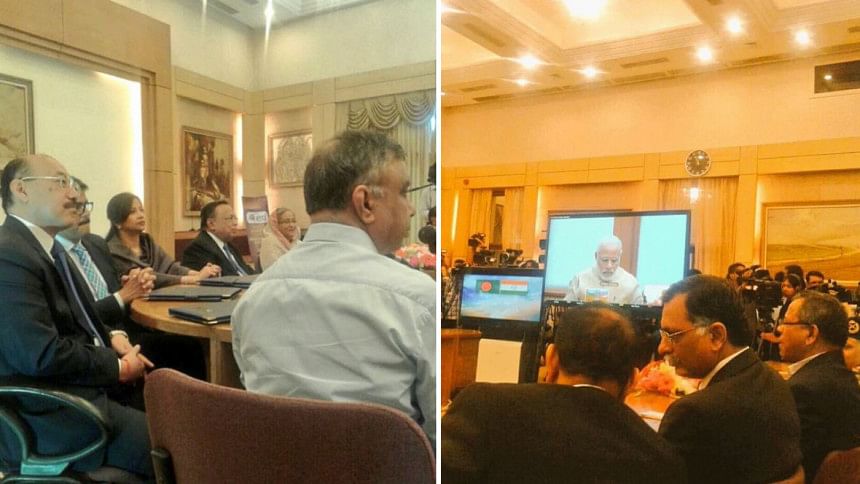 Bangladesh and India took a stride into bilateral relationship with the exchange of internet bandwidth and electricity in the warm ambiance of Holi today.
In exchange for 10 GBPS internet bandwidth from Bangladesh, India will supply 100MW electricity. The event was launched through video conference of prime ministers of both countries.
Bangladesh Prime Minister Sheikh Hasina joined the video conference from her Gono Bhaban residence while her counterpart Narendra Modi attended at the conference from his New Delhi office, our New Delhi correspondent reports.
Indian High Commission in Dhaka tweeted the event live.
Narendra Modi greeted Sheikh Hasina with the greetings of Holi festival and wished the best for the match between Bangladesh and India in the Twenty20 World Cup which is due later in the day.
Inaugurating the power supply from northeastern Indian state of Tripura to Bangladesh, Modi described it as a "historic occasion" saying it is an example to the world on how two neighbours can fashion their relationships.

Modi took the opportunity to reiterate India's willingness to enter into cooperation with Bangladesh in the sphere of space science through the Bangabandhu satellite.
"We have to go forward together in space. It is the wish of India to associate itself with Bangladesh in cooperation in the field of space as we have done in road connectivity and digital connectivity," the Indian Prime Minister said.  
He said, "The era of good relations between the two countries began during the time of Bangabandhu Sheikh Mujibur Rahman which still continues."
Modi said the eight states of the north-east would be immensely benefitted with the  opening of the third International internet gateway inaugurated by Hasina and added that Bangladesh, India, Nepal and  Bhutan has made considerable development in road connectivity.
Modi expressed gratitude to Hasina for agreeing to allow internet bandwidth facility to India saying it will be a big boost to digital connectivity to northeastern Indian states of Assam, Tripura, Sikkim and other states in the region.
Hasina in her speech said, "We always remember India's cooperation during the liberation movement in 1971".
"Our relations and friendship between the countries has further consolidated through the supply of power and internet bandwidth, which would remain as a milestone of our friendship", she said.
She said that during her visit to Tripura in 2012 she had discussed the matter of getting power from the state's Palatana and it came true now.
Hasina said Bangladesh was getting 500MW power from India and both the countries made considerable development in the field of cooperation through roads, railways and power. The country is now setting up partnership in hydro power projects in Nepal and Bhutan.
She also congratulated Prime Minister Modi and Tripura Chief Minister Manik Sarkar for all kinds of cooperation. Sarkar also congratulated Hasina.