Bangladesh tour of India, Only Test
India beat Bangladesh by 208 runs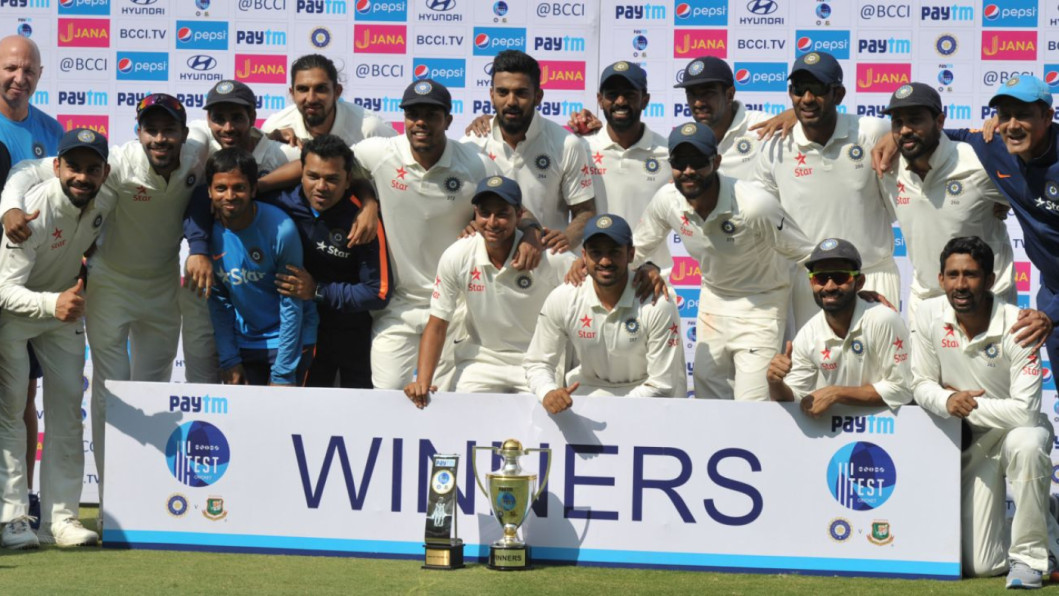 India romped to a 208-run victory when Taskin Ahmed became Ravichandran Ashwin's fourth victim of the second innings in the Test match against Bangladesh at Hyderabad today.
Bangladesh were all out for 250 in 100.3 overs after India declared their second innings at 159 for 4 and gave the tourists the target of 459 runs in four sessions.
For Tigers, Mahmudullah Riyad fought hard with his 64 from 149 balls. Mominul Haque, Shakib Al Hasan, Mushfiqur Rahim, Sabbir Rahman and Mehedi Hasan Miraz got out in the twenties. The second wicket stand of 60 between Soumya Sarkar and Mominul, the fifth and sixth wicket partnerships of 50-plus allowed Bangladesh to fight till the last day.
In India's second innings, Ashwin and Ravindra Jadeja took four wickets each in their emphatic win. Ashwin took 4-73 in 30.3 overs. Jadeja captured 4-78 in 37. Although Ishant Sharma took two wickets for 40 runs in 13 overs, he bowled brilliantly, and was unlucky not to take more wickets with his late swing.
Taskin was the last man to be dismissed for the tourists. He was lbw for 1. Bangladesh pacer tried to flick the ball and was trapped in front of the stumps.
Taskin Ahmed lbw b Ashwin 1 (7b 0x4 0x6) SR: 14.28
Fall of wicket 250/10 (100.3 ov); Partnership: 1 runs, 2.4 overs, RR: 0.37 (Kamrul Islam Rabbi 0, Taskin Ahmed 1)
Bangladesh lost their ninth wicket when Ravindra Jadeja sent back Taijul Islam for 6 at the brink of tea.
Taijul top-edged his pull shot, and although two fielders were getting under it, the catch was taken in the end. India got an extra half-hour to bowl out Bangladesh before tea.
Taijul Islam c Rahul b Jadeja 6 (24b 1x4 0x6) SR: 25.00
Fall of wicket 249/9 (97.5 ov); Partnership: 7 runs, 7.1 overs, RR: 0.97 (Kamrul Islam Rabbi 1, Taijul Islam 6)
Earlier, Mehedi Hasan Miraz became the eighth wicket to fall for Bangladesh when he was dismissed by Ravindra Jadeja for 23 during the post-lunch session of day-5.
Jadeja extracted massive turn and bounce, and the ball was gloved by the batsman to the keeper. Mehedi survived for 61 balls but the ball from Jadeja was too good for him on that occasion.
Mehedi Hasan Miraz c †Saha b Jadeja 23 (61b 4x4 0x6) SR: 37.70
Fall of wicket 242/8 (90.4 ov); Partnership: 17 runs, 14.1 overs, RR: 1.20 (Kamrul Islam Rabbi 2, Mehedi Hasan Miraz 15)
The writing was on the wall for Bangladesh as they lost their seventh wicket of the second innings when Mahmudullah Riyad was sent back by Ishant Sharma to leave the tourists at 225 for 7 in 76.3 overs.
A short, rising ball from Ishant was aimed at the head, and Mahmudullah couldn't keep his hook shot down. The ball climbed on him, gave him no room and Bhuvaneshwar Kumar took a good catch at square-leg. India close in on victory with only three wickets left.
Mahmudullah c Kumar b Sharma 64 (149b 7x4 0x6) SR: 42.95
Fall of wicket 225/7 (76.3 ov); Partnership: 12 runs, 5.5 overs, RR: 2.05 (Mahmudullah 3, Mehedi Hasan Miraz 8)
Bangladesh lost their sixth wicket of the second innings when Ishant Sharma struck Sabbir Rahman plumb in front of the stumps to leave the tourists at 213 for 6 after 70.4 overs.
The good length ball from Ishant pitched outside off and came in with the angle. Although the ball kept a bit low, it evaded the bat and trapped Sabbir in front of the stumps. Sabbir went for the review but replays showed that he had no hope in hell to overturn the on-field decision. It was plumb!
Sabbir Rahman lbw b Sharma 22 (61b 3x4 1x6) SR: 36.06
Fall of wicket 213/6 (70.4 ov); Partnership: 51 runs, 18.0 overs, RR: 2.83 (Mahmudullah 20, Sabbir Rahman 22)
Bangladesh went into lunch on day-5 of the Test match against India in Hyderabad at 202 for 5 after 67 overs with Mahmudullah Riyad and Sabbir Rahman at the crease.
Mahmudullah was batting on 58 from 126 and Sabbir on 18 from 44 when the players left the field for lunch.
In the session that produced 99 runs and two wickets, Bangladesh would rue the dismissal of their captain Mushfiqur as the batsman was at fault at throwing away his wicket after all the hard work done earlier.
The loss of the two wickets exposed Bangladesh's lower middle order, and now the onus is on Mahmudullah and Sabbir to take their team to safety during the post lunch session, when both Ashwin and Jadeja are expected to play a crucial role.
A poor shot from Bangladesh captain Mushfiqur Rahim while trying to get on top of Ravichandran Ashwin sees his team stumble at 162 for 5 after 52.4 overs.
After the fifth-wicket stand between Mushfiqur and Mahmudullah Riyad steadied ship, Tigers skipper threw his wicket away with a reckless shot. And he walked away with his head down.
Ashwin saw Mushfiqur coming, dropped his length slightly short and got it to hold in the air. Mushfiqur wasn't there to the pitch of the ball and still went through with the lofted drive, ended up slicing it in the air and towards mid-off where Ravindra Jadeja didn't make any mistake.
Terrible cricket from Bangladesh to say the least.
Mushfiqur Rahim c Jadeja b Ashwin 23 (44b 2x4 1x6) SR: 52.27
Fall of wicket 162/5 (52.4 ov); Partnership: 56 runs, 15.1 overs, RR: 3.69 (Mahmudullah 30, Mushfiqur Rahim 23)
Bangladesh lost their fourth wicket of the second innings when Ravindra Jadeja sent back Shakib Al Hasan to leave the tourists at 106 for 4 in 37.3 overs.
Jadeja got one to turn and bounce from rough patch on a good length, and Shakib picked up the length late. The batsman was in an awkward position and the ball struck the top of his bat and was smartly taken at short leg.
Shakib Al Hasan c Pujara b Jadeja 22 (50b 4x4 0x6) SR: 44.00
Fall of wicket 106/4 (37.3 ov); Partnership: 31 runs, 13.2 overs, RR: 2.32 (Mahmudullah 9, Shakib Al Hasan 22)
Watch the live English stream of the India vs Bangladesh One-off Test from Hyderabad on hotstar.
Bangladesh
Tamim Iqbal, Soumya Sarkar, Mominul Haque, Mahmudullah, Shakib Al Hasan, Mushfiqur Rahim (Captain, Wicketkeeper), Sabbir Rahman, Mehedi Hasan Miraz, Taijul Islam, Taskin Ahmed and Kamrul Islam Rabbi
India
M Vijay, KL Rahul, CA Pujara, V Kohli (Captain), AM Rahane, WP Saha (Wicketkeeper), R Ashwin, RA Jadeja, B Kumar, UT Yadav and I Sharma