We have to stay calm: Samaraweera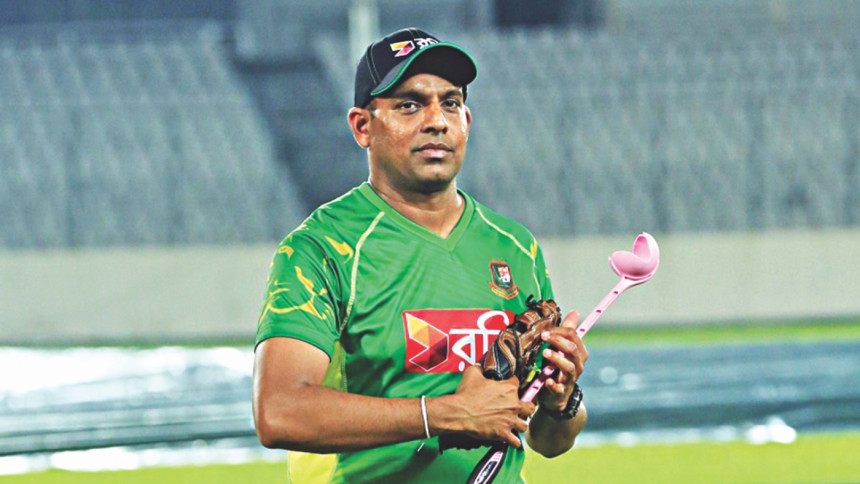 The morning session has been the most helpful for bowlers in this Test so far. Once the first hour is negotiated, the wicket at the Rajiv Gandhi International Cricket Stadium tends to become slower which makes it easier for batsmen to play.
While the fifth day is likely to see a lot more turn, the slowness of the wicket could allow the batters to negate that factor.
And that is the phase that Bangladesh's batting coach Thilan Samaraweera has his eyes on. According to him, for Bangladesh to have any chance of drawing this Test, they will need the batsmen to get past the morning session in one piece.
"I think you have to occupy the crease for as long as possible. If you get a good ball, then you can't help it, because everyone knows how good they [India] are on the fourth and fifth days.
"Luckily this is a better pitch. For me, you have to get through that first hour, because if you give them momentum at that point of time then we are in trouble," said Samaraweera at the end of the day yesterday.
Bangladesh's record in the second innings of a Test is not great. They hammered 595 in the first innings against New Zealand and amazingly enough, went on to lose that game due to a poor display in the second. They put in a similarly bad performance in the second Test.
Their record in the fourth innings of a Test is not that great either. Only on three occasions did they manage to bat more than 90 overs in the fourth innings of a Test so far and those took place back in 2005, 2008 and 2010 against Zimbabwe, Sri Lanka and England respectively.
"I think the biggest concern for me is our second innings batting. Honestly, we blow away quickly. Hopefully the boys will have learnt their lesson [from the New Zealand series] and do better here," said Samaraweera.
"When they play more Tests, they will be more mentally aware. For instance, when I spoke to a few batters during the England series, some of them told me that they never faced reverse swing bowling in domestic cricket. So it's hard for them to face that in international cricket straight away.
"I can tell them to look for the shiny side and give them more information. But they have to feel it to do it successfully. I think they will get more mentally strong, if they play more Test cricket because they can go through different situations and then improve," he added.
He also commented on Shakib Al Hasan's reckless shot in the first innings, albeit with long pauses.
"I think you have to see that that's the way he plays. Sometimes he does some silly mistakes due to pressure, but hopefully he will learn from those mistakes and do some good work tomorrow," he said.
Most importanatly, Samaraweera believes that the challenge for the Tigers on the fifth day will be more mental than technical.
"I think it's more a mental thing. We have to stay calm in the dressing room," he concluded.