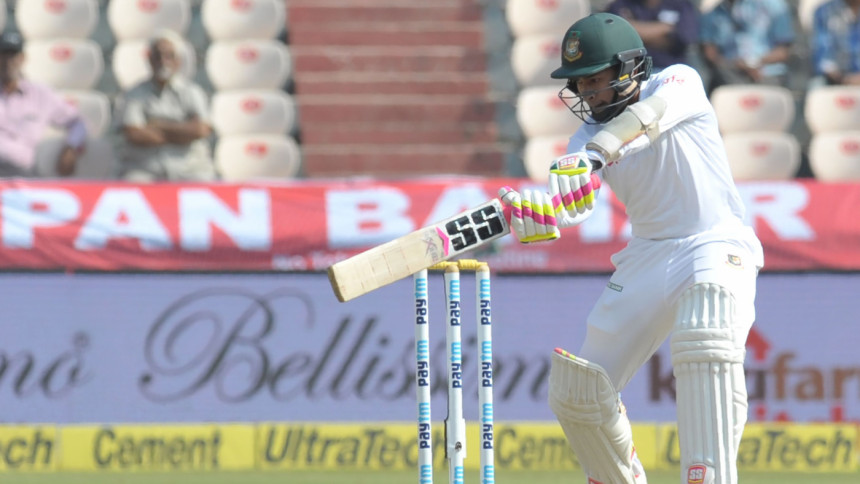 You have got to hand it to Mushfiqur Rahim. The way he has sustained all the pressure on him in this series and still managed to focus on his batting has been magnificent.
One often notices that when a player tends to do badly in one department, it goes on to affect his other duties in the team. In the case of Mushfiqur, that never seemed to happen in this game.
His captaincy decisions were questioned, he missed an easy stumping and yet he went on to score a game-changing century yesterday. It was the fifth of his career and the fifth country that he has scored a ton in.
He now has centuries in Bangladesh, Sri Lanka, West Indies, New Zealand and India. He is also the only wicketkeeper-batsman who has scored four centuries away from home while being the designated skipper.
The fact that he has scored all his hundreds in different countries just reiterates the fact that he is the most technically correct batsman Bangladesh has ever produced.
While he just needed 19 runs to reach the three-figure mark yesterday, it was not an easy task. His partner Mehedi Hasan Miraz was bowled off the fourth ball of the day.
Mushfiqur had to bat with the tail to reach his century and to further cut the first-innings deficit. But once again, he did not seem under pressure at all and batted wonderfully on a good batting track. He pulled Ishant Sharma for a six after the bowler repeatedly peppered him with bouncers.
And then he flicked Umesh Yadav for a boundary to reach his fifth hundred. After that he took the attack to Ravichandran Ashwin and the other bowlers and cleanly hit them for boundaries.
If Bangladesh's batsmen are a bit confused about the kind of approach that they should have to save the Test today, they just need to have a look at Mushfiqur's near-perfect innings again.
Bangladesh batting coach Thilan Samaraweera hailed Mushfiqur as the best batsman of the team.
"I think he is the best batter at the moment from what I have been seeing since September. He is in very good form. I think I can first go to the Chittagong game [England series] when we almost chased down their total. We were almost there when he got an unbelievable delivery from Gareth Batty.
"He is one of the best Test batters for our team because he has a solid game plan and he has guts and he has led from the front. That's the key as a captain," said Samaraweera.
"I am not worried about whether he is under pressure or not because he has been batting well under me for the last six months," he added.
When asked if the coach feels that Mushfiqur should bat up the order, the Sri Lankan pointed towards Mushfiqur's wicketkeeping duty.
"That's the biggest concern because we know how hot it is in the subcontinent. If he is keeping 120 overs and then bats up there, it will be difficult. We will see what happens in the future," he said.