Transport strike cuts off Kushtia from 18 dists
Bus owners, workers protest arrest of conductor on drug charges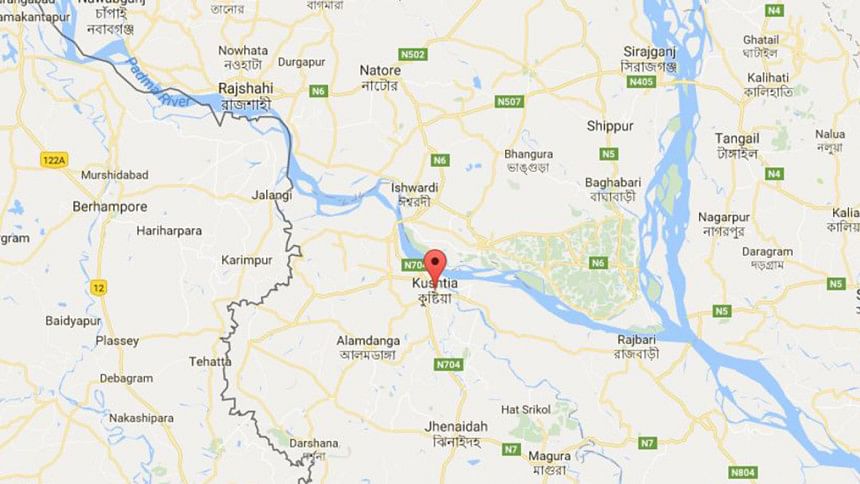 Transport operators yesterday again went on an indefinite strike in protest against arrest of a bus conductor on charge of carrying and smuggling contraband heroin.
The District Bus Owners Workers Oikya Parishad enforced the strike, snapping road communications between Kushtia and 18 other districts in northern and southern regions.
Thousands of passengers seeking to travel to and from Kushtia suffered immensely due to the strike enforced by the transport workers for the second time in two weeks.
Earlier on October 17, the same transport body called for an indefinite strike in the district following arrest of another bus conductor. The Rapid Action Battalion made the arrest after they had seized one kilogram of heroin from a bus coming to Kushtia from Chuadanga.
They withdrew the strike the next day upon assurance from the district administration that the conductor would be freed.
In a similar case, a team of Rab-12 in Pabna, acting on a tip-off, raided Kushtia-bound Alhaj Paribahan from Rajshahi and seized one kilogram of heroin on Thursday.
They arrested conductor Rubel Hossain in that connection and handed him over to Kushtia police the same day.
The transport leaders and workers demanded immediate release of the bus conductor, who was hauled before a Kushtia court on Friday and was subsequently sent to jail.
The bus owners and workers at a meeting on Monday night called the strike in protest against his arrest and imprisonment.
Terming roads of the district "a safe route for smuggling," Maj Robiul Islam, Rab-12 company commander, said they would continue their drive.
Kushtia Transport Workers Association President Mahbub Alam claimed people working in transport sector were not involved in drugs smuggling.
Passengers strongly blamed the transport owners for the strike and their sufferings.
"They [transport operators] could resolve the problem through discussion," said Sadeka Khatun, who wanted to travel to Jessore from Kushtia to see her daughter undergoing treatment at a hospital there.
Swapan Kanti Sharma was boarding a three-wheeler after failing to find a Rajshahi-bound bus. He was desperate to go out of Kushtia anyhow to get a bus from another district.
"This is double burden for us. We have to suffer and also count extra bucks to reach our destinations," he told The Daily Star in an angry voice.
Zahir Raihan, deputy commissioner of Kushtia, said they were trying to sit with the transport owners and workers to solve the crisis.