Tank-lorry owners in Faridpur, Khulna call off strike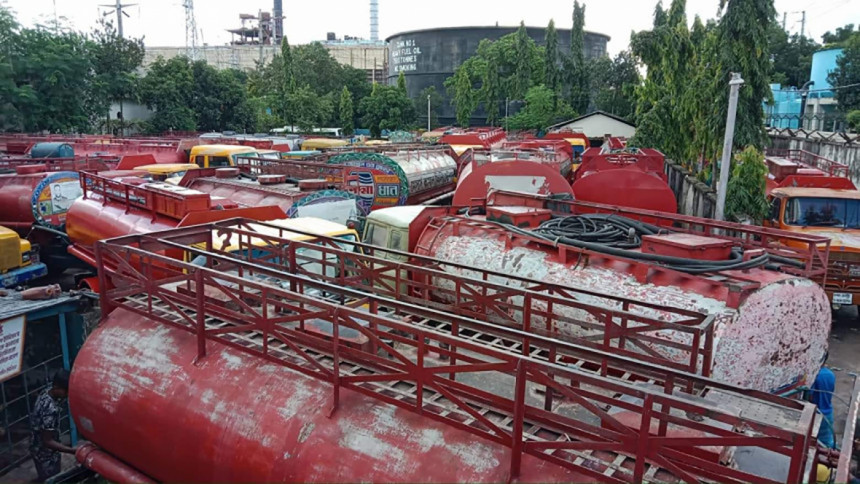 Supply of fuel resumed in 14 districts of greater Khulna and Faridpur after nine hours as tank-lorry owners called off their strike this afternoon (August 7, 2022) following assurance of Khulna Deputy Commissioner Md Moniruzzaman Talukdar.
The decision came after a meeting between DCMoniruzzaman and the leaders of Bangladesh Tank-Lorry Owners' Association around 5pm, said Farhad Hossain, secretary general of the association.
"We have called off our strike as the DC assured us that he will discuss with the higher authorities over our demand," Farhad Hossain told our Khulna correspondent.
The tank-lorry owners enforced a 24-hour strike this morning demanding an increase in commission on selling fuel and tank lorry fare.
The lifting and transportation of fuel from the state-run Padma, Meghna and Jamuna oil depots at Khalishpur in Khulna city, was suspended since this morning following the strike.
Fuel supply remained suspended in 10 districts under Khulna division and four districts under greater Faridpur.
According to the UNB, a commission of Tk 2.71 per litre fuel (as per previous rate) is provided to the tank-lorry owners.
The owners earlier urged the authorities concerned, including Bangladesh Petroleum Corporation (BPC) and Ministry of Power Energy and Mineral Resources several times for increasing commission but they did not pay heed to their demand.