No extrajudicial killings by cops
Claims DMP boss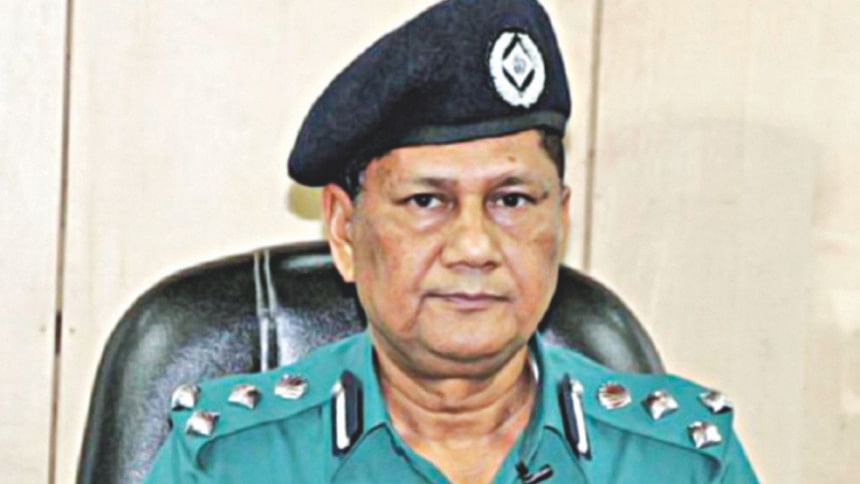 Cops never indulge in extrajudicial killings in the name of "crossfire", but if under attack, they open fire in self defence, said Dhaka Metropolitan Police (DMP) Commissioner Asaduzzaman Mia yesterday.
"Bangladesh police do not kill anyone in crossfire. It's totally a misconception and I think it's also a motivated and negative propaganda," he said, replying to queries from journalists after a meeting on law and order at the capital's Gabtoli yesterday. 
"We will catch a criminal, file a case against him and then make him face trial. This is what we do," he said.
"But," the DMP boss said, "While discharging our duties, if we come under attack and our life is at risk, we will exercise our right to self defence and open fire in retaliation as per sections 99 to 106 of Bangladesh Penal Code.
"In the shootings, our men or the criminals can be hurt or killed. You cannot call it crossfire."
If one or two such incident takes place anywhere, he added, that's "encounter" in self defence.    
The comments of the DMP chief came in the wake of criticism of law enforcers for extrajudicial killings in the name of "crossfire", "shootout" or "gunfight."    
At least 20 people, including seven suspected militants, were killed in such incidents after law enforcement agencies began a special crackdown following the brutal murder of a top police official's wife in Chittagong on June 5.
The trend drew criticism even from a minister.
"Militants are being killed every day in crossfire. But crossfire is not the solution to the militancy problem. Rather, killing in crossfire shows the failure and weakness of law enforcement agencies," Civil Aviation and Tourism Minister Rashed Khan Menon said in parliament on Tuesday.
Talking to this newspaper yesterday, Nur Khan Liton, acting executive director of rights body Ain o Salish Kendra, said around 1,700 "crossfire" killings had taken place since 2004 and according to information and photographs available, many of the bodies were found handcuffed.
"Some of the 1,700 victims were picked up by uniformed or plainclothes policemen and there were general diaries filed in these connections. They became victims of crossfire 10 to 15 days or a month later."
There is also public perception that those men were held by law enforcers and after a certain time they were killed in crossfire, said the rights activist. "That means extrajudicial killings have taken place in the name of crossfire."
He added the government should say how many law enforcers were killed or hurt in those 1,700 incidents.
ACTION AGAINST MUGGING
Before talking to journalists, the DMP commissioner in his speech at the meeting said uniformed and plainclothes policemen have been deployed to prevent mugging and stealing in the capital ahead of the Eid.
"They will go for action immediately in case of any mugging incident. They will open fire, if needed," he said.
Bangladesh Bus-Truck Owners' association arranged the meeting on law and order and traffic management in Gabtoli area.
The commissioner said police will beef up surveillance by deploying additional force from June 29 at all bus terminals.  
He urged bus owners and transport workers to help police ensure smooth traffic management ahead of Eid.