Police crackdown in city: Hoteliers count losses as guests stay clear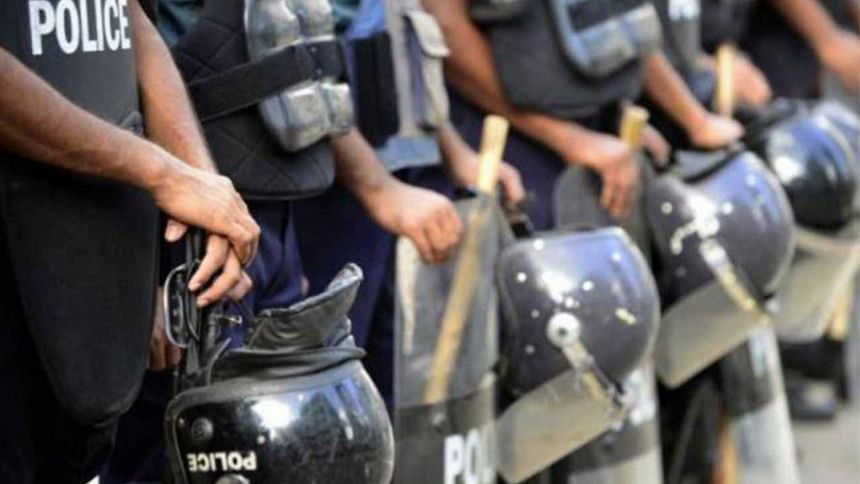 Many hoteliers and owners of shared living facilities in the capital are facing losses due to a sharp decline in guests since the ongoing police drives started on December 1.
The number of guests in some residential hotels is so poor that some hoteliers were even forced to temporarily shut down, said people involved in the business.
Potential guests are not going to hotels as police in uniform and in plain clothes often go to hotels and ask management not to rent rooms to a group of people, said staffers of different hotels in Tejturi Bazar, Green Road and Banani areas.
Many owners of shared living facilities and boarders also said police are conducting raids and even checking phones of boarders. Fearful of police action, many students and job seekers residing in the facilities left.
"As the number of guests decreased sharply since the beginning of this month, the owners instructed us to keep our hotel shut since morning today [yesterday]," said Abul Bashar, a staffer of Royal Grand Hotel in East Tejturi Bazar in the capital yesterday.
The decision was taken to avoid trouble, he said, adding that they will decide on reopening the hotel after December 10.
The manager of New Grand Hotel in Karwan Bazar area said, "Out of 46 rooms, only four are occupied."
Naim Islam, manager of Hotel Green Place International on Green Road, said out of 60 rooms only 16 have guests.
Rana Chandra Das, who resides in a lodging facility in Green Road, said he has been living in a room with four others for the last one and a half months.
He came from Kishoreganj to complete a three-month Korean Language course.
He said police took his name and address and even checked his mobile phone, which frightened him.
The Police Headquarters instructed different police units across the country on November 29 to launch a special drive to ward off any untoward incident ahead of December 16.
BNP have been alleging that the drive is to arrest the leaders and activists of the party and its front organisations, centring the BNP's December 10 rally in Dhaka.
Yesterday, Dhaka Metropolitan Police arrested 257 people in the city. Since the drive began 1,279 people have so far been arrested in areas under the DMP.
The PHQ supplied data of arrestees for three days from December 3 to 5, which shows 3,895 people were arrested during the three days. For the last two days no data of arrests was provided by the PHQ.
BNP MEN FLEE HOMES
BNP men and locals in different areas under Mirpur, Tejgaon, Sher-e-Bangla Nagar, Kafrul, Bhashan Tek, Pallabi, Shah Ali police stations told this newspaper that police were going to the homes of BNP leaders and activists, asking their whereabouts since December 1.
In the wake of such drives, leaders and activists of BNP and its front organisations fled their homes to avoid arrest.
"Police went to my home on Sunday and Monday and asked my family about my whereabouts," said a Swechchhasebak Dal activist from west Karwan Bazar area over phone.