UN Road Safety Week: Bangladesh to observe it for first time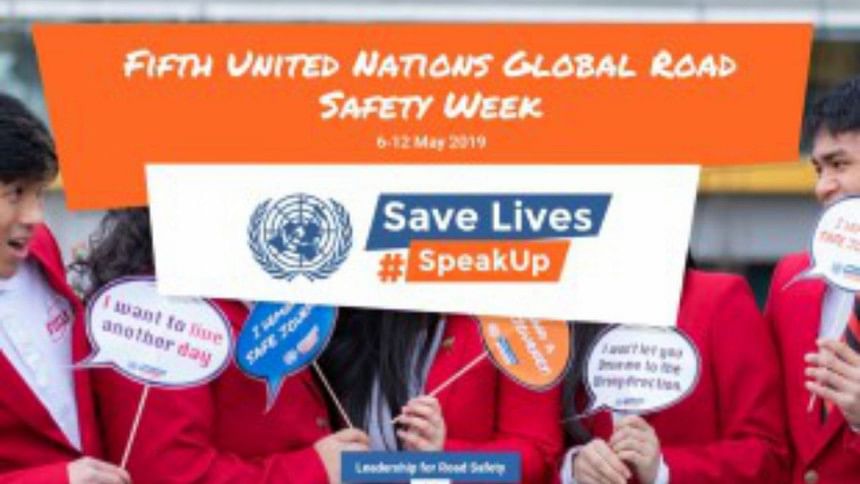 Bangladesh will observe the United Nations Global Road Safety Week this year for the first time aiming to raise awareness about road safety to prevent road accidents.
The fifth UN Global Road Safety Week-2019 will be observed from May 6 to 12, with "Leadership for Road Safety" as its theme.
The government took the decision at a time when road accidents have become a major issue in the country, especially since last year's massive students' protests for safer roads.
The road transport and bridges ministry, which will spearhead the observation, held a meeting yesterday to plan different programmes to mark the week.
Speaking to The Daily Star, Belayet Hossain, additional secretary (development) of the ministry, said, "Bangladesh will observe the week for the first time mainly to create road safety awareness."
To achieve the Sustainable Development Goals (SDG-3.6), Bangladesh has to reduce the number of deaths on roads by half next year, so the government is working with this in mind, Belayet, who presided over yesterday's meeting, said.
Thousands of students took to the streets demanding safe roads following the deaths of two college students in a road crash in the capital on July 29 last year.
The movement forced the government to take several steps to curb road accidents. The Prime Minister's Office also intervened and issued a number of directives.
Despite measures being taken, the number of road crashes and fatalities had increased last year compared to the previous year, according to police data.
According to them, 2,635 people were killed in 2,609 road crashes last year. At least 2,513 people had died in 2,562 accidents in 2017.
The figures are significantly lower than that of two road-safety organisations but even with these numbers, it would be very difficult to achieve the SDG target, experts and road safety campaigners said.
Nirapad Sarak Chai said 4,439 people were killed in 3,103 road crashes last year while Bangladesh Jatri Kalyan Samity said 7,221 people were killed in 5,514 road crashes.
The road safety issue resurfaced when a university student was run over and killed by a recklessly-driven bus in the capital on March 19, triggering another students' protest.
PROGRAMMES FOR THE WEEK
The road transport and bridges ministry will hold a rally at Manik Mia Avenue on May 6 and organise a workshop for all stakeholders within the week, a ministry official said.
Different agencies under the ministry, including Bangladesh Road Transport Authority, Roads and Highways Department and district administrations, will take initiatives to raise awareness on road safety, he said, adding that different educational institutions, NGOs, transport owners and workers will also hold similar programmes.
Meanwhile, World Health Organisation and its partners in February had already created a website for the road safety week.
The programme aims to generate a demand from the public for strong road safety leadership worldwide in order to help achieve SDG and other road safety targets, according to the WHO website.
The road safety week was observed in 2007, 2013, 2015 and 2017, it said.