No lapse in security
CEC says about Monday's killing in Rangamati's Baghaichhari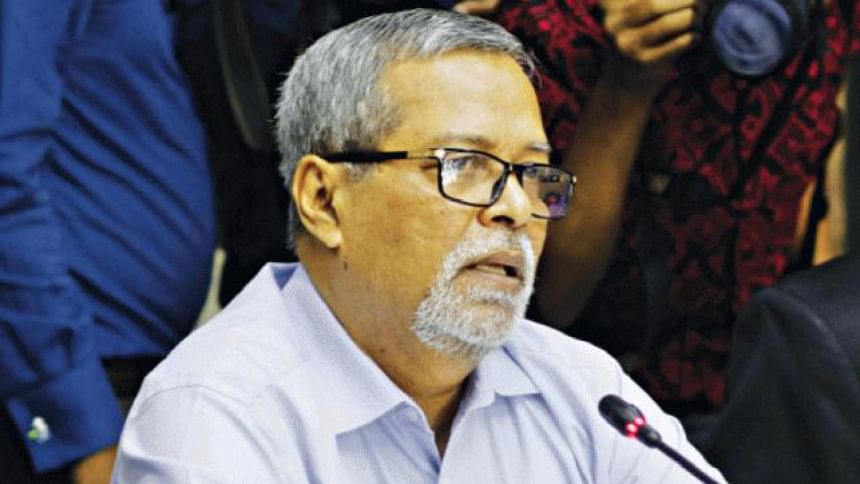 Chief Election Commissioner KM Nurul Huda yesterday claimed there was no lack of security in Rangamati's Baghaichhari upazila where seven people, including two polling officials, were killed in a shooting on Monday.
The attack was a "pre planned and clandestine one", he added.
Talking to the reporters at Chattogram Circuit House, he said, members of Border Guard Bangladesh, Rapid Action Battalion and Army were deployed in the region.
The protection jeep of BGB could not turn back during the attack as the road of the area was too narrow, he added.
"The perpetrators were hiding there to take advantage of the narrow road and fled the scene after firing," Nurul Huda said.
After visiting the injured victims of the incident at Combined Military Hospital in Chattogram, the CEC said they were yet to know the reason behind the attack.
"The commission has asked the police to launch investigation, identify the killers and bring them to book as early as possible," he added.
Saying several policemen also sustained bullet injuries, CEC Huda promised financial assistance to the victims that would bear the medical cost of the victims.
In the second phase of upazila polls on Monday, two jeeps, carrying polling officials and materials, came under attack in Noymile area of Rangamati's Baghaichhari upazila around 6:00pm.
The jeeps were returning to Baghaichhari town with election results from Konglak Government Primary School centres in Sajek union.
Meanwhile, Election Commissioner Mahbub Talukder said the attack was "the most fatal in the history of the commission".
He said an investigation would be carried out to know who were behind the attack.
"I instantly cannot say who are responsible for the attack and its reason," he wrote in a statement at his Nirbachon Bhaban office.
Any comments regarding the reason and who are responsible for the attack can derail the normal investigation path, said Mahbub, who visited the victims of the shooting at Dhaka CMH on the day of the attack.
"This is a cowardly attack," he said, adding, "I do not have any words to condemn the attack".
The commission would take its next course of action after CEC Huda returns from Chattogram, Mahbub said at the Two other commissioners Rafiqul Islam and Brig Gen (retd) Shahadat Hossain Chowdhury also visited CMH in Dhaka.