No fake votes possible through EVMs: CEC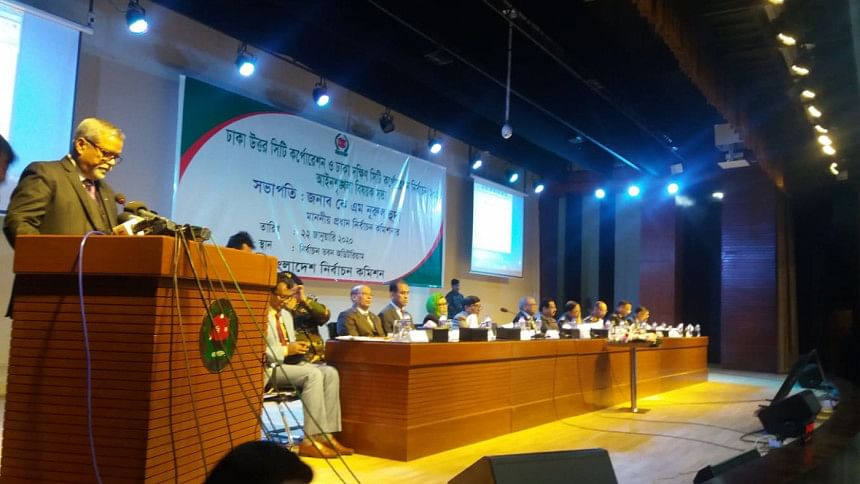 Chief Election Commissioner KM Nurul Huda today said the electronic voting machines (EVMs) that would be used in the upcoming elections to Dhaka North and South city corporations are of high quality and would not make it possible to cast fake votes using those.
"Our EVMs are of high quality. No fake votes can be cast using those," he said.
The CEC also warned that the commission will take strict measures if law enforcers are found not delivering their duty sincerely during the upcoming elections.
CEC KM Nurul Huda said this during a meeting with the chiefs of different law enforcement agencies at Nirbachan Bhaban this afternoon.
"We don't want to have any complaints regarding any irregularities and negligence in duty by the law enforcement officials. In case of minor issues you would have to solve those through your respective authorities of Police and BGB. We won't let anyone get away with negligence in their due roles during the upcoming elections," CEC Nurul Huda said.
"We are sincere to hold a free, fair and credible election and we expect to have your full cooperation in the same way we had previously," he said.
"Please solve any issue that emerges to make sure that the voters can cast their votes without fear," KM Nurul Huda also said.
"We often receive complaints that polling agents are not present at the centres. Of course you won't have to bring the agents from their homes, but please make sure that no candidate's agents are driven away from the centres."
Terming the attack on BNP nominated mayor candidate for Dhaka North City Corporation (DNCC) Tabith Awal to be an unexpected incident, the CEC said the commission has taken steps in this regard.
Three election commissioner, chiefs of the different law enforcement agencies, EC secretary, and officials of the concerned ministries were present at the meeting.
The elections to the Dhaka North and South city corporations are slated for February 1.