Decades to build, minutes to lose
With their shops burned to ashes, some Chawkbazar traders see bleak days ahead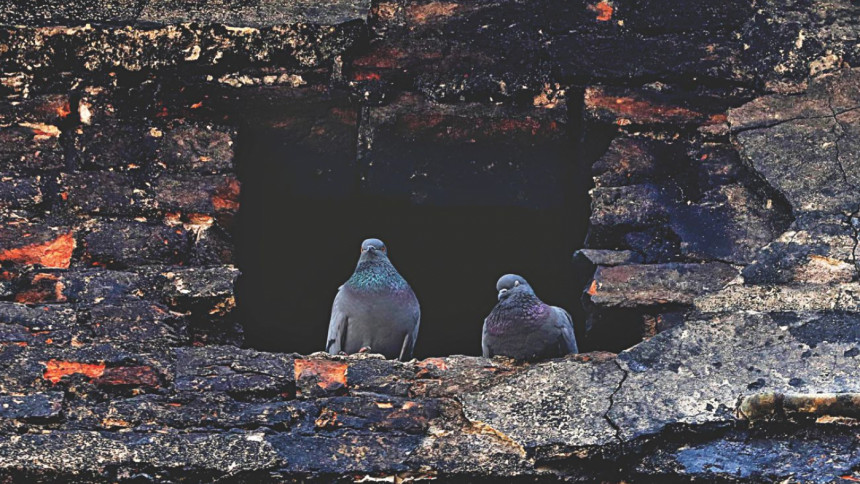 After coming to Dhaka from Noakhali when he was only 10 years old, Abdul Mannan engaged himself in many an odd job -- from working at restaurants to construction sites -- to save money for himself. He was able to save Tk 10 lakhs, with which he opened up a stationary shop 16 years ago. 
Abdul's hard work was turned to ashes within moments when a fire swept through Old Dhaka's Chawkbazar area on Wednesday.
"I am safe because I was undergoing treatment at Dhaka Medical College Hospital that time [when the fire occurred]. But my shop is no more," said the owner of Mannan Store at Churihatta in Old Town.
Tanvir Ahmed Tusher, 23, a staffer at Mannan Store, said he and his colleague Javed were lucky to have survived as they were in the store the very moment the fire took place.
"Suddenly we heard a bang and then saw a wave of fire. Without thinking further, we ran for our lives. When we realised that the shop was open, we wanted to go back to close it, but by that time the fire already burned it down," he told The Daily Star at Churihatta yesterday.
The shop was found completely burnt after fire fighters had partially doused the flame.
According to locals, around 20 shops were destroyed in the inferno on February 20 that killed at least 67 people and caused injuries to over a dozen.
Families lost members, some more than one. In some cases, children were left orphaned.
A Supreme Court lawyer yesterday filed a writ petition with the High Court seeking its directives upon the government to compensate Tk 30 lakh to each family of victims who died or suffered injuries in the Chawkbazar fire. It also sought the HC order to find those responsible for the blaze and punish them.
Those who violated the rules to keep chemicals in residential apartments may face punishment. However,  other small traders who had no link to any illegal activity, including storing chemicals, have no idea how they can survive after losing everything to the fire.
Mannan's wife and three children wholly depended on his income from the shop. The whole family now remains clueless on how to move forward.
"Doctors prescribed I needed a spinal cord operation. I don't have any money. How can I do that now?" he asks, dazed and confused.
"I want to recover my business. I want assistance to restart it," he added.
"The month is going to end but there is no guarantee whether I will get salary," said Tusher, worrying over how he would help run his family back in Noakhali.
Two siblings -- Rana, 35 and Raju, 28 -- were burnt to death when they were in their telecom shop -- Rana Telecom -- close to Churihatta. Their shop too had turned into ashes. 
Rahimullah, uncle of Raju, said Rana has a five-year old son and an elderly father living in Begumganj, Noakhali. They were totally dependent on the brothers' incomes. 
"How would this family survive now? Everything is uncertain," Rahimullah said.
48 BODIES HANDED OVER
Meanwhile, a total of 48 dead bodies were handed over to their relatives until yesterday. Nineteen more unidentified dead bodies are now stored in hospital mortuaries, said Oliur Rahman, deputy director at the Dhaka Deputy Commission's office.
Until Saturday, there were 19 relatives who claimed 19 dead bodies. However, two more people claimed to have had their relatives missing.
"It is only through DNA tests that we can confirm their identity," Oliur told The Daily Star.
The CID has requested parents or children to provide DNA samples to identify the unknown bodies of those who lost their lives in the Chawkbazar blaze last Wednesday.
Rumana Akhter, special superintendent of the Forensic DNA Laboratory of the Criminal Investigation Department (CID), said, "If parents or children of their dead relatives provide samples, it is easier and faster to conduct DNA profiling."
In most of the cases, siblings of the dead have provided samples, she said, adding that a team of the CID Forensic DNA Lab has a booth in front of the Dhaka Medical College morgue. From Monday, parents and children of the victims can go to the CID lab at Malibagh to provide samples, she said.