3 students die in road accidents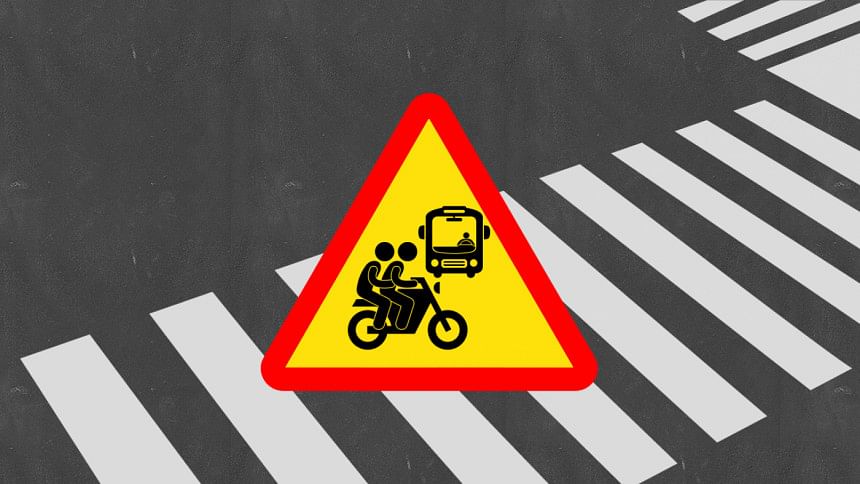 Two school students and one college student were killed in separate road accidents in Rajbari and Barishal yesterday.
In Rajbari, two school students were killed when a bus ran over them in front of Daulatdai Model High School on the Dhaka-Khulna highway under Goalanda upazila in Rajbari around 1:30pm.
The dead were identified as Jakia Sultana Keya, 14, from Daulatdia Umber Mollah area, and Chadni Akter, 14, from Jadu Fakir area in Rajbari, police sources said, adding that both girls were 9th grade students of the school in front of which the accident occurred.
Quoting locals, Md Azaz Pasha, officer-in-charge (OC) of Goalanda Police Station, said Jakia and Chadni were seriously injured when a Jashore-bound Eagle Paribahan bus ran over them while they were crossing the highway in front of their school.
He added that the girls were rushed to the Goalanda Upazila Health Complex where doctors declared them dead.
Local sources said more than a hundred students blocked the highway in front of the school from around 1:30pm, torched a bus and vandalised at least six more vehicles in protest, leading to severe traffic jam on the highway, adding that they called off the agitation at 4:00pm after police told them that immediate action would be taken against the bus driver.
Md Sohidul Islam, headmaster of Daulatdai Model High School said, "If there was a speed breaker in front of our school, this accident would not have happened."
Upon hearing the news, Kazi Keramat Ali, state minister for technical and madrasa education, went to the spot and assured that compensation would be given to the victims' families.
OC Azaz said police had seized the bus and arrested the driver.
Meanwhile in Barishal, a college student was killed when a bus crushed him under the rear wheels at Gournadi on the Barishal-Dhaka highway yesterday noon.
The dead was identified as Rezaul Islam Tamim, 19, a student of Govt Gournadi Degree College and a BCL activist, police sources said.
Quoting witnesses, Atiar Rahman Sheikh, OC of Gournadi Highway Police Station, said Tamim was on his motorcycle, coming from Ashukathi toward Gournadi Bus Stand, when a Sakura Paribahan coach, plying on the Dhaka-Barishal route, tried to overtake the motorcycle, crushing Tamim under the rear wheels in the process. The bus then immediately took off.
Tamim was rushed to the upazila health complex, where he was declared dead, police sources said.
OC Atiar said the bus was seized from Batajore area, adding that the driver, however, was on the run.