Change maker
On a mission to change lives
Magura banker coaches failed SSC, HSC students for free; brings a lot of smiles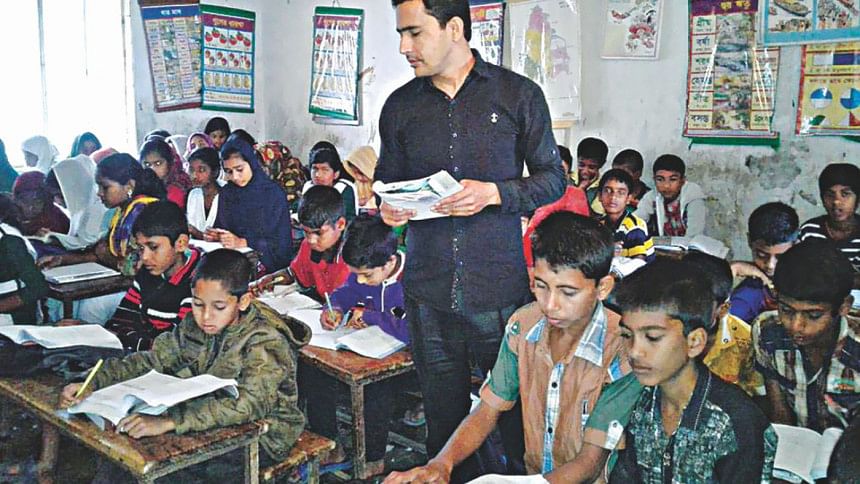 A banker by profession, Md Shahjahan Mia set out on a noble mission – to eradicate illiteracy from Nahata Union in Mohammadpur upazila, Magura. 
In an act of selflessness, Shahjahan wakes up at the crack of dawn, long before his shift at Janata Bank begins, to coach students who have failed their national exams and have given up trying. In return, he asks that students attend classes regularly.
His dreams weren't that big when he first set out. Graduating in Zoology from Dhaka College in 2008, he landed his first job at the bank in the cash department in 2015. He was glad he got a posting at the Nahata Bazaar Branch in his home town, where he could be near his family as well.
In that same year, 20 HSC examinees failed their exams and had given up hopes of continuing their education.
"Somehow, this struck a chord and made me really sad. It was not that these students were incapable of good grades; they just lacked access to the right resources and guidance to pass. After all, I went to the same school as a child and now I hold a respectable job," said Shahjahan.
Feeling determined, he approached Ali Mia, chairman of the school managing committee, to seek permission to use school premises to coach those students in the mornings before regular classes began.
With nothing to lose, Ali agreed.
He started coaching them from 6.30 am till 8.30 am and it was no miracle that all 20 students appeared for the exam the next year and passed, just a result of hard work.
It gave Shahjahan the confidence to go on. He took on two assistants, Mahmud Moniruzzaman, who holds a master's in Political Science, and Mehrabin Mollika, an HSC student, to help out.
The next year, they took on 55 SSC candidates, 52 of whom passed and three got GPA 5, and 35 HSC examinees, 32 of whom passed.
"I want to support the weak students, so that no child is left behind, and eradicate illiteracy from the union by 2025. Fort this, I started the coaching centre -- Friendship for Unity Education and Development."
At present, the centre has 170 students, from grade six and upwards.
The trio takes classes on weekdays, expect Mondays. Shahjahan has kept that day aside to visit the drop outs and their families, to persuade them to return to coaching and pass their public exams.
His father Moin Uddin Mollah and wife Monira Parvin are by his side, taking pride in this endeavour. "It wouldn't have been possible without their support."
With news of his initiative spreading fast on social media, Nazma Parvin, assistant tax commissioner of Dhaka, provided 80 vocabulary books to his coaching centre recently.
"I don't care if the students are rich or poor; I try to build their foundation for the future. Dropping out should never be an option. Besides, we also arrange seminars on the ill effects of early marriage and dowry. We observe different national and social programmes as well."
Jannat Ara, an honours student, recently joined as an assistant at the coaching centre. "It is a noble task; teaching gives me satisfaction."
Ali of the school managing committee said the poor students are being benefitted as it is free of cost. "Year by year, students are doing better in the national exams."
Nahata Union Parishad Chairman Md Ali Mia said, "The society needs such enterprising young lads to tackle illiteracy."