Change Maker: Library on wheels
UP member walks the extra mile to serve constituents, works tirelessly to enlighten them
Travel the Khulna to Bagerhat Road and in the vicinity of Noihati in Khulna's Rupsha upazila you might see the curious sight of a man pedalling a rickshaw van laden with books. Likely he'll be dressed casually, with laptop by his side, as he trundles village to village from about three of an afternoon until nine at night.
"Some people mock me," says said gentleman, thirty-three-year-old, Masters-in-history graduate SM Alamgir Hossain Shrabon. "But I'll never lose my determination to enlighten people." Shrabon's unwavering dedication to his mobile library is a surprise to many: wandering village roadsides isn't typically what local council members do.
"I want to eradicate poverty through education," explains Shrabon, whose sole income source is from his modest event management company. School and college students, housewives and villagers of various occupations, many have joined his library.
"I don't have the means to buy books apart from text books," says one library member, Akash Das, 18, from Debipur village, who is currently studying for his Higher School Certificate. "I was astonished to see this mobile library. I feel so fortunate to have the chance to read books for free. This facility is overwhelming."
Library members are entitled to borrow each book for a week at a time. From Hindu law to science, Microsoft Access to Khulna's history, there are over a thousand titles to choose from.  Some books are donations. Shrabon also tries to enrich the collection from his own pocket.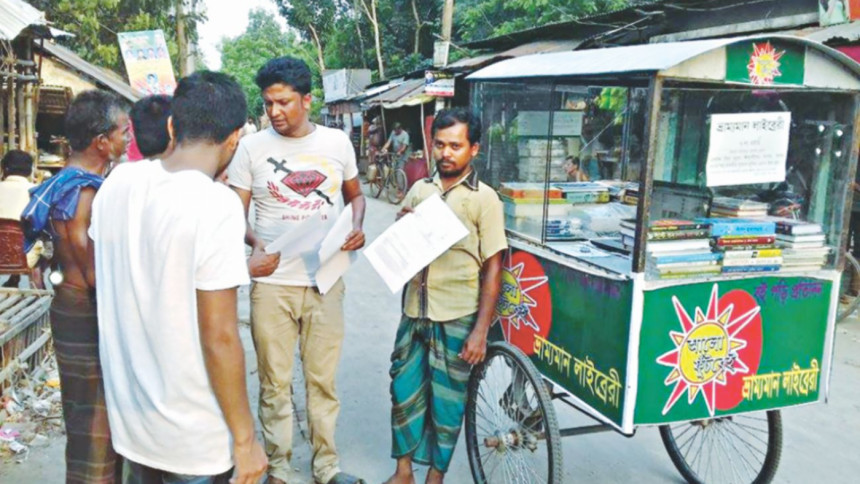 "I'm an avid reader," says housewife Nushrat Jahan from Noihati village. "But after marriage I didn't get the opportunity. Now I have enrolled as a library member. I have never seen a local council member like Shrabon. Noihati Union has never had anybody provide books and services like he does."
In her hand is a book, "Childcare and Health," by Dr Salma Fariha. "I was supposed to return it today," she says, "but I've asked to keep it for an extra week to finish reading it."
Books are not Shrabon's only initiative. He has established two training centres where hundreds of women have learnt weaving, handicrafts, tailoring and more; forty-seven housewives already earn extra income with their new skills. "It's my responsibility to empower women economically and socially," says Shrabon. "They are the main mentors in each family. It's usually up to them to make a family succeed."
Meanwhile an information technology club Shrabon established offers free IT courses, while to improve law and order Shrabon organised solar lights with closed circuit cameras to be installed in key areas. He has overseen the creation of public wi-fi hotspots to encourage online learning.
"I want to be close to the community," he says. "When I was elected as a public representative on 22 March 2016 I swore to myself that I would work to cure this union of social degradation caused by drugs, eve-teasing and unsavoury politics," Shrabon says. Of the twelve candidates in the election, he was the youngest.
Shrabon is available for consultation at the union council chambers every morning. He has publicly invited all 70,000 plus union constituents to bring problems to his door.
"I'm so proud of Shrabon," says the chairman of Noihati Union council, Kamal Bulbul. "He has improved the attitudes of many young people in this area. Now they are engaged and ready to do constructive work for the community. Local farmers are getting information on agriculture and aquaculture because of him. He arranges video calls with public authorities so farmers can take advice; he organises for public officials to visit constituents' homes."
"I think he has started a movement for people to do good deeds by their own efforts," observes young reader Akash Das. "By interacting with all stakeholders and helping anybody without hesitation, Shrabon has changed us."
"We want more people like him," says Rupsha upazila nirbahi officer Eliachur Rahman, "people truly dedicated to providing villagers with the services they need and doing so from the heart."
As for the future, Shrabon has set his sights high. "I want to take my mission to help people from the local to the upazila level, then district-wide and ultimately, across the nation."