Flood-proof farming
When seasonal floods reach her village of Betil Char in Chowhali upazila of Sirajganj, 60-year-old Joygan Begum knows what to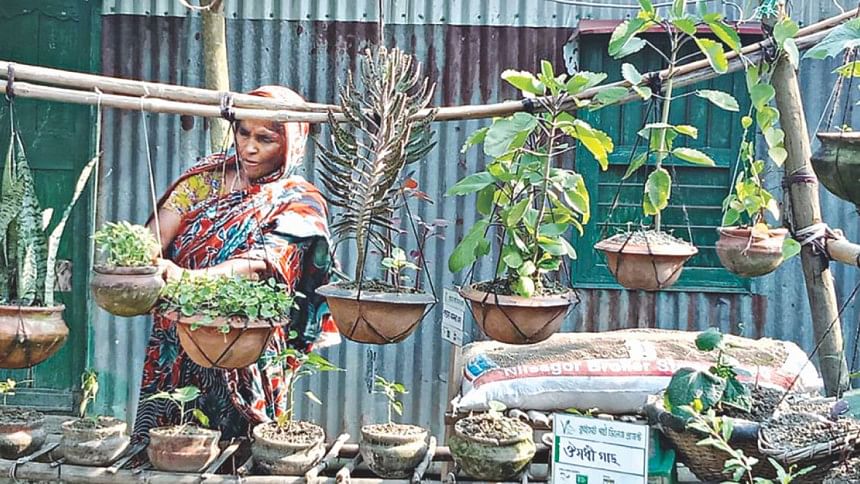 When seasonal floods reach her village of Betil Char in Chowhali upazila of Sirajganj, 60-year-old Joygan Begum knows what to expect. Even to find fresh food will be a challenge. But this year Joygan and many like her have reason for a little optimism. Several easy-to-implement strategies recently introduced by a non-government organisation hold the promise of making household vegetable gardens flood-proof.
"At times of flooding we most often take shelter on a bamboo platform in our house," says Joygan, "If we have to, we move to an embankment and live on the roadside. Mostly we can only eat rice with salt. Vegetables are almost impossible to manage."
"This year I have planted the vegetables in plastic bags and pots. We have constructed several bamboo platforms around my house," she continues. "When the next flood comes we will hang the vegetables from the platforms to save them from destruction."
Joygan is proud of her well-decorated bamboo cabinet where dozens of potted herbs and vegetables grow. She has more than 50 plants of around 12 varieties, all pre-prepared to shift to higher ground. Pumpkin and cucumber vines meanwhile are grown on raised trellises. "This flood season our family will eat rice with vegetables," she beams.
These simple strategies have been introduced by non-government organisation Manob Mukti Sangstha. "Farmers have been given training on how to continue to benefit from their vegetable and herb crops in times of flood," explains Md Obaidul Islam, manager of the organisation's "Climate Smart Village" project. "We supply the equipment needed for them to establish their first mobile gardens."
For larger trees which can also suffer from being submerged, there are other strategies. "I have planted the big trees at the raised floor-level of our home this year," says another training recipient, Kadbanu Begum, also from Betil Char. "The trees are bottle-fed water to account for being planted on higher ground."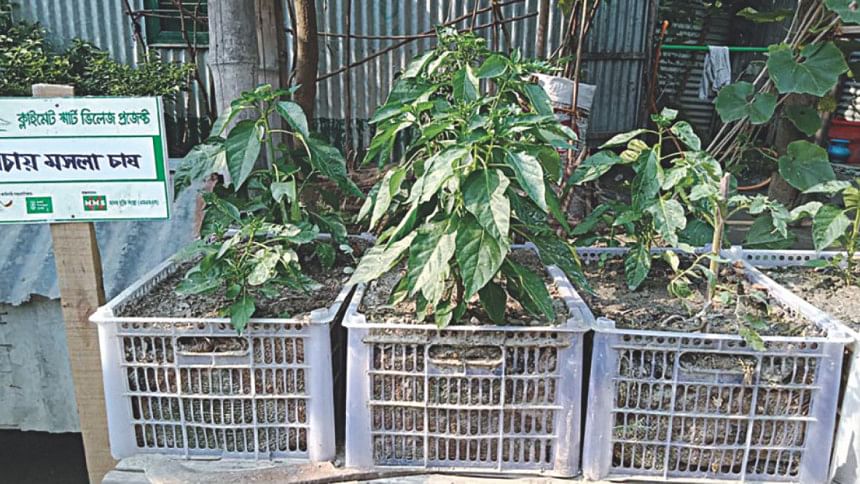 "I also have over a hundred vegetables plants in bags and pots," she adds. "Every corner of my home is now used for crop cultivation."
The produce grown isn't only for household use. As well as ensuring an uninterrupted vegetable supply at home, vegetables can be sold for much-needed cash. Seedlings too can be sown even while a flood is in progress, ready for replanting when water recedes.
"In flood-prone areas people don't always get the full nutrition that they need," notes the non-government organisation's director, Md Rafikul Islam. "Damaged and destroyed crops represent a loss even after a flood has passed. We have been able to train around 5,000 farmers thus far, but many more are learning the same skills from them."