People's Doctor: Consultation, medicines for just Tk 40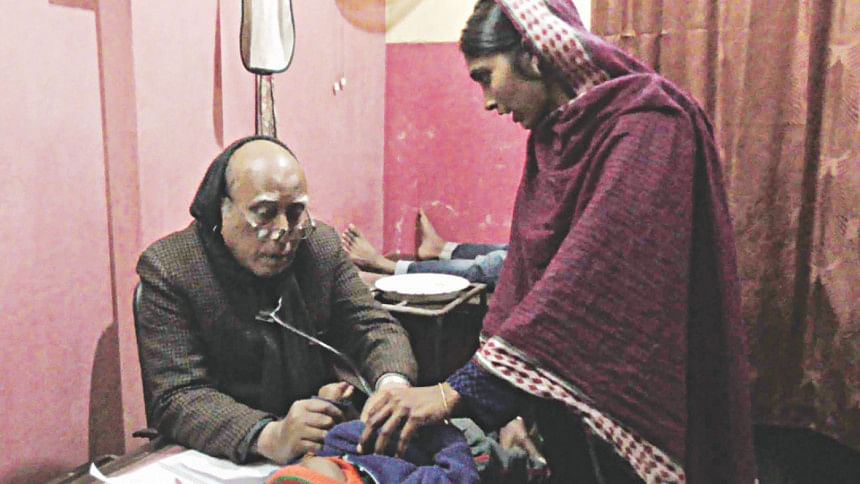 At 79, Dr Basanta Roy would surely be excused if he put away his stethoscope for good. Instead he works morning to evening, consulting around 100 patients per day in his Dinajpur chamber. It's fair to say that a physician who charges just Tk 40 per patient including medicines isn't in it for the money. Dr Roy is doing as he has done for more than half a century: serving humanity.
"Can you imagine any doctor like him nowadays?" says rickshaw driver Rafiqul Islam from Baluadanga area of Dinajpur town. Rafiqul has arrived at the doctor's chamber with his son, who has been suffering high fever for four days. "He only charges Tk 40!"
"Any other doctor would want a minimum of Tk 400, excluding medicine," agrees another patient, Azaharul Islam. "And then you'd need to keep some money in hand for medical tests. Dr Basanta Roy charges minimal fees. It makes him truly exceptional." Azaharul has relied on Dr Roy since childhood. His parents did the same.
"We need more doctors like him!" says another patient, Sarifunness from Ramnagar area.
"My patients really value my efforts. They're very loyal," says Dr Roy. "The happiness I take from their appreciation and trust can hardly be measured. It's the sort of thing that money can't buy."
Born in Sundardighi village in Debiganj upazila of Panchagarh, Dr Roy completed his MBBS from Rajshahi Medical College in 1965. When the time came to open his practice, he found that there weren't enough patients in his village: the reason he moved to Dinajpur.
"When I started my practice here in Kalitola area of the town, I set the standard fee at Tk 2 per patient," Dr Roy recalls. "Other senior doctors were then charging Tk 5; but I noticed that even the Tk 2-fee was quite a burden for many people, so later I decided to include the cost of the most common medicines. It was helpful, I think, for people who were struggling with solvency; and if a more expensive medicine was required I would ask the patients to buy it elsewhere."
It's not only his patients who appreciate the good doctor. His attitude towards the practice of medicine has gained him many well-wishers in the town at large.
"When Dr Roy started he had the mental and physical strength of a young man," says eminent Dinajpur resident Abdul Kalam Azad. "To think he's still doing the same job at the age of nearly eighty is astounding! He is now treating the fifth generation of some underprivileged families in this area. Patients come from other districts to see him too. And even though his fees are very reasonable if patients really can't afford it he waives the fees altogether."
Dr Roy is an inspiration to his family too. His younger brother Dr Tarun Kumar Roy has followed the elder brother's lead. He also continues to see patients, morning to evening, despite having reached a respectable age. He too has tailored his practice to service the needs of the underprivileged.
Dr Roy's two daughters Sudipta and Susmita, meanwhile have also become doctors. "I always advise my daughters not to chase after money," their father says.
It dismays Dr Roy that despite the significant advances and breakthroughs made in medical science over the years, a vast number of patients in Bangladesh still seek treatment from local healers of dubious qualifications, often due to considerations of expense.
Of his own long career he says, "It's been my small endeavour to change society."