Flood hits 20 districts
Five more killed in Dinajpur raising death toll to 20 in three days; nearly six lakh people affected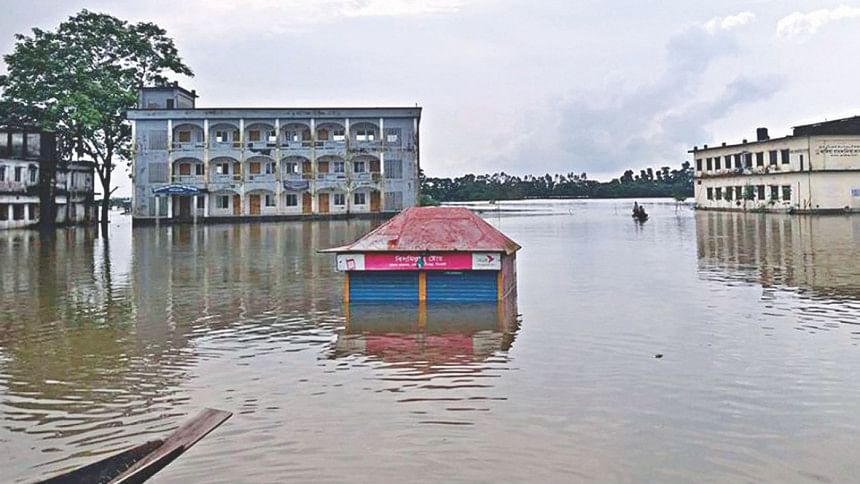 The flood situation yesterday worsened further as the onrush of water from upstream was continuing, affecting around six lakh people in 20 districts, said Flood Forecasting and Warning Centre (FFWC).
It also added that the country's central part was on the flood's path. 
At least five people, including two children, have died and another has gone missing in flood-related incidents in Dinajpur, rising the death toll to 20 in the last three days across the country.
Sazzad Hossain, executive engineer of the FFWC, said 18 rivers were flowing above danger level, and water in those rivers would continue to rise in the next three days.
In 1988, water level of the Jamuna rose to 20.62 metres, and it crossed the level last year and rose to 20.71 metres. But yesterday afternoon, its water level went up and stood at 20.78 metres.
"Water level has crossed danger level at Goalanda point [of the Padma], and it means that the country' central part is going to be affected … ," Sazzad added.
The country witnessed four severe floods in the last four decades. Of them, the flood of 1998 was the worst when two-thirds of the county remained submerged for nearly three months.
Meanwhile, Mofazzal Hossain Chowdhury Maya, disaster management and relief minister, said the flood already hit 20 districts, and nine more districts, including low-lying areas of Dhaka, could be affected soon.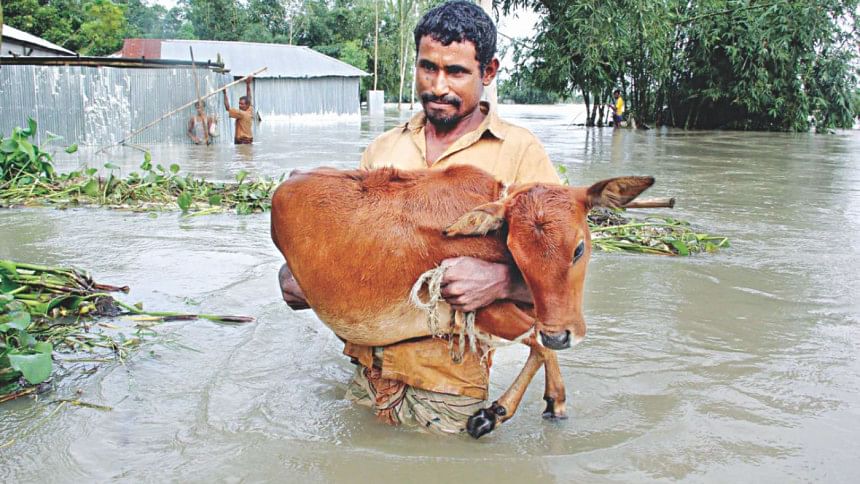 With upstream countries like China, India, Nepal and Bhutan suffering severe floods, the government is preparing for a really bad situation.
"We are carefully monitoring the situation in those countries because water will naturally flow downstream to us," he said.
The minister also said all holidays of officials and employees concerned in 20 affected districts were cancelled. 
"All indicators suggest that the flood is likely to be terrible this time," leading water expert Prof Ainun Nishat told The Daily Star, citing a forecast of a European research organisation.
"They forecast rain, and as per their forecast, the flood situation could be worst in the last four decades," he said.  
Of 90 flood situation monitoring stations, water was flowing above danger level at 25 yesterday, while water level was increasing at 65 stations.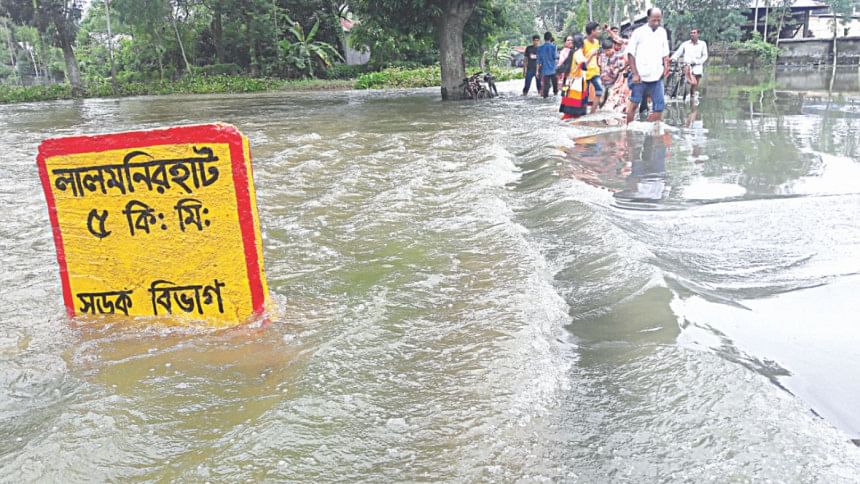 The FFWC also said water level of the Jamuna (Brahmaputra in India) was increasing 50cm a day and water level of the Padma 15cm a day. 
Rail communications in Dinajpur, Lalmonirhat and Kurigram had remained suspended since Sunday as railway lines were damaged at several points, a top railway official said.
The rail routes are: Parbatipur-Dinajpur-Panchagarh, Lalmonirhat-Burimari and Teesta junction in Lalmonirhat to Ramna Bazar in Kurigram's Chilmari, he said.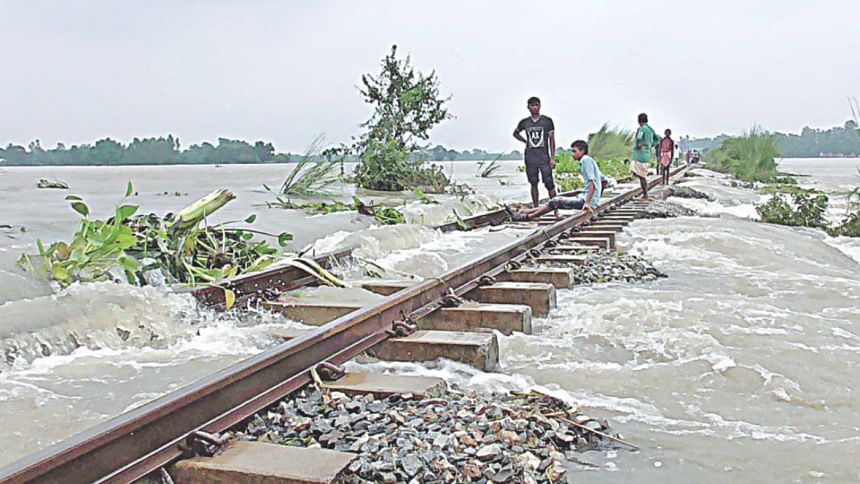 As the floodwater is flowing down to the country's central part, nearly 100 metres of a dam in Manikganj was washed away on Monday.
According to reports from our correspondents in the northern districts, a vast area has been inundated in the region as flood-protection embankments were breached in Saidpur of Nilphamari, Lalmonirhat, Dinajpur, Kurigram, Rajshahi and Badarganj of Rangpur.  
Around 1,000 educational institutions in Lalmonirhat, Panchagarh, Nilphamari, Kurigram, Gaibandha, Bogra, Jamalpur, Tangail, Sunamganj and Sylhet have been closed as those have been either flooded or flood-hit people have taken shelter there. 
Akkas Ali, 32, of Jagomaner Char village in Kurigram Sadar upazila, said water of the Dharla river partially submerged their village a week ago. His house and all his belongings were washed away.
Another flood victim, Shahima Begum, 40, of Char Madhobrum in the same upazila, said, "I along with my family have been living in the open beside Kurigram-Bhurungamari road for the last two days as my house has been inundated."
However, the flood situation started to improve in Nilphamari and Thakurgaon.
(Our correspondents from Kurigram, Nilphamari, Lalmonirhat, Jamalpur, Tangail, Manikganj and Gaibandha contributed to this story)