Trains on Dinajpur, Rangpur routes see 20% passenger rise after fuel price hike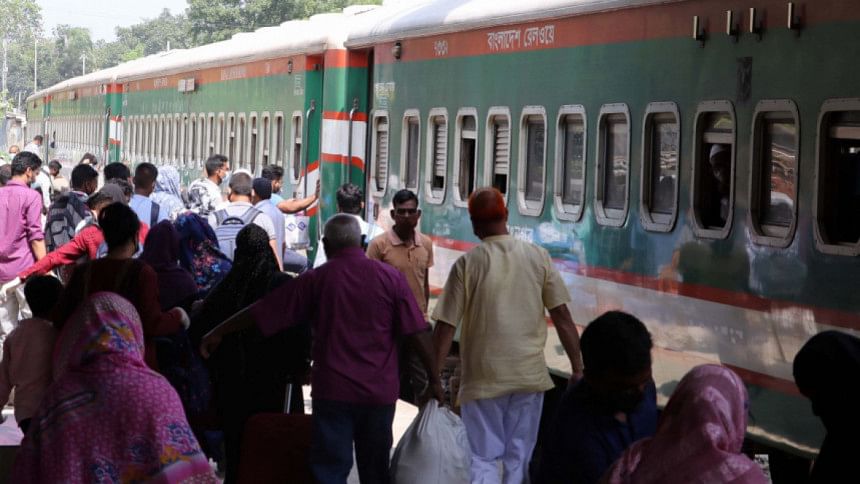 North-bound trains are seeing an increase in passengers due to lack of public transport following the latest major fuel price hike in Bangladesh.
Yesterday (August 6, 2022), a lot of public transports stayed off roads in Dinajpur and Rangpur districts. Three-wheelers were seen dominating various highways. 
Meanwhile, the number of passengers on inter-city and local trains in Dinajpur was higher than usual.
Shah Sufi Noor Mohammad, divisional manager of Lalmonirhat railway (Western zone), told The Daily Star yesterday that there was a 20 percent increase in passengers on trains in Dinajpur and Rangpur.
Officials of Dinajpur railway station said although yesterday was a weekly holiday, there was a huge rush of passengers on trains. 
As bus fare saw up to a 22 percent rise, pressure on trains will continue today (August 7, 2022) as well, railway officials expect. 
Apart from the three trains on the Dhaka-Panchagarh route, there are one inter-city train on Panchagarh-Rajshahi route and several local trains. There was a rush of passengers on all the trains yesterday, which was about 30 percent more than last Friday (August 5, 2022).
Besides, about 25 pairs of trains run on several routes from Parbatipur of Dinajpur. 
The pressure has increased mainly due to the fuel price hike, said Mosharraf Hossain, in-charge of Dinajpur railway station.
Zulfiqar Ali of Ramnagar area of Dinajpur said that he boarded a bus for going to Rangpur on Saturday. The conductor demanded Tk 170 when the bus reached Dosh Mile area, whereas the fare was Tk 110. He was forced to pay a higher fare. That's why, he took the train for returning home.
Around 350 buses ply 14 routes in Dinajpur district. Apart from this, about 600 buses, including those which come from other districts, ply the roads and highways of Dinajpur. Yesterday, nearly half of these buses did not operate.
General Secretary of Dinajpur Road Transport Owners Association, Md Sahed Riyaz, said bus owners did not run their vehicles in Parbatipur due to fuel price hike yesterday. Situation was similar in Rangpur. 
As a result, the pressure on train has increased.
Alamgir Hossain, passenger of a Dhaka-bound train at Rangpur railway station, said, "I have heard that due to the increase in fuel prices, bus movement has decreased. So, instead of waiting for the bus, I went directly to the station. In the evening, I will go to Dhaka by Rangpur Express."
Moslema Khatun came from Rangpur to Burimari. She said: "I used to take the bus sometimes. Now I have come to the station to take a train as the bus fare is high."