Bringing hope to remote shoal
Retired govt official sets up primary school on Padma River shoal on own initiative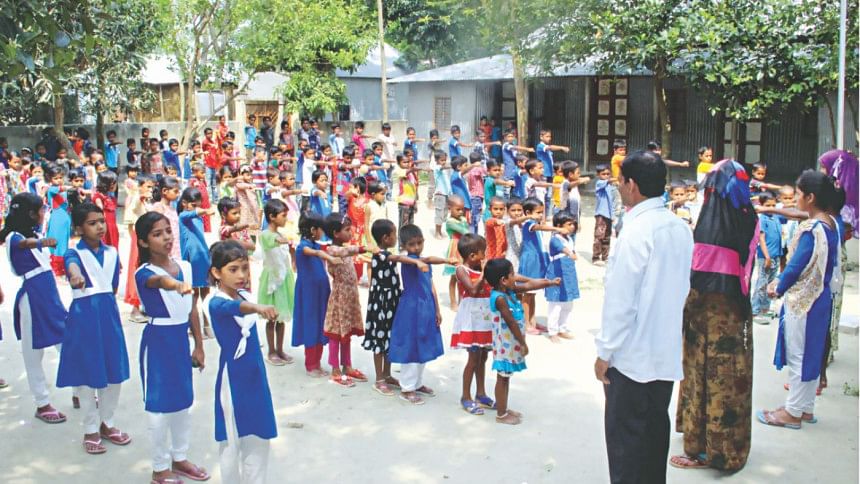 Raising children on a Padma River shoal is a challenge, not least in accessing education. For parents in Gangadhardi and three neighbouring villages situated on a shoal in Harirampur upazila in Manikganj, there wasn't any nearby school for their children to attend. That situation changed in 2012 when retired government officer Ashraf Hossain Chowdhury of his own initiative founded the Kuti Mia Memorial Non-government Primary School. Named after his grandfather, the school opened a convenient education pathway to local children for the first time.
"Before this school was here, our children had to travel up to five kilometres to reach a school," says one parent, Shahjahan Ali. "Many simply didn't go. Now we have dedicated teachers, right here. Our children have become attentive students."
"I used to worry a lot about my daughter's education," says Aziz Bepari, the father of class-three student Laboni Akter. "Now that it has become possible locally, my mind is at ease. I hope she will continue into high school."
For the school, Laboni is likewise full of praise. "The teachers are very good," she says. "I attend regularly and try my best. When I grow up I want to work for the government."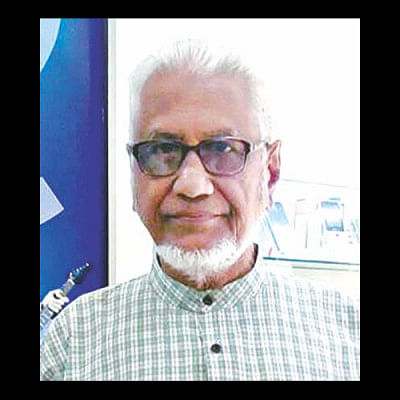 "Our teachers are really kind," adds Laboni's classmate Juthi Akter. "I like to go to school because I want to be educated."
Established on 67 decimals of land on the banks of the Padma River, the school currently has five teachers catering to 233 students. It has four tin buildings with six classrooms. According to head teacher Abdus Salam, the school achieves a 100 percent pass rate in the Primary School Certificate exams.
"It came to my attention that the children living on the shoal were deprived of primary school," says 77-year-old Ashraf, the school's founder who worked as a controller in the Defence Finance Department until he retired in 2003. "I decided to establish one."
To do so he sold an allotment for a half-share in an apartment he had received from the Defence Officers Housing Society in Dhaka Cantonment for Tk 50 lakh. After spending Tk 15 lakh on the school's construction he invested the rest, an investment that has been paying the teaching salaries and covering other school expenses ever since.
But despite the enduring enthusiasm for the school that Ashraf shares with his wife Fatema Kaniz, herself a former teacher, the future of the school is far from secured. "We are both retired now," says Fatema, from their home in Dhaka's Bakshibazar. "We are not so solvent. In the absence of either one of us, it will be difficult to continue our support for the school."
"I am old," Ashraf says. "I hope that in the long run the government can keep the school alive."
The primary education officer for Manikganj district, Aleya Ferdousi Shikha, appreciates the school's financial circumstances. "A project to nationalise one thousand private primary schools across the country is likely to be approved soon," she says. "Once that has occurred we will send a proposal to the primary education department to include this school in the project."