Change maker: Selfless friend of students
Jessore rickshaw-van puller helps over 5,000 students with education materials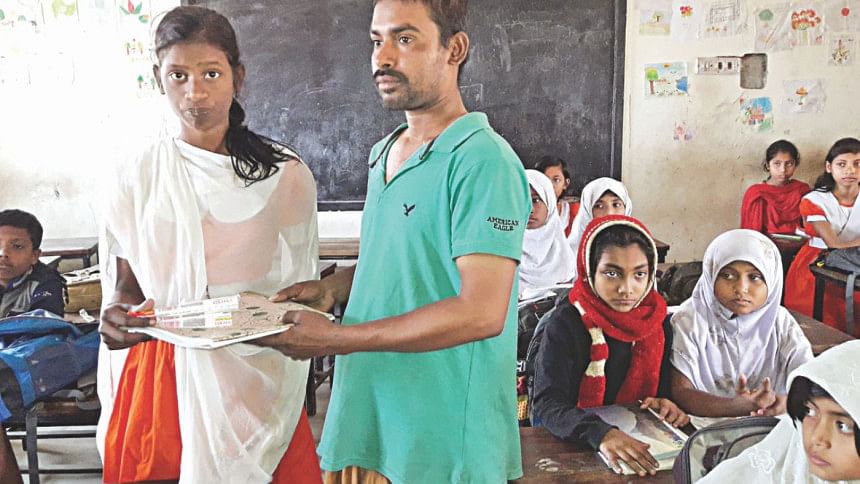 There are stories, now and then, of people succeeding in achieving higher education despite significant obstacles. This story isn't one of them. Thirty-three-year-old rickshaw-van puller Shahidul Islam, of Krishnabati village in Jessore's Arippur union, never found a way to continue schooling beyond class five. Despite that failure, and despite struggling with ongoing hardship, such is Shahidul's enthusiasm for education that he does all he can to help others. Locally he's known as Shikkha Bondhu (Friend of Education).
"It gives me immense pleasure to donate exercise books and ballpoint pens to students from the most disadvantaged families," says Shahidul. "It's the only way I have to somehow quench my thirst for learning." Over the last decade he has helped more than 5,000 students in this way.
Shahidul was born a farmer's son. Their family had no land. When he was two-and-a-half his father died and although his mother, Fuljan Begum, took work alternately as a maid and with a plastics business, they very often remained unfed. He remembers days when his mother consumed only water mixed with a little chilli to add flavour.
"I was admitted to Krishnabati Government Primary School," Shahidul recalls, "but without a father's support there was no possibility to continue after class five. I think it's an ironic fate for someone who always yearned to study. Not completing my schooling has haunted me from that day until this."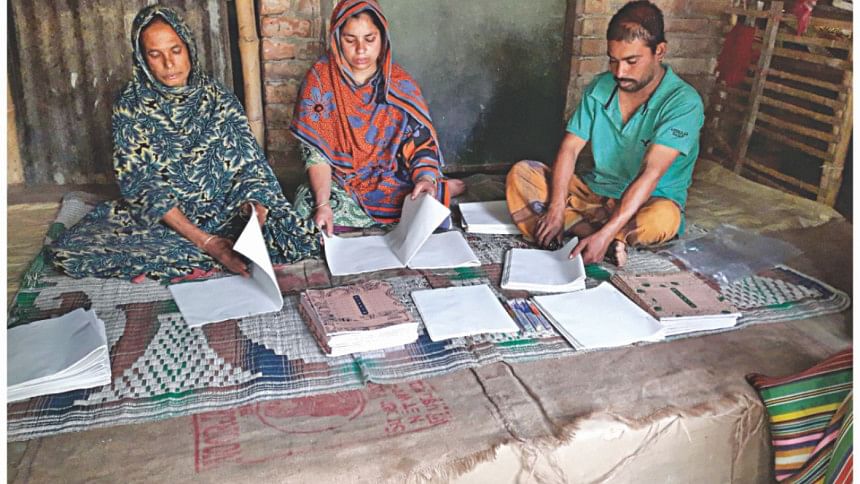 Shahidul started to work alongside his mother. "We used to recycle wastepaper, iron rods; we sorted rubbish. It took many years but in 2001 we were finally able to buy a piece of land for Tk 40,000 with our hard-earned savings."
Shahidul married orphan Beauty Begum in 2008, the same year he began to actively help primary and secondary students across Jessore.
Now he pulls a rickshaw van, earning around Tk 350 per day. Milk from two cows brings in a further Tk 150 per day. With such a meagre income he manages the daily expenses of his mother, wife and children, and still finds a little left over for what he calls his hobby.
"To have exercise books and a ballpoint pen I am overjoyed," says orphan and class-two student Asma Khatun, just one to benefit from Shahidul's efforts.
"There are many rich people in our country," notes Krishnabati government primary school assistant teacher Nurjahan Aktar, "They don't have as generous a heart."
"He should be appreciated and respected," says villager Dr Feroz Hossain. "Despite the hardship of being a van puller, Shahidul is undertaking this noble endeavour. We honour him."
The acting chairman of Arippur's local council Salma Khatun likewise expressed her personal gratitude for his activities.
"After his father's death times were really hard," Shahidul's mother recalls. "I did what I could for our survival. Things are a little better now, and I encourage his hobby. We are happy."
"I am really pleased that he does such praiseworthy things," says Shahidul's wife. "We still struggle sometimes, but we are all supportive of his efforts."
"I only want that no student should ever have to give up study for a lack of school supplies," says Shahidul.