A lucky escape?
Family members of Chittagong man accuse police of 'crossfire attempt'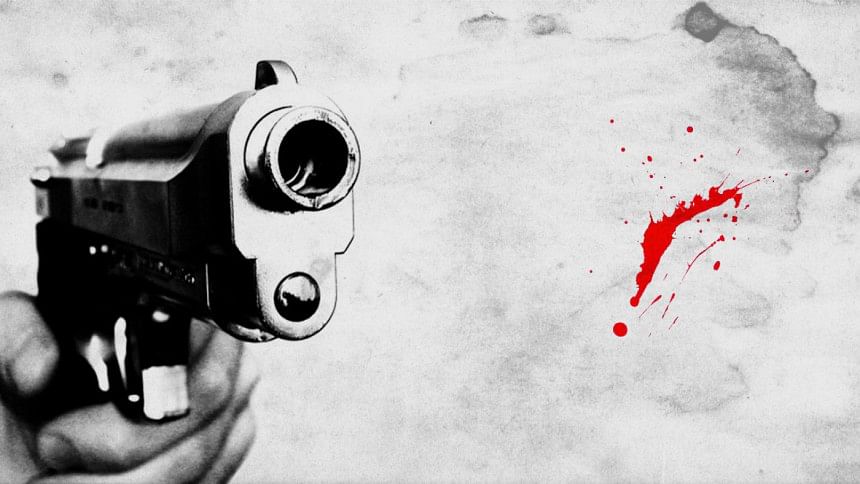 Police allegedly implicated a 60-year man, Samar Krishna Chowdhury, in two cases related to narcotics and arms recovery, after being influenced by a local expatriate man.
Family members claimed Samar was being taken to a deserted area where he might have become another victim of "crossfire". However, the plan changed after police high-ups got involved.
Plainclothes men "picked up" Samar, who works as an assistant to lawyers in the Judge's Court of Chittagong, from the city's Hawkers' Market area on Sunday evening, alleged the family members. They added his cell phone was seized after he was forced into a microbus and then blind-folded.
"My father was taken to Boalkhali Police Station and fortunately a local man saw him there," said Alakananda Chowdhury, one of Samar's daughters, adding, "He [the man] informed the local union parishad member Suresh Chowdhury.
"As Suresh informed us, we instantly went to Kotwali Police Station to record a general diary but the on-duty officer refused to record any complaint against police."
She said they then contacted Boalkhali Police Station but they too were uncooperative.
Police said Samar was arrested in a case filed against him under the narcotics act in March while he was on bail in another case filed over yaba recovery in November last year.
"As per his accounts, Samar was taken to his house at Sarwatoli village [where the family would go on holidays]. From there, 310 pieces of yaba pills were recovered from under the couch of the bedroom along with a light gun with four rounds of bullets," said Officer-in-Charge of Boalkhali Police Station Himangshu Das Rana.
PASSING THE BLAME
Family members alleged that UK expatriate Sanjoy Das "implicated" Samar in these cases "in connivance with police".
Sanjoy is a local in Samar's Sarwatoli village under Boalkhali upazila.
"Sanjoy and his cousin Swapan, both hailing from our village, have cases against each other over a land ownership dispute...as my father works in court, he assisted Swapan by introducing him to a senior lawyer," said Alakananda.
She claimed that Sanjoy became angry at this and warned him against helping Swapan. Refused, Sanjoy implicated her father.
Denying the allegation, Sanjoy said he had no connection with the incident. "I do not even know Samar," he told The Daily Star, adding, "I have been living in London for around 20 years and got citizenship of the country...we had a land dispute with our cousins and now all the cases are about to be settled."
Asked, why Samar's family members were blaming him, Sanjoy said they were influenced by the local UP member Suresh and a land brokers' syndicate.
Asked why Suresh was involved, Sanjoy said, they wanted to blackmail him and grab his lands.
However, Suresh, a member of ward 8, denied the allegations over phone and said he was the local public representative and so he spoke for Samar as his family members came to him.
"I am receiving threats over the phone and being blamed for instigating Samar's family members to organise a press conference and form a human chain on Tuesday," he said, adding, "Police even raided my house in the village on Tuesday night...being frightened, I am now on the run."
OC Himangshu denied the allegation of police's raid at Suresh's house. He also denied the allegation of being influenced to arrest Samar. "Police arrested Samar as he was accused in the yaba recovery case," he said.
THE ESCAPE
"They beat him up and then blindfolded him. On the way, an official told someone over phone he was being taken to Charandwip Canal for the 'operation'...but after a while, he received some phone calls and asked the driver to change the direction towards Samar's house saying that it was not possible to go for the 'operation now as he had received calls from his high officials," said Samar's other daughter Tomalika Chowdhury, quoting Samar who she visited at Chittagong Central Jail yesterday.
"There were injury marks on my father's chest and back," she said, adding, "My father could not speak properly...he feared the OC who threatened him of further torture taking him on remand."
"The OC repeatedly asked him why he was assisting Swapan in the case against Sanjoy," said Tomalika.
Denying the allegation, OC Himangshu said family members raised the allegation out of "emotion".
"Given the present circumstances of the country due to the anti-narcotic drives, Samar's family members are saying this but we arrested him on valid grounds,' he said.
About a possible crossfire, the OC said he did not go with the force during the yaba recovery and so he did not know it.
"But I can say for sure no such incident happened...police just recovered yaba pills and the firearm from Samar's house as per his account."
Regarding the case filed against Samar, Alakananda said, "Police arrested a caretaker of a house in our village in November last year and surprisingly we saw a [narcotics] case was filed against the caretaker and two other persons, including my father. Sanjoy was behind the filing of this case," she alleged, adding her father was granted bail by the court.
"Police said another case was filed against my father in March but we have no idea about it," she said.
Asked why the case against Samar was filed in March and from where the yaba pills were recovered at the time, the OC said he could not recall.
The OC, however, said Samar's name was not on the list of yaba traders.