Anti-Drug Raids: Three more killed in 'gunfights'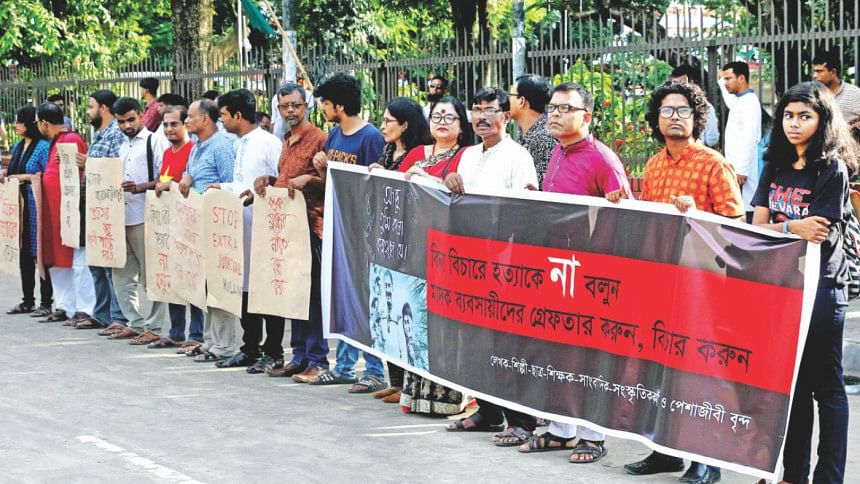 Three more alleged drug peddlers were killed in "gunfights" in Rangpur, Thakurgaon and Dinajpur districts early yesterday amid the ongoing nationwide anti-narcotics drive.
One each in Rangpur and Thakurgaon was killed in "shootouts" with police, while another was killed in a "gun battle" between two groups of "drug peddlers" in Dinajpur, officials said.  
With the three, at least 142 alleged drug peddlers were killed during the drive in the last 26 days. Most of them were killed in so-called shootouts involving police and Rapid Action Battalion.
In Rangpur, the man who was killed in the "gunfight" was identified as Abu Musa alias Bishkalai, 26, a Hanumantola slum dweller. 
Saiful Islam, additional superintendent of Rangpur police, said the "shootout" took place when a police team raided Kukrulful area around 2:00am. Musa was shot dead on the spot. 
Police claimed to have recovered a pistol, 177 yaba pills and 52 bottles of Phensedyle from the spot.
In Ranishankoil of Thakurgaon, Shamim Hossain, 42, of Bhabanandapur village, was killed in a similar incident.
Abdul Mannan, officer-in-charge of Ranishankoil Police Station, said the "gunfight" happened around 1:30am.
Shamim stood accused in 11 cases, including eight for narcotics, the OC said.
In another incident, Abdur Razzak, 35, of Dinajpur Sadar upazila, was killed when two groups of "drug peddlers" were trading bullets.
Redwanur Rahim, officer-in-charge of Dinajpur Sadar Police Station, said Razzak sustained bullets during the "gun battle" in Kharipara village around 3:00am. On information, police recovered Razzak's body, 100 bottles of Phensedyle and a firearm from the spot, he added. 
'VICTIM WAS PICKED UP'
Wife of a "drug peddler", who was killed recently in Satkhira, yesterday alleged that police picked up her husband from their house and killed him in a planned way.
Nazma Khatun, wife of Anisur Rahman, held a press conference at Satkhira Press Club and alleged that police killed him and cooked up the story of a "gunfight" to cover up the murder.
Police on May 29 claimed to have recovered the body of Anisur from Kolaroa upazila and said he was a drug dealer, who was killed in a "gunfight" between two groups of "peddlers".
"Around 9:30am on May 28, assistant sub-inspectors Ezaz Mahmud and Toriqul Islam of Khurdo Police Outpost and two others in plainclothes came to our house and detained my husband. They handcuffed and blindfolded him before taking him away," Nazma told reporters.
She also alleged that they went to the police outpost and Kolaroa Police Station, but police denied detaining her husband.
Biplob Kumar Nath, officer-in-charge of Kolaroa Police Station, refused to record a general diary in this connection on that day and asked the family to wait for a couple of days. The next morning, they came to know that Anisur was killed, Nazma alleged. 
She further said ASI Ezaz visited their house in search of her husband several times before he was picked up.  
Nazma demanded a fair probe into the incident and urged the prime minister and the home minister to direct the law enforcers to take steps in this regard.  
"If my husband committed any crime, he could be punished through legal process. It is not acceptable that police killed him, violating his basic human rights." 
Contacted, both Ezaz and Toriqul denied the allegation of detaining Anisur.
OC Biblob said Anisur's family did not appear before him with the allegation.
The police official added that Anisur was killed in a "gunfight" between two groups of "drug dealers" and they were investigating who were involved in the incident.
[Our Dinajpur, Thakurgaon correspondents and a correspondent from Satkhira contributed to the story.]