Anti-Narco Drive: Two 'drug dealers' killed in 'gunfights'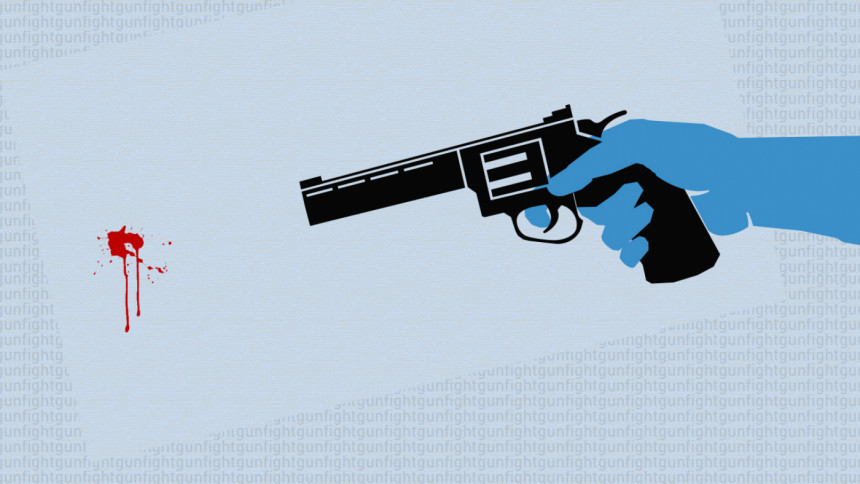 Two alleged drug dealers were killed in separate "gunfights" with police in Chandpur and Rajshahi districts, while one was arrested by police from the capital's Gabtoli, yesterday.
In Chandpur, an unidentified man, assumed to be about 30-years-old, was killed in Shahrasti upazila in the alleged shootout with police, our local correspondent reports.
Mizanur Rahman, officer-in-charge of Shahrasti Model Police Station, said that acting on a tip-off, a team of police were patrolling Shorshak area in Suchipara union of the upazila at around 2:30am. When the "drug dealers" attacked them, the police retaliated, triggering the "gunfight" that left one of the criminals dead and three policemen injured.
The body of the "drug dealer" was kept at Chandpur Sadar Hospital for autopsy, the OC claimed, adding that police recovered one pipe gun, six bullets and 83 yaba pills from the spot
In Rajshahi, Manik, 30, of Natun Para in Charghat upazila, was killed in a "gunfight" with police at Muktarpur village, according to UNB.
After receiving a tip-off about a group of drug traders gathered in the area, a team of police conducted a drive there at around 2:45am, said Nazrul Islam, officer-in-charge of Charghat Police Station.
Sensing the presence of law enforcers, the criminals opened fire on police, forcing them to fire back. At one stage, Manik was caught in the line of fire and sustained bullet injuries.
He was taken to Rajshahi Medical College Hospital where doctors declared him dead, UNB adds.
Police officials claimed they recovered one pistol, one bullet and 50 bottles of Phensidyl from the spot.
With these, at least 212 suspected drug dealers and peddlers were killed since the anti-narcotics drive began on May 4. Most of them were killed in so-called "shootouts" involving police or Rab.
Meanwhile in Dhaka, an alleged drug dealer was held with five kilogrammes of heroin from the city's Gabtoli area.
A team of Counter Terrorism and Transnational Crime (CTTC) unit of Dhaka Metropolitan Police (DMP) arrested Nizam, 35, with the heroin worth around Tk 2 crore from Gabtoli Bus Terminal last night, said DMP Deputy Commissioner (Media) Masudur Rahman.
During primary interrogation, Nizam revealed that he had been bringing heroin to Dhaka from Chapainawabganj district border, he said.
Nizam was allegedly also involved in illegal arms trading.
In Chittagong, Department of Narcotics Control officials and Rab, in separate raids yesterday, arrested five people and seized 7,575 yaba pills. In Sylhet, Rab seized around 18,365 yaba pills and arrested one "drug dealer" from Zakigangj upazila on Wednesday night.