Three 'drug dealers' killed in 'gunfights'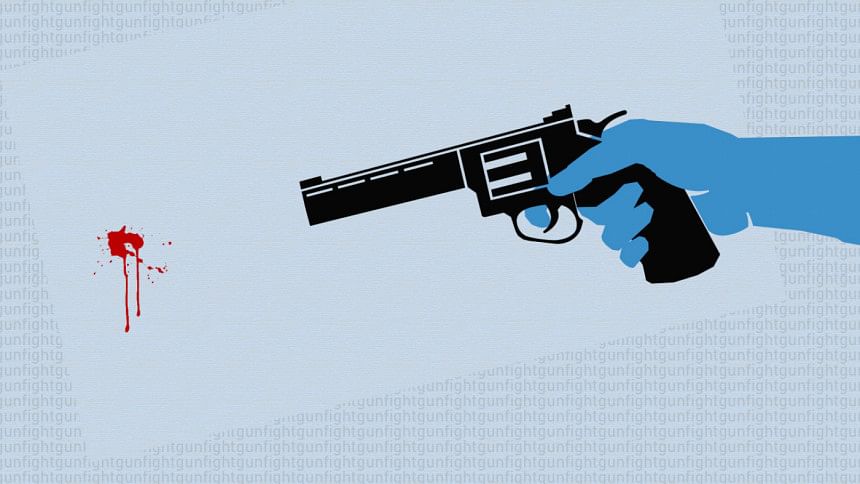 Three alleged drug peddlers were killed in separate "gunfights" with law enforcers in Dhaka and Cox's Bazar yesterday.
Md Kamruzzaman, assistant director of Rab-1, said a 45-year-old Alam alias Gaja Alam was killed in Dhaka's Diabari area early yesterday.
Alam, an inhabitant of the area, was accused in at least 16 cases with different police stations, he added.
A team of the elite force conducted a drive in the area around 2:00am on information that drugs were being smuggled there. Sensing the law enforcers' presence, the criminals opened fire, forcing them to retaliate, Kamruzzaman claimed.
At one point of the "gunfight", Rab found Alam's bullet ridden body. Later, when he was rushed to Tongi Shaheed Ahsan Ullah Master General Hospital where doctors declared him dead, the Rab official added.
Two Rab members were also injured in the incident, he claimed.
Rab also claimed to have recovered hemp, a pistol and ammunition from the spot.
The body was sent to Shaheed Suhrawardy Medical College morgue for autopsy.
Meanwhile in Cox's Bazar, an alleged drug peddler was killed in a "gunfight" with police early yesterday, hours after he was picked up by the law enforcers.
The dead is Dil Mohammad, 36, of the district's Teknaf upazila.
Pradip Kumar Das, officer-in-charge of Teknaf Police Station, said police arrested Dil from Teknaf around 5:00pm on Tuesday.
Around 12:15am yesterday, a police team conducted raid near Marine Drive along with Dil to recover firearms and yaba, he claimed.
Sensing police presence, Dil's associates opened fire, forcing the law enforcers to retaliate, Pradip added.
Dil sustained bullet injuries during the "gunfight". Later, he was rushed to Teknaf Upazila Health Complex where doctors declared him dead, the OC further claimed.
Police also claimed to have recovered six firearms, and 7000 yaba pills from the spot.
Two police men were also injured in the "gunfight", police said.
The OC came up with similar narrative to describe another "shootout" at Lengurbil village in the upazila yesterday.
Around 11:00am yesterday, another "gunfight" took place where Mostaq Ahmed, 38, was killed.
Both the bodies were sent to Cox's Bazar Sadar Hospital morgue for autopsies.
Mostaq was accused in several cases of robbery and drug, claimed police adding they recovered locally made firearms and 3000 yaba pills from the spot.
The Daily Star, however, could not independently verify the law enforcers' claims.