War expertise used in blast
Afghan-Kashmir returnees among perpetrators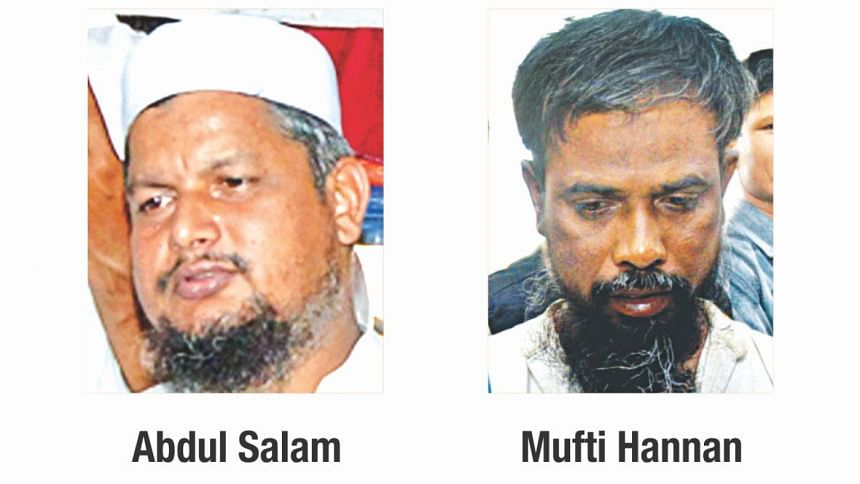 A court observation in the August 21 grenade attack case verdicts highlights the expertise of the attackers.
"The specialised deadly Arges grenades that are used in wars were blasted at the Awami League's central office on 23 Bangabandhu Avenue ...," Judge Shahed Nuruddin of Speedy Trial Tribunal-1 said on Wednesday while delivering the verdicts.
The facts speak about the attackers' skills. Among the perpetrators of the grisly attack, at least three had hands-on experience of fighting on the battlefields of Afghanistan for a long time.
Three militant leaders -- Mufti Abdul Hannan, Maulana Sheikh Abdul Salam and Maulana Abu Sayed -- had joined the Afghan war and fought against Soviet Union troops in the 1990s. Another convict in the case fought for Kashmir's independence, according to their confessional statements to the court. 
Some of them are quite capable of operating weapons like AK-47 assault rifle while some others took training in the camps of international militant groups.
Moreover, they were given financial and administrative support by politicians, police and intelligence agencies to carry out the attack aimed at assassinating Sheikh Hasina, the then opposition leader.
Awami League President Hasina, now the prime minister, narrowly survived as some of her party leaders protected her by forming a human shield around her. She, however, suffered injuries to her ear. And 24 of her party men were killed.
Salam had taken part in the Afghan war in 1985. He was trained to operate arms, including AK-47. He returned to the country four years later and became a member of Harkat-ul-Jihad-al-Islami Bangladesh (Huji) following its formation.
After the Afghan War ended in 1992, many Bangladeshi Mujahids returned home and announced the launch of Huji at a press conference in Dhaka on April 30, 1992. Salam was made its chief.
He was sentenced to death in both the cases over the August 21 grenade attack by the special court.
Hannan, who was executed last year in a case over the grenade attack on then British high commissioner to Bangladesh Anwar Chowdhury in 2004, was one of the kingpins behind the August 21 grenade attack.
In his confessional statement before a court in the case, Hannan said he got enrolled at Jamiya Yusuf Bin Nuriya Madrasa in Karachi in 1988.
During a Ramadan break at the madrasa in 1990, he left Pakistan for Afghanistan to fight the Afghan war. He received a 15-day training there. As fighting broke out at Khost in Afghanistan's Paktia province, he was called to join the fight.
Hannan was injured in the fight. He was later admitted to Kuwait al-Helal Hospital in Pakistan's Peshawar.
After getting treated at the hospital for 10 months, he returned to the Karachi madrasa to finish his studies.
Upon completion of studies, he returned home in 1993 and started leading a group of Afghan war returnees.
As Hannan was executed, he was dropped from the August 21 grenade attack cases.
In his confessional statement, the third militant leader, Sayed alias doctor Jafar, said he studied Dawrae Hadith in a Karachi madrasa in Pakistan in 1988. Two years later, he fought the Afghan war on behalf of Afghan Mujahidin for 10 months.
After his return to the country, he established Al-Monro Academy in Uttara in 2000.  Sayed got close to Mufti Hannan while studying in Pakistan. He joined Hannan to carry out the grenade attack.
As the independence movement in India-controlled Kashmir flared up in 1990, Abdul Majed Butt alias Md Yusuf joined the movement as Hijbul Mujahidin. The previous year, he had passed BSc (hons) in Biology from Islamabad Government Degree College in Kashmir in 1989. He was given the pseudo-name Abdul Majed after his joining the movement for independent Kashmir.
He was trained by Pakistan's Inter-Services Intelligence (ISI) and learned to operate guns, including pistol and AK-47. Butt was given the charge of a sub office of Hijbul Mujahidin at a place named G-10 in Pakistan's Islamabad from June 1993 to March/April 1994, he said in his confessional statement in the grenade attack case.
He was connected with Lasker-e-Taiba, Tehrik-e-Jehad Islami and Harkat-ul-Jihad (Al-Khalami) and other terror organisations.
He came to Bangladesh in 2000 and Maulana Tajuddin, another convict in the grenade attack case, received him at the airport. Tajuddin was also a member of Tehrik-e-Jehad Islami and was known to Butt since then.
He was given death sentence in both cases over the August 21 grenade attack.
These convicts along with others had held a series of meetings in different places, including Hawa Bhaban and the home of Mufti Hannan, to finalise the killing plan.
It was a well-orchestrated plan, executed through abuse of state power, the court ruled on Wednesday, delivering verdicts in the two cases filed over the grenade attack on the AL rally 14 years ago. 
And all the accused, including BNP Senior Vice Chairman Tarique Rahman and former top intelligence officials, were found guilty and handed down various punishments for the bombing.