Verdicts at the behest of govt
Says BNP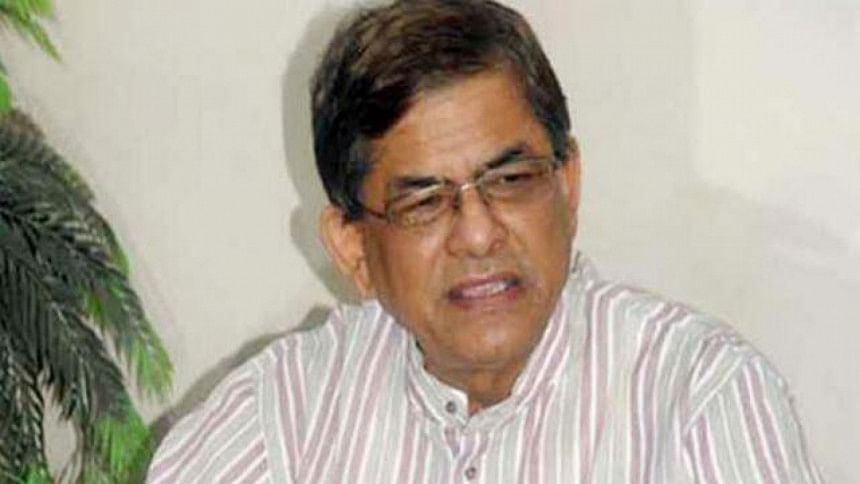 The BNP yesterday rejected the verdicts in the August 21 grenade attack cases alleging that those were delivered at the "behest of the government with a political motive".
"We think the verdicts are politically motivated. It is a clear manifestation of the government's political vengeance," BNP Secretary General Mirza Fakhrul Islam Alamgir told journalists at the party's Nayapaltan headquarters.
He said the government has set another "bad example of taking political revenge by using the judiciary".
Referring to jailing of BNP Senior Vice Chairman Tarique Rahman for life, Fakhrul said it has been "proved" that there is no scope for common people to get justice.
Protesting the verdicts, the BNP will hold two-day countrywide demonstrations. The party's associate and front bodies would stage protests and form human chains for five days next week, said BNP Senior Joint Secretary General Ruhul Kabir Rizvi.
As part of the programmes, the BNP would hold demonstrations in all cities and district headquarters today and also bring out black flag processions in all cities and district headquarters on Tuesday.
Chhatra Dal, Jubo Dal and Swechhasebak Dal will stage protests on Saturday, Sunday and Monday respectively.
Moreover, Jatiyatabadi Mohila Dal and Jatiyatabadi Sramik Dal will form human chains across the country on Wednesday and Thursday respectively.
Meanwhile, Supreme Court Bar Association (SCBA) President Zainul Abedin, also a BNP vice chairman, yesterday told a meeting on the SCBA office premises that all the convicts, including Tarique, would secure acquittal in the cases through moving appeals before the Supreme Court.
He alleged that the BNP leaders were convicted and sentenced through the court ahead of the upcoming parliamentary polls although there was "no evidence or documents" to prove the allegations brought against them.
Earlier in the day, a group of pro-BNP lawyers staged demonstrations on the SCBA premises protesting the verdicts.