'Key plotter' gets off lightly, victims feel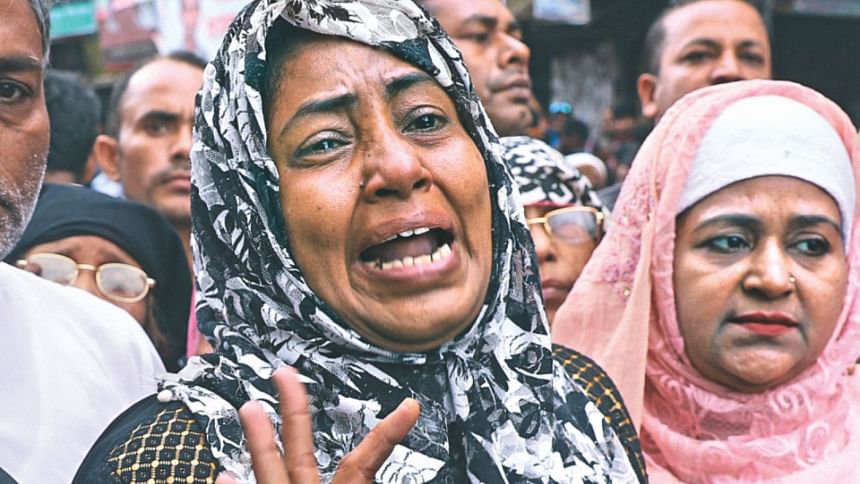 Survivors and family members of the victims of the August 21 grenade attack said they were saddened that the court fell short of giving capital punishment to Tarique Rahman, who was convicted of conspiring and planning the carnage. 
"I waited for this verdict for 14 years. But I am not fully satisfied because Tarique, the mastermind behind it, has not been given death penalty," said Mahbuba Parvin, who suffered life changing injuries in the attack on an Awami League rally on Bangabandhu Avenue in 2004.
"Nearly 1,800 splinters riddled my body that day. I have become a living corpse," the grieving woman told The Daily Star.
Mahbuba said she wanted the implementation of the verdicts.
She was the women affairs secretary of Dhaka City Swechchhasebak League. Her photo appeared on many newspapers after the attack.
She was pictured lying among the corpses on Bangabandhu Avenue in a blood-stained golden-silk sari, with a black handbag on her bosom.
At least 24 people, including veteran AL leader Ivy Rahman, were killed and several hundred others injured in the attack.
Then opposition leader Sheikh Hasina narrowly escaped with injuries to her ear as party leaders formed a human shield around her.
Yesterday, the Speedy Trial Tribunal-1 in Dhaka awarded former state minister Lutfozzaman Babar and 18 others death sentences and Tarique and 18 others life imprisonment.
"The main planner Tarique Rahman was supposed to get a death sentence. As an injured survivor, I am aggrieved," said Nazib Ahmed, a cousin of Hasina, who was among those who created a human shield to save her.
"It was a state-sponsored killing. As then state minister for home, Babar was proven guilty and awarded death penalty. Then prime minister Khaleda Zia, who was in charge of the home and other ministers, should have been accused in the case," he said.
Rashida Akhter Ruma, another survivor with over 700 splinters in her body, asked, "How come Tarique Rahman gets life term when Babar, who worked at the behest of Tarique, gets death sentence?
"Those who died that day are relieved of the pain we are going through. The pain has increased hearing Tarique's lenient punishment."
Humayun Kabir, elder brother of Abdul Quddus Patwari who died at the scene that day, said he was angry.
"After her long wait for justice, my mother died four years ago. The departed souls of my brother and mother would not rest in peace without the highest punishment of Tarique Rahman."
'WE WILL APPEAL'
Shirin Rahim, wife of then director general of the National Security Intelligence Brig Gen (retd) Abdur Rahim.
Rahim was given death sentence along with the 18 others.
After the verdict, Shirin said her husband was innocent.
Shirin said she would appeal to the High Court against the verdict.