Crown to crime
A choice brought heir apparent to BNP down to gutter
He was hardly known to outsiders until his father, General Ziaur Rahman who became Bangladesh's president in the process of several coups and counter-coups, died in another military putsch in May 1981.
For the first time, through a Bangladesh Television programme "Jodi Kichhu Money Na Koren", the countrymen came to know Zia had two sons and one of them Tarique Rahman. For one reason or another, the general did not expose his family to much public interactions.
Tarique grew up in the shadow of his mother Khaleda Zia and was hardly visible until 2001 when the country was heading for another election, a routinely tense time for the two main power contenders -- the Awami League and BNP.
The Awami League was in power then and the BNP seemed directionless and lacking the political steam. It was then that a young Tarique suddenly came to the rescue and took charge of BNP's political future.
Starting with BNP's manifesto to conducting of the election, everything fell into place. With the election victory, Tarique emerged as the new "Zia" and heir apparent.
The rest was history. He later flung BNP into such an arrogant, repressive, corrupt and aggressive path that it ultimately upended the party in a few years time.
In true sense, everything was up and easy for him -- there was little doubt in people's mind that given the legacy power politics he would one day soon lay his claim on the country's leadership. There was nothing to keep him off the job of prime minister. But then that was not to happen because of his own doing.
For the first time in Bangladesh's political history, parliament was completing its full five-year term from 1996 to 2001 and another parliamentary election was coming.
The Awami League government had tackled the economy quite well in the aftershock of a devastating flood of 1998 that had drowned three-fourths of the country. The  government was proactive on contentious issues (remember Syed Abul Hossain lost his minister's post after media reported his having two passports or a minister losing his job because of outcry over the eviction of a slum?) .
But then as the election years approached, AL became restless and took a hard line on the BNP (remember how Khaleda's road march was blocked at Narayanganj by Shamim Osman or the violent rise of Joynal Hazari in Feni or Abul Taher's criminal activities in Laxmipur or AHM Iqbal's brandishing a handgun from a procession in Dhaka?).
For the BNP, there was no big political issue this time to go for a vigorous movement, as is customary in Bangladesh politics before any elections.  Just in the previous election in 1996 when Awami League was in opposition, it had marshalled a wider coalition, demanding a caretaker government, and called frequent hartal for months, ultimately getting its way and establishing an election time non-partisan  caretaker government. 
It was then that the 34-year-old Tarique stepped in. With a promise of young leadership and dynamism in party, he set up his office in Hawa Bhaban, a two-storey building in Gulshan, with the election in view. It, however, did not take time for Hawa Bhaban to stand as a simile for corruption, reckless power abuse and terrorism.
Tarique would sit on the first floor of Hawa Bhaban where he would invite academics, political thinkers, former ambassadors and journalists and try to convince them about the authenticity and necessity of the politics that BNP represented.
He would discuss with them how BNP should see itself in the future, how to best abase Awami League, what communication strategies should BNP follow to win voters' hearts and so on.
As an election strategy, Tarique then oversaw the formation of a coalition between BNP and Jamaat along with Jatiya Party and Islami Oikya Jote and embarked on a whirlwind tour of districts, meeting grassroots and young leaders.
Soon there was a frenzy around him and a group of young leaders, "educated and energetic", were attracted to him like bees to honey. It became a usual scene to find Tarique himself driving his SUV surrounded and followed by young supporters, waving to the crowds in the hallmark style of his father.
Full-throated slogans were chanted -- "Tarique tumi egiye cholo, amra achhi tomar sathey" (Tarique you march forward, we are with you), "Moder neta Tarique Zia" (Our leader is Tarique Zia -- people ultimately started using his father's name as a suffix).
A signpost went up on the wall of the BNP party office that said: "Ziaur Rahman WAS our leader, Khaleda Zia IS our leader and Tarique Rahman WILL BE our leader." There was now no doubt that he was the heir apparent in the legacy politics. 
In the party Tarique held overwhelming authority as the son of Khaleda and he harboured a special disdain for the senior party men who he would openly chide as "old fashioned" and without spirit.
The senior leaders grudgingly accepted his leadership and knew their political career now depended on this young man's whims no matter what their experience and contribution to the party was. They started talking to him literally with "folded hands" and with "due respect", not daring to even point out the weaknesses in his strategy. BNP's leadership became kneecapped to this young man in his thirties.
On a same breath, Tarique churned out some political surprises when he visited Tungipara and prayed before the grave of Bangabandhu. This reconciliatory gesture was widely praised as a sign of new wind in politics.
As the election neared, BNP unveiled a smart manifesto, outcome of an intense effort by Tarique, with a focus on making Bangladesh an IT savvy country.
As the 2001 election result came out, the verdict was overwhelmingly in favour of BNP that alone bagged 193 seats and the BNP-led alliance together gained a two-thirds majority in parliament.
Tarique basked in the glory of his achievement. But that glory did not take much time to fade and turn into disgrace as power came home.
His mother Khaleda Zia heading the government, Tarique soon turned his Hawa Bhaban as an alternative power house, dictating state affairs from there.
He found a state minister for home in Lutfozzaman Babar who had a murky past and popularly known as Casio Babar because of his alleged link to smuggling of watches.  He had his trusted "young men" as state and deputy ministers and commanded an army of sycophants who swarmed around him in Hawa Bhaban. They knew where the power lay.
Simultaneously, Tarique cobbled around him a group of curious people such as Giasuddin Mamun, his old time buddy along with  Ruhul Quddus Dulu, Nadim Mustafa, Aminul Huq and  Alamgir Kabir among a few. These political leaders from the northern districts had deep links to Islamic militants in the region and echoed the political vision of Tarique. Tarique found them to be a valuable weapon against the liberally-branded Awami League.
But Mamun stood for something else. This crafty man knew how to spin money from every deal and that exactly matched Tarique's craving for wealth. 
The message went to the business world as well -- if you want to do any business, you better get blessings of the Hawa Bhaban.
Giasuddin Mamun took up a new role. He became the front man to negotiate deals and collect rents. Any big public tenders had to be negotiated through certain henchmen. For example, a former Chhatra League leader who died a few years back of a heart attack looked after the roads and highways contracts.   
The corruption of Tarique and his cronies became so widespread that then prime minister Khaleda Zia's principal secretary Kamaluddin Siddiqui during a meeting with US ambassador Harry K Thomas on March 13, 2005 mentioned "PM Zia's indulgence and protection of her corrupt son" as her "biggest political failure", a WikiLeaks disclosure in 2011 of a US cable reveals.
US ambassador James F Moriarty cabled to Washington on November 3, 2008 mentioning that Tarique represents the symbol of "kleptocratic government and violent politics". The cable was leaked by WikiLeaks on August 30, 2011.
"His theft of millions of dollars in public money has undermined political stability in this moderate, Muslim-majority nation and subverted US attempts to foster a stable democratic government, a key objective in this strategically important region," reads the cable.
His cable further mentioned Tarique as "notorious for flagrantly and frequently demanding bribes in connection with government procurement actions and appoints to political office".
Moriarty also suggested that Tarique be denied entry to the US for his links to corruption and terrorism.
Another cable sent six months later by US Charge d affairs Geeta Pasi said the State Department was considering visa revocation for him under the Presidential Proclamation.
Allegations of extortion and bribe taking went rife against Tarique and much later when BNP was dislodged from power at least 23 cases were filed against him on such charges which are now under trial.
He was convicted to seven years in jail and Tk 20 crore in fines in a money laundering case in 2016 which in short concerns Tarique used his political power to help his close friend, Giasuddin Mamun, to get and then launder $2.5m.
Mamun had taken the money as a bribe for securing a power plant contract for a construction company.
The FBI investigated this particular case of money laundering and for the first time in the history of Bangladesh, a FBI special agent testified in a Dhaka court.
Tarique was sentenced to ten years in another case in February this year -- Zia orphanage graft case. 
In other cases, the charges against him run like this. He had threatened the boss of a construction firm, Al Amin Construction, with closure of the company unless he received a payment of $150,000. A number of other construction firms also came up with similar allegations against him.
He had received 2 percent of all the deals that a famous German company bagged during the BNP regime. A Chinese firm paid $750,000 to Tarique to open its plant and the money was deposited with a Citibank account in Singapore. A Bangladesh construction firm paid $450,000 to secure a deal.
The long list of allegations thus goes on and on, indicating the blatant and crude style of power abuse.
It was how Tarique built up an empire based on wealth, greed, corruption and raw muscle power.
As he exercised his power to amass wealth, there was no doubt in public mind that he would sooner or later become the prime minister of Bangladesh. He was one election wonder boy turning power hungry and considering the country to be his for the taking.
He was now the senior joint secretary of the party and virtually calling the shots.
With wealth and power flowing in, he then took interest in another sinister matter -- patronising militants.
His followers Aminul Huq, a minister; Nadim Mostafa, a lawmaker;  and Alamgir Kabir, a state minister, took the lead and started using a so-called Islamic militant group Jagrata Muslim Bangladesh led by Bangla Bhai in unleashing a reign of terror in the northern districts.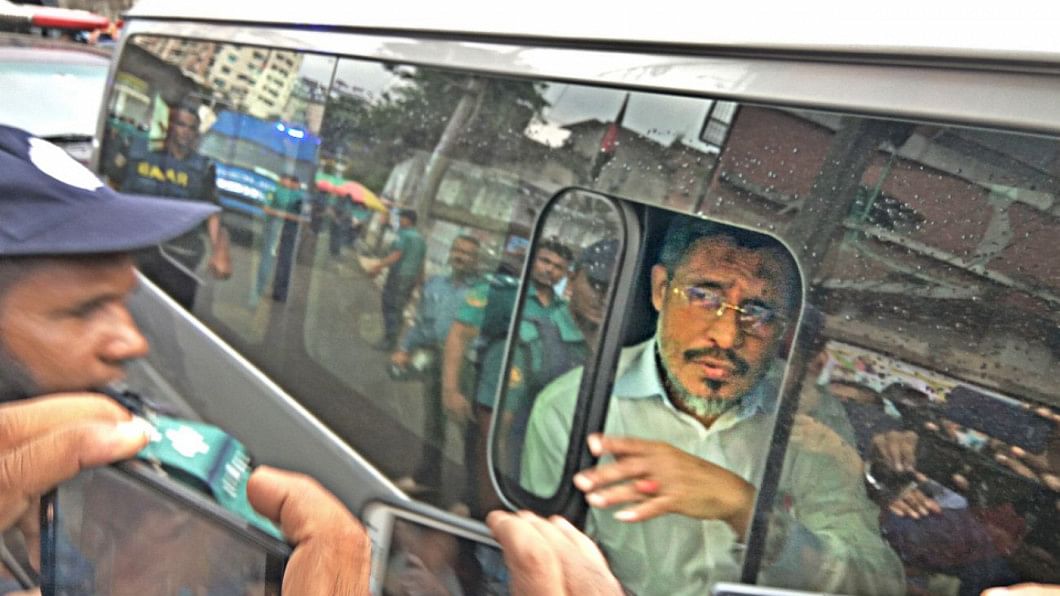 The group started openly lynching people in the name of religion. The state denied media reports when these activities were brought to light.  Khaleda Zia while exchanging views with editors in August 2004 said Bangla Bhai did not exist, parroting what her state minister Babar and industries minister Motiur Rahman Nizami earlier stated just a month ago.  Nizami even went on to say "Bangla Bhai was created by some newspapers", hinting at The Daily Star and Prothom Alo that did most of the stories on Bangla Bhai.
Much later after the end of the BNP rule, inspector general of police Nur Mohammad in an interview with The Daily Star in June 2007 said: "From whatever I could know, former prime minister Khaleda Zia had the consent to the JMB activities.  Her son Tarique Rahman had been supporting the vigilante activities of the militants."
But something even darker was swirling in his mind. Something hateful and murderous of grotesque proportion.
It was midway through the BNP tenure and history so far had shown that no party in power could win for a second consecutive time, But Tarique wanted to win the election anyhow and one easy way was to annihilate Awami League.
A sinister Islamist terrorist group named Harkat-ul-Jihad-al-Islami or Huji had surfaced in Bangladesh when BNP was in power with the participation of Afghan war Mujahedeens through an open press conference at the National Press Club on April 30, 1992.
The group was shrouded in mystery as it had supports from some pro-Israel elements and much later an American, Richard L Benkin, campaigned across the globe for Huji after it formed a political wing called Islamic Democratic Party (IDP), portraying it as an Islamist party that can bridge the gap between different faiths. He himself was of a Jewish faith. Adviser to IDP Kazi Azizul Huq told this to The Daily Star which was later confirmed by Benkin through an email to this newspaper in 2008.
The terrorist outfit had no problem in doing its politics with BNP's support and tolerance. It was the same Huji that had tried to kill Sheikh Hasina, who was then prime minister, in 2000 when it planted a 76kg bomb at a rally venue in Gopalganj.  Huji leader Mufti Hannan, who later played the key role in the August 21 grenade attack, was given death penalty last year in this case.
So Tarique considered Huji as the ideal group to be used to eliminate Sheikh Hasina and AL leadership.
A few days before the grenade attack, he held two meetings with the Huji men at the Hawa Bhaban and assured them all the support needed to carry out the crime, the investigators of the August 21 grenade attack revealed.
Huji leader Mufti Hannan, who was hanged last year for grenade attack on former British high commissioner Anwar Chowdhury in Sylhet in 2004, had been given the charge to execute the plan. Hannan was assured that he would remain above the law.
The rest is history. On the fateful day of August 21, Awami League had organized an anti-terrorism rally in Bangabandhu Avenue. As Sheikh Hasina got on a truck used as a podium to deliver her speech, grenades rained down from the buildings around.
Hasina, by sheer luck, escaped death but 24 Awami League men including Ivy Rahman, wife of late president Zillur Rahman, died.
It was this one single incident that changed the course of politics in Bangladesh forever.
But history had its twist waiting in the wings for Tarique Rahman.
Three years down the line, Tarique was arrested and unceremoniously dragged to the jail with a helmet saddled on his head and bullet-proof vest around his chest when after much uncertainty and tumult a caretaker government backed by the military came to power. The man who wielded so much of power suddenly looked scared and uncertain.
From that day Tarique's future in Bangladesh politics has plunged in jeopardy and sheer uncertainty.
The man for whom the most powerful post of the government was just a cakewalk had to leave the country under a deal that he would never return.
And today, he is facing life term as the court verdict goes. From the crux of political power he now lives the life of a fugitive.